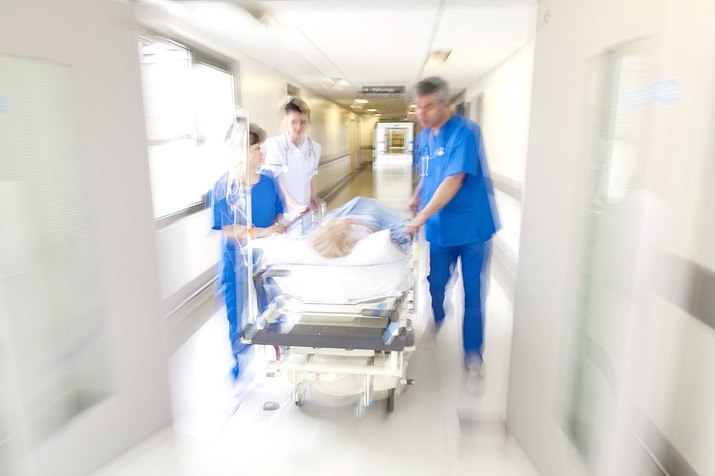 Originally Published: January 18, 2018 6:02 a.m.
Let's say it's a Thursday afternoon, and you have a need for medical treatment.
Do you …
Call your primary care physician, or
Go to an urgent care facility, or
Go to the hospital's emergency department?
It's fairly easy to rule out your doctor: if you can't get in because you need an appointment, then that option is not available. If the doctor is available, you could simply ask whether you should come in or go elsewhere.
But choices (b) and (c) are more difficult.
Urgent care facilities offer many — though not all — of the services found at a hospital.
One way to tell which you should choose, according the Yavapai Regional Medical Center's Ara Pani. MD, is how seriously you judge the need to be.
Generally, if you believe you might need an ambulance, you should choose the hospital, Pani said, but "if you don't think you're so sick that you need to come in by ambulance, or you don't think you're going to be admitted to the hospital," urgent care may be able to handle your situation.
But the choice is not always that clear-cut, he added.
"Chest pain is probably one of the most common complaints we see in the emergency department," Pani said. "And for the patient, it can be difficult to know if it is chest pain from a heart attack, or chest pain from bad heartburn."
Broken bones and lacerations are somewhat lesser emergencies, he said, and for those, urgent care can do the job.
If you choose urgent care when a hospital would be better-suited for the situation, the medical personnel at the clinic will usually re-route you, Pani said; the hospital frequently gets calls from urgent care, saying "the provider there is worried about a heart attack … or appendicitis, and they will typically call an ambulance and have that patient brought to the (hospital)."
Anna Murphy, manager of the NextCare Urgent Care facilities in Yavapai County, said there is a lot they can do.
"There's a wide variety of things we can see here, and there's a few we can't," she said, listing the flu, sinus infections, and similar symptoms. "On occasion, we'll have elderly patients that come in, and they might have an underlying pneumonia, or they might have chronic illnesses that can make the flu worse that it (otherwise) would be… so a lot of times, we stabilize them and send them to the hospital."
NextCare clinics have onsite x-ray equipment, which means "we are able to see patients, x-ray them, splint them, and (supply) crutches, and then refer them to orthopedics," Murphy said. "We see a lot of ankles, wrists, knees, and those sort of injuries."
Because NextCare contracts with several area businesses, they provide care for work-related injuries, as well.
"We try to keep our local businesses (employees) out of the emergency room and in the urgent care, so they're not getting exposed to outside illnesses within the hospital," Murphy said.
"We never want to tell people that they should not come to the ER," Pani said, but "we're not really best at diagnosing things that you've had for months, years, or longer."
Those conditions, he said, are best treated by your own doctor.