Originally Published: January 18, 2018 6:02 a.m.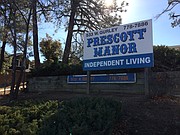 A chance encounter last year with an 84-year-old, homeless man at a Wendy's restaurant in Prescott Valley has led to an expansion of housing options for local elderly with limited, or no, financial means.
In March last year, Bert Hunt, the owner of Hunt Financial Services in Prescott, stopped at Wendy's for lunch. He spotted an elderly man struggling with a walker and offered some assistance.
The two shared a conversation, but the man didn't mention that he had no place to live. They parted ways.
But Hunt couldn't stop thinking about him. Active in a Christian homeless ministry in Phoenix, H 10 Ministries, Hunt suspected there was more to the man's story. So he went back to the Wendy's in hope of finding him, and he was there.
Hunt quickly determined the octogenarian, once a sparring partner with the heavyweight boxing legend Rocky Marciano, was sleeping in a car in the restaurant's parking lot.
With some help from community members, Hunt started searching to find the man a place to stay and found a home for him at the Prescott Manor, 533 W. Gurley St. For more than three decades, the independent living facility has offered care for low-income seniors who do not require skilled nursing care but, rather, assistance with daily living needs. Some of the manor's clients are, however, eligible for hospice care.
Hunt's first introduction to the home was when he visited his new friend there. Hunt said he was impressed with the solace the Manor offers to the eight-to-10 people who live there that would otherwise be without any care, living on the streets. The H-10 ministry group now volunteers at the Manor, forging a partnership with Manor owner/operator Pam Mason.
For a time, the H 10 board considered buying the facility that Mason was ready to sell. Those plans changed, though, after it became clear to Hunt there was a greater need than the Manor could accommodate.
So the ministry opted to seek out a new location for a faith-based facility, to be known as "The Prescott House of Hope," to include at least two congregate-living homes for 10-12 clients each. It will operate in the same way as Mason has run the Manor: with loving, supportive care for low-income or homeless seniors. The facility will not provide for those who need skilled nursing, but will accept those eligible for hospice care.
The Manor is now on the market for sale.
Messages left for Mason were not returned on Wednesday.
Hunt and the H 10 board are in the midst of a $700,000 fundraising campaign. Their business plan states that the board is seeking to buy at least an acre of land and 4,000 square-foot house, with room for a second home. The current Manor residents will be the first occupants.
From Hunt's conversations with various agencies and medical facilities, he said that he expects that the home will have between 15 and 20 occupants in the first year, with the number of residents tripling in three years.
Hunt and other local advocates insist that this is a community and spiritual calling. He expressed their confidence that it will come to be "because God never fails, and He wants people taken care of and He uses us to do that."
"It is time for a House of Hope in our community, and I am happy to partner with H 10 to make it a reality," said Prescott Church of the Nazarene worship leader Phil McCullough."
Yavapai Regional Medical Center's palliative care physicians, Dr. Larry Parsons and Dr. Sam Downing, also endorse this project.
"The need for safe, affordable housing for elderly folks in our community with meager means and no family locally is tremendous," Parsons said. "Anyone who is working toward meeting this challenge is doing God's work."
For more information: www.H10Ministries.com or call Bert Hunt at 602-390-1542