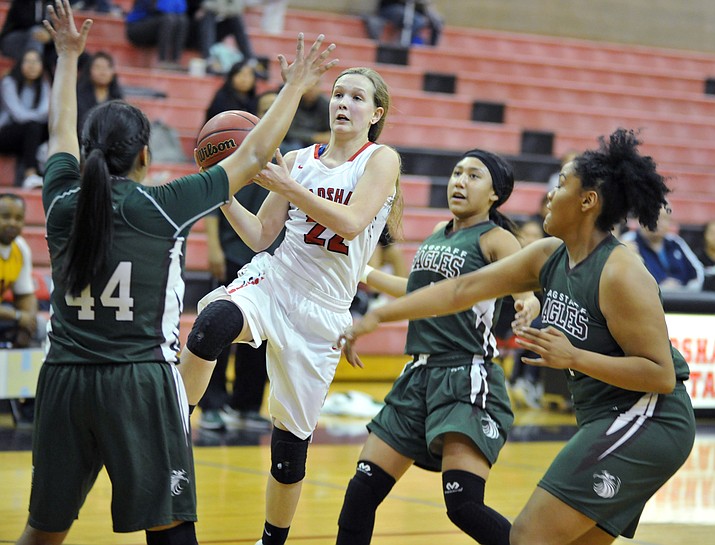 Originally Published: January 16, 2018 11:10 p.m.
Photo Gallery
BMHS vs Flagstaff girls hoops 011618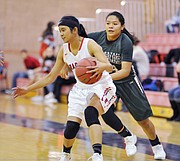 Flagstaff's No. 1-ranked girls' basketball team doesn't simply smother opposing offenses with its trademark defense. It suffocates them.
Just ask No. 14 Bradshaw Mountain, which was swept by the Eagles in their Grand Canyon region series this season after a 63-23 setback Tuesday night at Gary Kunow Gym in Prescott Valley.
Flagstaff's man-to-man defense, coupled with its full-court press, forced the Bears into 20-plus turnovers, several of which resulted in easy transition points, and a running clock in the fourth quarter.
"As the game progressed, we started to get more frazzled as they kept their pressure throughout the whole game," Bears center Delanie Clark said. "And that's not something we're entirely used to, yet we knew Flag was going to do it. It made it harder for us to run our offense and get those open shots."
In its region opener Nov. 20, Bradshaw Mountain lost by a similar score at Flagstaff, 60-28. Again, the defensive pressure played a significant role.
"For us, really, defense wins games," Eagles senior shooting guard Monique Ware said. "And my coach gets on me a lot, and he tells me I can do better and I know I can do better. It's really just me pushing myself."
Twelfth-year Flagstaff coach Tyrone Johnson said his Eagles enjoy playing in his system.
"It really starts with our defense – and that's a fun brand of basketball if you can play it," he added. "You can get steals and go get a bunch of layups. They buy into it, and they work a little bit harder as opposed to walking it up [the floor] and setting it up and then trying to execute your half-court offense."
With the win, Flagstaff claims its 20th victory of the season and are all but a lock for a Top 5 seed in the 4A state tournament next month.
"That's a really, really good team – well-coached – and it wouldn't surprise me if they compete for a state championship," Bears coach Rick Haltom said. "They're nine or 10 deep. They're so talented."
Flagstaff's goal is to garner a Top 4 seed into state, which, if the Eagles win, would guarantee them home games in the first round and quarterfinals in front of their rowdy fans at War Memorial Gym, elevation 7,000 feet.
"We're very hopeful," Johnson said. "The goal is to stay happy and healthy."
The Eagles, who lost to Cactus Shadows in the state semifinals last season, will qualify for the state tournament for the 11th straight season in February. They have reached the Final Four five times in that span.

"I definitely think that we could take state this year," Ware said. "It just depends on the girls – whether or not we're going to decrease in how we play and stuff like that. But we've just got to keep the hype up."
On Tuesday, three Eagles starters scored in double figures, paced by Ware's 17 points, six assists, six steals and five rebounds. Senior guard Mikaila Kayaani-Lee followed with 10 points, nine boards, five assists, three steals and a block. Junior forward Reece Honanie added 10 points, five boards, two assists and two steals.
Starting guards Ashley Edison (six points, seven rebounds, four assists) and Hailey Armus (eight points) also stood out, as did reserve forward Aaliah Tsosie (seven points).
"Me and my girls, we have a lot of chemistry, so that's what helps us," said Ware, who has competed with many of her teammates since their years at Mount Elden Middle School in Flagstaff. "We play well together, and we know how to read each other on the court."
On the other hand, no Bears player registered double-figures scoring. Senior point guard Mica Nellis led the hosts with seven points, three assists, two steals and a block. Clark followed with four points, eight boards and a steal. Jesycca Cambalon chipped in with four points, two rebounds and two steals.
Bradshaw Mountain played without 6-foot starting junior forward Rylee Bundrick, who accidentally stepped on one of Clark's feet Monday in practice and strained her right foot. Haltom said he hoped to have Bundrick back in the lineup as early as next week, but he won't rush her return.
"We definitely were missing her presence [on Tuesday] – you could tell that," Clark said of Bundrick, who's a strong rebounder and shot blocker. "But, at the same time, the girls that came off the bench to fill her spot did a really good job with that."
So, can Bradshaw Mountain (10-9, 3-4 Grand Canyon) still qualify for the postseason?
They have five winnable games left in region play. Haltom said his Bears should finish the regular season between a No. 9 and No. 16 ranking. Each of the Nos. 9 through 16th-rated teams host one state play-in game, matched against one of the Nos. 17 through 24th-ranked squads, to decide the other eight clubs that punch tickets to state.
"Our goal is still to make the state [play-in] tournament and have a home game," Haltom said. "We're a good team. It just shows how much better Flagstaff is. We're going to be in all the rest of the games we play."
UP NEXT
Bradshaw Mountain concludes its five-game home stand at 5:30 p.m. Tuesday, Jan. 23, versus region opponent Mingus (7-12, 2-4 Grand Canyon). The Bears have beaten the Marauders twice this season, including once in region Dec. 15 and once at the Lady Badgers Winter Classic Dec. 29.
Prescott (9-11, 2-4 Grand Canyon) beat Mingus, 34-25, Tuesday night in Cottonwood.
Flagstaff (20-1, 9-0 Grand Canyon) hosts Prescott at 5:30 p.m. Friday.
Doug Cook is a sports reporter for The Daily Courier. Follow him on Twitter at @dougout_dc. Email him at dcook@prescottaz.com or call 928-445-3333, ext. 2039.