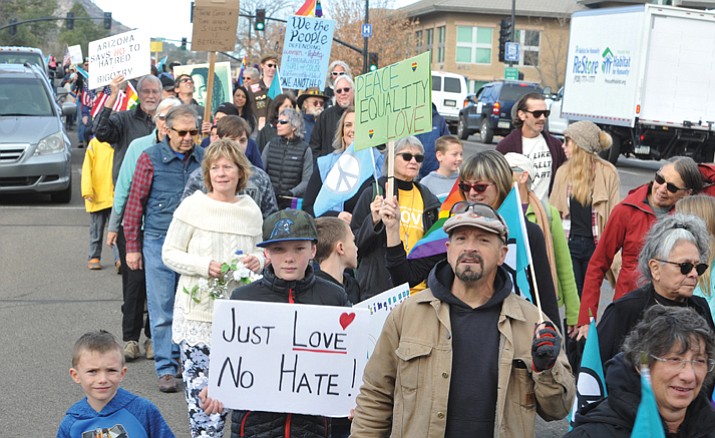 Photo by Les Stukenberg.

Originally Published: January 16, 2018 6:03 a.m.
Ten-year-old Byron Hobson tucked a rainbow-colored "PEACE" flag into the back of his neon-green hoodie as he marched in the fifth annual Martin Luther King Jr. Day Peace and Justice March.
One of more than 450 marchers, the Franklin Phonetic School student was part of the St. Luke's Ebony Christian Church, expressing the federal holiday's importance to observe. His mother, Kendra Hobson, was the master of ceremonies for the "Celebrating the Legacy" service that followed the march at the Prescott United Methodist Church on West Gurley Street.
"It's important to me because we're celebrating a day of freedom," Byron said.
At the very back of the throng, stepping off at 10 a.m. from the Prescott College Welcome Center parking lot was a young mother, Colleen McHorney, marching with her three-year-old son, Gabe, in a backpack. It was his second year attending the march that went around the Yavapai Courthouse plaza before heading west up Gurley Street to the Prescott United Methodist Church.
McHorney said she simply wanted to "be with community in full expression of peace, freedom and truth in our community."
Prior to the march, McHorney said she and her husband listened to some of King's speeches and it was clear he was calling on all citizens to rally together in the "here and now" to fight against injustice and for freedom that extends to every person regardless of their skin color, their religion, or lifestyle.
"This is a nice way to be in solidarity," she said.
Marchers who represented a cross-section of the community – a little boy sporting a Spiderman backpack to a 75-year-old retired educator who taught in schools around the globe – carried one-word and multi-phrase signs all with the theme of the need to keep on striving to achieve King's "dream."
One sign holder recited lyrics from John Lennon's 1971 hit "Imagine," a few promoted political justice and many selected words spoken by King as their call to peace, equality, love and freedom.
"There comes a time when silence is betrayal," read one sign quoting the late preacher, Nobel Peace prize winner and architect of the Civil Rights movement.
Suzanne Leroux said she opted to march because she believes it is important to propel King's vision of unity in the world, to embrace diversity rather than fear it. The one-time educator with the U.S. Department of Defense who taught school in many countries, Leroux said she is grateful she lived in Christian, Muslim and Buddhist countries as she gained a perspective far different than the one she grew up with in Montana.
"We may have come on different ships, but we're in the same boat now," read the words printed on a poster carried by a fellow marcher.
"I'm very, very happy to see this large showing in Prescott," said Margaret Mendoza, a three-decade Prescott entrepreneur. "Seeing the children is such a beautiful thing because that's our future."
She was particularly delighted that the marchers represented a wide and diverse demographic. "We're sharing our love of diversity," Mendoza said. "We really are a melting pot."
Prescott College instructor and executive Robyn Bryers said this was her first march and considered it a "symbol of hope."
"For me, this is exciting; to see so many people turn out for something so meaningful," Bryers said.
She and other marchers were adamant that King's Civil Rights legacy must continue to be vigilantly nurtured so future generations are guaranteed those same protections. "And we still have a ways to go," Bryers concluded.