Photo by Nanci Hutson.

Originally Published: January 16, 2018 6:02 a.m.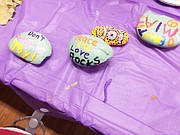 Prescott resident and retired clergyman from Chicago Lou Burrell told a sanctuary-full of Martin Luther King Day Jr. observers how his soul was stirred by two distant encounters with the civil rights leader.
The first was a 1966 march in downtown Chicago, Burrell told those attending the "Celebrating the Legacy Ceremony" at Prescott United Methodist Church on West Gurley Street.
The then-young black cleric said he opted for a curbside spot where he could hear the chants of marchers from blocks away; his stomach aflutter as he awaited what was beyond all expectation.
"The next thing I knew, I was marching; it was like a vacuum sucked me in," Burrell recalled. "It was quite an experience – an experience I'll never forget."
So when King was scheduled to appear a second time at Soldier Field, Burrell was one of the early arrivals. He ended up standing shoulder-to-shoulder with several thousand other men, women and children of all colors, creeds and backgrounds.
"There was such unity in the air – you could feel it," Burrell said. "He moved everybody."
The MLK celebration organized by the Quad-City Interfaith Council and 15 other local groups and agencies was filled with music, recitations of King's speeches, including video clips, a city proclamation and talks by four speakers, including a local charter school director, about continuing King's legacy of putting words of peace, justice, love and freedom into action for all people.
"Life's most persistent and urgent question is: What are you doing for others?" King said.
Speaker Robert Shegog told a story of traveling with his family to Alabama during the tumultuous years that ushered in King's struggle for justice amid hate-fueled racism.
Shegog remembers walking into a store south of the Mason/Dixon line with his uncle to buy a bag of sandwich bread. They were informed they were not welcome - their skin was the wrong color. He also remembers his mother advising him against solo travel because a young black man's good manners could be misconstrued and put him in life-threatening danger. The lynching of young black men in those days was a reality, he said.
Shegog later earned a wrestling scholarship to college, the start of his career as an educator and coach.
In his career, Shegog said he often reflected on King's legacy, particularly his ability not only to execute a plan of action that motivates others but his passion.
Citing King's "I Have a Dream" speech in Washington, D.C., Shegog noted that the historic speech King delivered was not the one he planned. Rather he was prodded to share his passion, his "dream."
King's words and actions resonate today because people continue to tell his story, and tell their own stories with a goal of allowing future generations to script their story, one of hope, promise and peace, Shegog said.
On MLK Day, Shegog said it is important for people to embrace the need to put action behind words.
Shegog then quoted a line spoken by actress Oprah Winfrey in the science fantasy movie, "A Wrinkle in Time."
"Close your eyes and become a warrior where you are."