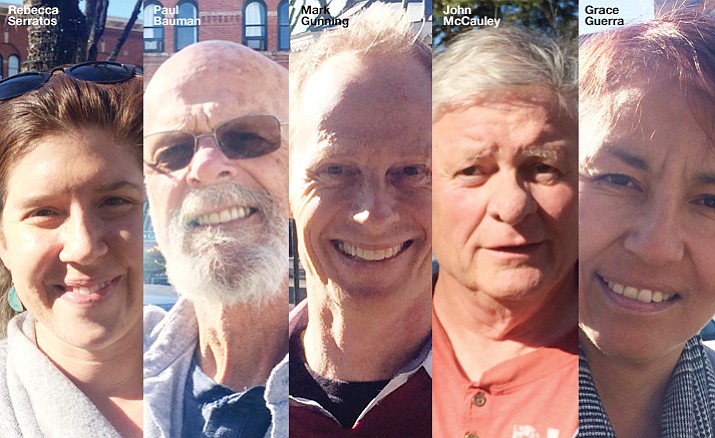 Photo by Jason Wheeler.
Originally Published: January 15, 2018 6:03 a.m.
We asked people at Prescott's courthouse plaza if they made any New Year's Resolutions, what they were and how they're doing on them just a couple weeks into 2018. Here is what they told us:
"Attitude adjustment – good, it's still January though." – Rebecca Serratos (Prescott)
"Just to be a better man – Nobody's arguing with me." – Paul Bauman (Prescott)
"I'm taking money out of my bank account in cash every payday and I'm writing it on a chalkboard in the kitchen… the resolution, I have a name for it 'More mun for more fun – It's actually visually in the kitchen, every time I go in the kitchen and so I actually executed it for the first time today." – Mark Gunning (Prescott)
"Support Donald Trump – very well, he's a great man. Best president we've ever had." – John McCauley (Prescott)
"Increase business for my business – I spoke in front of 150 Realtors this morning" – Grace Guerra (Cave Creek)
New Year's Resolution to lose weight?
Here's 5 things to keep in mind
It never fails — every year someone makes a New Year's Resolution to eat healthier or lose weight.
Rita Carey-Rubin, dietitian and certified diabetes educator at Yavapai Regional Medical Center has five things to keep in mind for people trying to make such a change.
1. Make the changes realistic — People who make these types of resolutions should feel confident that it's an achievable change, Carey-Rubin said.
"Set the bar as low as you need to," she said.
2. Have somebody to work with — whether it's a spouse, partner or a friend, have some accountability. People surrounding themselves with others doing similar things or having similar healthy habits helps, Carey-Rubin said.
3. Have compassion on yourself — Changes happen in a straight line and people usually veer off the path a little bit, she said. When that happens, have don't beat yourself up but have some forgiveness for yourself, Carey-Rubin said.
4. Have a plan for when you do fall off the path — "What's your plan for getting back on?" she said. "Do you have somebody you can talk to?"
Even if it's talking to yourself, make sure there is something to get you back on track, Carey-Rubin said.
5. Know why you're making the change — Everyone has reasons for making changes, whether it's eating differently or exercising or anything for better health, she said. It helps to have a reason in your heart, something you can identify with emotionally to get you through the hard times, Carey-Rubin said.
On the other hand, Carey-Rubin said one thing to watch out for is a diet that is really restrictive and cuts out a lot of different food groups. It might work really well, but be clear it's something you can stick with, she said.
"Some of those diet patterns are just fine, like a paleo diet where you cut our sugar and grains. You should really be clear with yourself whether you can stick with it," Carey-Rubin said. "I think the thing that trips people up often is they'll go on something really restrictive and extreme and they'll get tired of it and just add food back in and just gain all the weight that they lost."