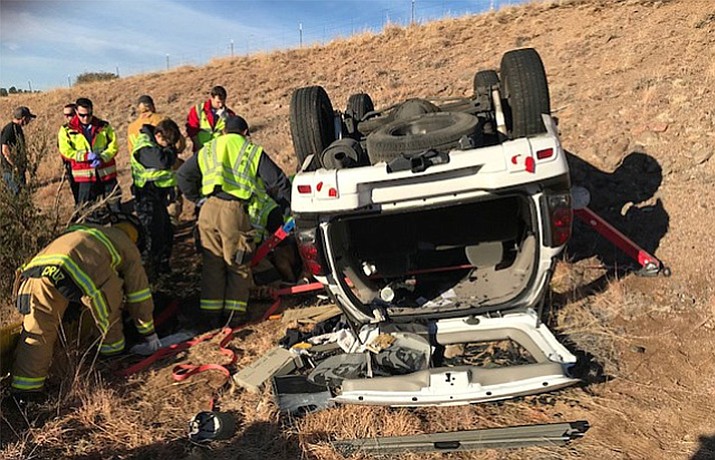 Originally Published: January 14, 2018 11:21 p.m.
Updated as of Monday, January 15, 2018 6 AM
Shortly before 9 a.m. Sunday Prescott Regional Communications Center received reports of a single vehicle rollover in the West-bound lane of the Pioneer Parkway near the Commerce Road intersection. Engines from both Central and Prescott Fire responded to the incident along with a Prescott Battalion Chief and Lifeline ambulance. The first arriving engine found a white SUV on its roof off the side of the road. There was a single occupant, a female in her 60s, next to the vehicle that had been able to remove herself from the car after the accident. One engine company was committed to patient care while the second engine company deployed their "Rescue 42" vehicle stabilization system on the overturned vehicle to help ensure the safety of both the patient and firefighters working next to vehicle.
The driver stated that she had been distracted while driving and reached for something on the floorboard when the vehicle exited the roadway and she subsequently overcorrected, causing the vehicle to roll. She had been wearing her seatbelt, which helped to significantly reduce the amount and level of injuries she sustained. She was transported by Lifeline ambulance to Yavapai Regional Medical Center to address non-life threatening injuries. Westbound travel on the parkway was impacted for less than an hour.
Information provided by Prescott Fire & Medical.