Originally Published: January 13, 2018 6 a.m.
St. Luke Ebony Christian Church is putting on a program "celebrating the life and times of Dr. Martin Luther King Jr," 6 p.m., Monday, Jan. 15, at St. Luke's 12191 E. Turquoise Circle, Prescott Valley (near Dewey).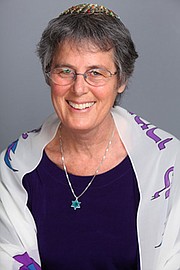 "'New Year of the trees' or 'TuBeshevat' (in Hebrew)" is Rabbi Nina Perlmutter's topic at the 11 a.m. service at Prescott Unitarian Universalist Fellowship at 945 Rancho Vista Drive, Prescott. Rabbi Nina will share teachings and practices associated with a much lesser known Jewish winter holiday which has meaning and relevance for everyone, especially for those who care about nature and trees. Meg Bohrman will lead the music for the service.
Before retiring early to study for ordination, Rabbi Nina headed Philosophy & Religious Studies at Yavapai College in Prescott, Arizona, where her favorite classes included Ethics, Environmental Philosophy, World Religions, and Science, Religion & Philosophy. Now Emeritus Faculty, she continues to teach Jewish Studies and Environmental Ethics and serves as Jewish contact at the Grand Canyon. Her background in those areas, her passion for interfaith dialog and for sharing joyful and inclusive Judaism inform her rabbinate and approaches to Jewish learning.
Daughters of Grace Ministries invites women to its spring Bible study. Enjoy a comprehensive study on the Psalms, the most-read book of the Bible and the book Jesus quotes most often in the Gospels. The series will be taught by Melissa Fryrear, the ministry's founder. Melissa holds a Master of Divinity and is currently a doctoral candidate in the dissertation phase. Meetings will be held one Monday a month for five months from 9 to 11 a.m. beginning Jan. 22 at the Adult Center of Prescott (1280 E. Rosser Street) Nominal fee. Seating is limited so registration is required. For more information, go online to www.daughtersofgrace.org, email us at info@daughtersofgrace.org, or call 928-848-7710.
The Unity Church of Prescott, 145 S Arizona Ave, Prescott will resume weekly classes 6:30 to 8 p.m. Tuesdays.
All are welcome to join with Beit Torah Jewish Congregation (www.onetorah.org) in receiving a new month, Rosh Chodesh Shevat, sunset Jan. 16 thru Jan. 17, with candlelight and yummies. Please call for details and directions: 928-237-0390, 928-227-0582 or email ansheitorah@cableone.net.
Jane's Hope is a Christian ministry for women to share, heal, support each other, and experience forgiveness through Jesus Christ. The next meeting will be held Jan. 27 at the Cuppers conference room on Cortez at 10 a.m. For more information contact Prescott Christian Church at 928-445-0680, or email maryannwinslow1@gmail.com.
The winter creation science seminar will be on Sat. Jan. 27 at Grace North Church, 5145 E. Ramada (off Highway 69 where Hope Chapel used to be) from 2 to 5 p.m.

The speaker will be Michael Calcagno from Payson, VP of Az. Origin Science Assoc. - Gila Div. His two talks will be: "Noah and Those Pesky Dinosaurs," and "The Tower of Babel & Ancient Man."
There is no cost, but offerings for the speaker will be taken.
There will be creation science books and DVDs for purchase.
There will also be a Bible and science quiz with giveaways, and giveaways to all students that attend.
Kings of Country Concert
Chuck Brown, impersonator extraordinaire, returns to Faith United Church with his Kings of Country show 5 p.m., Friday, Feb. 2, Old Chisholm Trail in Dewey. The featured music will be from Johnny Cash, June Carter Cash, Merle Haggard, Ray Price, Conway Twitty and many other country legends. Your $20 donation at the door will include the amazing show as well as wine, hot apple cider and appetizers. Dust off your country duds and join us. For more information, call Loretta at 928-533-4256.
Jan. 16: New Year New You, Jan. 23: Liberate Your Mind, Jan. 30: Opening the Heart, Feb. 6: Connected Through Kindness, Feb. 13: The Mirror of Dharma and Feb. 20: A Special View of Others.
$10 per class. $5/students. Everyone is welcome.
The New Year is a time for reflections and resolutions. We all wish to change and for our lives to go in a better direction - for that to happen we need to connect with the potential that exists within our minds. The profound tools of transformation within Buddhist meditation gives us the ability to become peaceful, kinder, more dynamic and confident, happier, and more loving.
In these weekly drop-in classes through profound teachings and meditation learn skillful and creative methods to initiate the inner change we all long for. The blissful journey of inner transformation will not only benefit ourselves but will also contribute to the happiness and peace of mind of those around us.
Classes are based on the book 'How to Transform the Mind' by Geshe Kelsang Gyatso. You can download it for free at howtotyl.com.
Schedule: Jan. 16: New Year New You, Jan. 23: Liberate Your Mind, Jan. 30: Opening the Heart, Feb. 6:
Connected Through Kindness, Feb. 13: The Mirror of Dharma, Feb. 20: A Special View of Others, Feb. 27:
Fearless Life; Letting Go of Anxiety with Gen-la Jampa.
More like this story