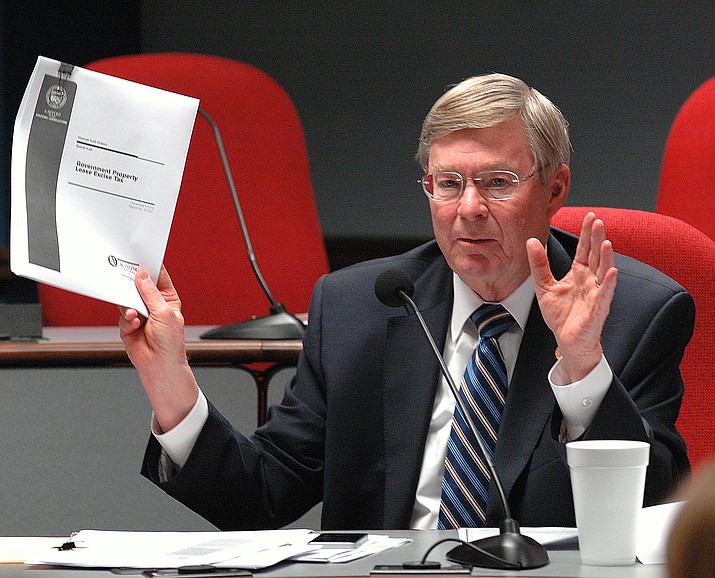 Originally Published: January 12, 2018 5:50 a.m.
PHOENIX — A Tucson Republican lawmaker wants people who are legally entitled to use medical marijuana to pay for a program to discourage drug use among others rather than lowering the excess fees they pay the state.
Rep. Vince Leach introduced HB 2066 which would let the state Department of Health Services use what it does not need to run the program for "education, awareness and prevention messaging." He said the state is not doing enough.
Separately, Sen. David Farnsworth, R-Mesa, wants to take $5 million out of the funds to give to law enforcement agencies "for crimes related to drug trafficking and distribution." His proposal is SB 1061.
There's plenty of money to spend: At last count the health department had amassed more than $40 million.
And that situation is likely to continue. Figures obtained by Capitol Media Services show the state collected $24.9 million in fees last year from patients, caregivers, dispensaries and growers. Expenses during that same period to run the program were $11.2 million.
That annual surplus -- and the ever-increasing bank account -- exist solely because the $150 annual fee set by the health department after voters first approved medical marijuana in 2010 is bringing in far more than needed to administer the program. Will Humble who was health director at the time, acknowledged he underestimated how many people would qualify to be certified by the state to purchase the drug.
In fact, Humble was preparing to reduce the fees when he quit following the 2014 election of Gov. Doug Ducey.
But current Health Director Cara Christ has shown no interest in following through. So two patients have filed suit to force her to do so.
If either or both measures become law, that would undermine that lawsuit because it would cut into and possibly eliminate the surplus that the litigation hopes to have refunded to patients in the form of lower fees.
Central to the question is whether medical marijuana patients should be subsidizing anti-drug efforts.