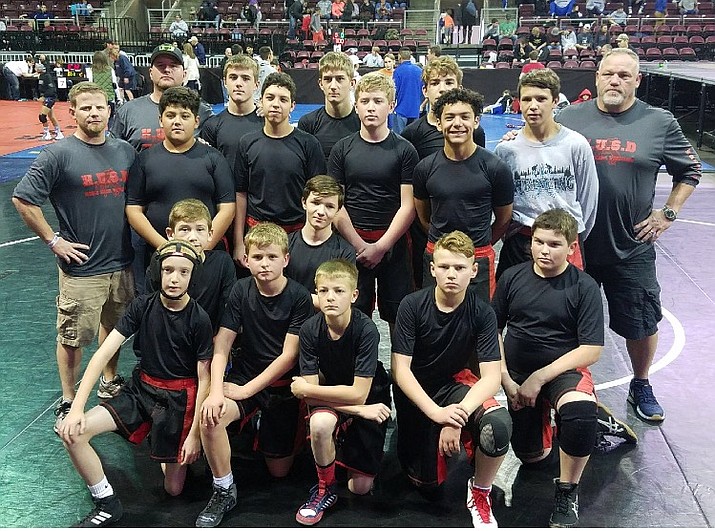 Originally Published: January 12, 2018 11:43 p.m.
The Humboldt Unified School District wrestling team took seventh out of 24 teams at the Thunderbird Wrestling Tournament on Jan. 6. Nick Foshee and Brandon Millard finished second overall, while Ty Dilcher and Michael Kelly took third overall in their respective weight classes. Stephan Brannon and Broden Sheble finished sixth at the event.
Annual Leprechaun Charity Open at Antelope Hills set for March 17
The ninth annual Leprechaun Charity Open golf tournament is scheduled to take place Saturday, March 17, at Antelope Hills Golf Course in Prescott. The tournament is sponsored by the men's golf club and benefits Prescott Area Shelter Services. Last year, 156 total golfers participated and raised $3,100. The club hopes to exceed that mark this spring. The event is a four-person scramble format at $55 per golfer, which includes green fees, cart, range balls and a buffet lunch. There are $2,200 in total prizes for multiple categories and a hole-in-one contest for a new car and raffle prizes. Scheduled tee time March 17 is 9 a.m. Deadline to enter is Friday, March 11. For more information, contact Joe Gouveia at 928-830-0625.
Rough Rider 100 coming to Prescott Valley Feb. 16
With $10,000 in cash prizes, a $4,000 bronze statue and ability to claim the U.S. Army Rough Rider Champion title on the line, dozens of off-road motorcycle racers from across the country are scheduled to attend the U.S. Army Rough Rider 100: The Race of Champions during President's Day weekend, Friday through Sunday, Feb. 16 to 18, in Prescott Valley. World-class competitors Gary Sutherlin, Max Gerston, Mitch Carvolth and Taylor Robert are scheduled to attend along with Shelby Turner, a back-to-back AMA No. 1 Enduro Cross Champion and three-time Canadian Motocross Champion. The race will take place at the rocky, sandy ravines of Lynx Creek. For more information, go to roughrider100.com or contact Mike Johns via email at mike@team6events.com.
Flight operations observing Mexican wolf population begin Jan. 22
A multi-agency effort between the U.S. Fish and Wildlife Service, Arizona Game and Fish Department, U.S Forest Service, U.S. Department of Agriculture Animal and Plant Health Service Inspection and the White Mountain Apache Tribe will begin low-flying helicopter operations beginning Monday, Jan. 22, as biologists conduct their annual Mexican wolf population survey and capture in parts of eastern Arizona.
Weather permitting, the aerial operation is scheduled to run through Saturday, Feb. 3, and survey the Fort Apache Indian Reservation, the Apache-Sitgreaves, Gila and Cibola National Forests in eastern Arizona and Western New Mexico. There were a minimum of 113 wolves in the wild in Arizona and New Mexico at the end of 2016, which represented a more than doubling of the population since 2009.
U.S. Forest Service waives fees in honor of Martin Luther King Jr.
The U.S. Forest Service, including the Prescott National Forest, will waive the $5 fee at day-use recreation sites on Monday, Jan. 15, 2018, to celebrate Martin Luther King Jr. Day. As part of the nationwide fee waiver day will locally be waived at Lynx Lake recreation area on the north and south shores, and the Lynx Creek Ruin. Other locations receiving the waiver include the Granite Basin Recreation Area, Thumb Butte, Alto Pit OHV, Hayfield Draw OHV and Groom Creek Nature Trail. Fees are waived for picnic grounds, developed trailheads and destination visitor centers. The waiver does not apply to overnight campgrounds, group use fees or fees charged by concession-operated facilities. For more information, or to view other fee-free days, head to fs.usda.gov/prescott, or call the Bradshaw Ranger District at 928-443-8000.
More like this story