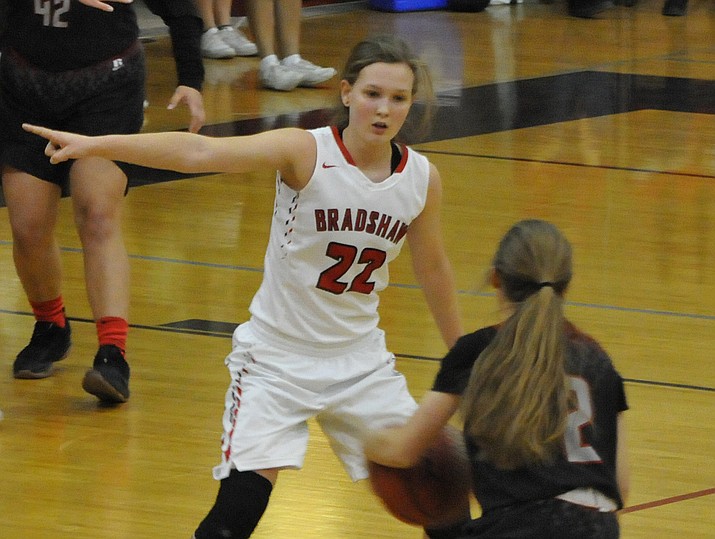 Originally Published: January 12, 2018 11:50 p.m.
In a physical battle between two Top 15-ranked 4A clubs Friday night, the Bradshaw Mountain girls' basketball team ultimately couldn't overcome Coconino's suffocating full-court press en route to a 41-28 Grand Canyon region loss at Gary Kunow Gym in Prescott Valley.
As the state-playoff chase begins in earnest, the No. 13 Bears saw their four-game winning streak in power-point games end, while the No. 6 Panthers responded well after having struggled in a 66-37 region setback to crosstown rival and No. 1 Flagstaff Tuesday at home.
"Hopefully, we do wear teams out – that's kind of like our plan," Coconino coach Martin Reyes said of his trapping full-court press, which the Panthers played the whole game. "We guard man [defense] all over the floor; try to make it hard for teams to run offense. We want them uncomfortable."
Coconino was paced by senior guard Kaylee Begay, who scored 13 points on the strength of three 3-pointers. But it was another senior guard, Jada Golding, who stole the spotlight, registering 11 points, five rebounds and three steals. Eight of her 11 points came in the pivotal fourth quarter. Freshman guard Oniah Barton-Paddock added seven points, four rebounds, two steals and two blocks.
The Bears were led by starting senior guard Mica Nellis' 12 points, six steals and three rebounds. Forward Rylee Bundrick tallied six points, 14 rebounds and two steals. Center Delanie Clark (four points, five rebounds, two assists) and freshman reserve swing Sierra Woolley (four points, six boards) aided in the effort.
"We played as good as we could've, and if we keep pushing ourselves, then we'll be fine," Nellis said of her Bradshaw Mountain squad. "Basketball's a game of runs. We had some. They had some."
With the loss, Bradshaw Mountain's record dropped to 7-4 in power-point games and 3-3 in region. Coconino improved to 9-2, 4-1 to keep from falling further behind Flagstaff.
The Panthers remained on Flagstaff's heels, although the Eagles defeated Lee Williams, 55-29, Friday in Kingman to stay unbeaten. (The score had originally been misreported on the AIA website Friday night.) Flagstaff now stands at 10-0, 8-0.
In Bradshaw Mountain's first meeting with the Panthers Dec. 5 in Flagstaff, Coconino cruised past the Bears, 46-32. That would not be the case on Friday.
Despite converting only two field goals in the first half, Bradshaw Mountain trailed just 17-8 at halftime thanks to its effective zone defense. The Bears would rally in the third quarter to put a scare into the Panthers, outscoring them 14-10 to pull within five of a tie, 27-22.
"We decided after halftime – let's take it in four, 4-minute increments," Bears coach Rick Haltom said. "Let's win the first 4 minutes; let's try to win the next 4 minutes. We wound up expending a lot of energy in the third quarter coming back."
Coconino's full-court pressure defense caught up with a tired and frustrated Bradshaw Mountain offense in the fourth period.
"We knew that the points were getting closer and closer, so we knew that Bradshaw was kind of calming down a little," Golding said. "And I just kept telling my team, 'Come on! Let's go! Let's go! The time's not up yet!' "
The Bears, who committed 15 turnovers in the game, were held to six points on three field goals, including two from Bundrick and one from freshman reserve Sierra Woolley in the last frame.
"We made a lot of errors with turnovers," a visibly exhausted Bundrick said afterwards. "We mainly made ourselves make the turnovers. They weren't really forcing anything. Our luck with the baskets was really bad."
Nevertheless, Nellis said she came away confident in the way her Bears competed.
"If we had another chance to play against Coco, it would be another close game, and we could pull it out," she added. "Our team, Flagstaff and Coco are all right there; we're all equally competitive."
The Bears were forced to foul late, and Coconino made Bradshaw Mountain pay, going 11 of 14 from the charity stripe in the second half, including 8 of 10 in the fourth period. Bradshaw Mountain finished 9 of 17 from the free-throw line, including 5 of 10 in the third and 0 for 1 in the fourth.
"We're going to learn from this loss and not take it as hard [as we normally would]," Bundrick said. "It sucks, but we can become better from it as a team, and that'll help us in the future."
UP NEXT
Bradshaw Mountain resumes its season-long six-game home stand when it plays host to Flagstaff at 5:30 p.m. Tuesday, Jan. 16. In the Bears' season and region opener Nov. 20, Flagstaff posted a 60-28 victory. Bradshaw Mountain has five region games remaining.
Coconino will have a challenge on its hands when it welcomes Lee Williams (4-5, 4-3) to Flagstaff for its next region contest, also at 5:30 on the Jan. 16.
Doug Cook is a sports reporter for The Daily Courier. Follow him on Twitter at @dougout_dc. Email him at dcook@prescottaz.com or call 928-445-3333, ext. 2039.