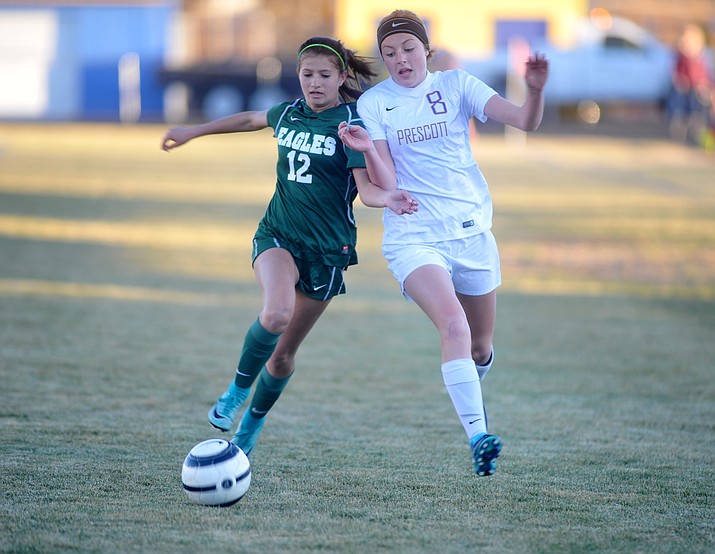 Originally Published: January 11, 2018 11 p.m.
Photo Gallery
PHS vs Flagstaff Girls Soccer 011117
Smith's early first-half goal the lone score for No. 4-ranked Badgers
Erika Smith scored a goal in the 11th minute to put the Prescott girls soccer team on top 1-0, but from that point on, it was all Flagstaff as the No. 2-ranked Eagles stayed perfect in region play with a 3-1 win over the Badgers on Thursday night.
It is the fourth straight win for Flagstaff, which has outscored its last four opponents 33-3.
After Smith's early goal gave the No. 4-ranked Badgers a lead, Flagstaff answered in the 27th minute when Zalma Batrez-Cardoza took advantage of some miscommunication defensively to tie it, 1-1.
"We made a basic mistake giving up the first goal, getting beat down the middle," first-year Prescott head coach Paul Campuzano said. "We've been working on that this year, and really something that's unacceptable, and they know that. … A little miscommunication between the keeper and the defender, and she [Batrez-Cardoza] put it in."
In the second half, Madelynn Shafer hit the back corner of the net from about 20 yards out in the 42nd minute to put the Eagles on top 2-1 and they never trailed again.
Flagstaff (9-2-1, 4-0 Grand Canyon) added a goal in the 79th minute to make it 3-1 when forward Taylor Hazlett took advantage of a few less Badger defenders on the field.
Campuzano substituted a few forwards and pushed up his offense in attempt to tie the game late.
"It really doesn't matter if we lose 2-1 or 5-1," Campuzano said. "We needed that goal."
Flagstaff outshot the Badgers 16-9, while Prescott goalkeeper Emily Hobson and Eagles goalkeeper Lyza Bosselmann each had seven saves.
"I think overall, their work ethic and their fight, going down 1-0 early, they could have easily sat back, gave up," first-year Flagstaff head coach Holly Jones said. "But they went ahead and kept applying pressure, stepping it up, and just fighting until the very end."
Jones added it was exciting to see the two Top 5 clubs play a highly-contested match with playoff implications.
"I think that's huge, it's been something [our players] have been focused on, to come here and get the win," Jones said.
UP NEXT
Prescott (7-2-2, 2-1 Grand Canyon) has four matches remaining on the regular-season schedule, three of which are on the road. The first comes Tuesday, Jan. 16, as the Badgers travel north to Flagstaff and play Coconino. Official start time is set for 3 p.m.
The Eagles have three matches left on the schedule, the first at home against No. 16-ranked Mohave at 3 p.m. Tuesday.
Brian M. Bergner Jr. is sports editor for The Daily Courier, the Prescott Valley Tribune and the Chino Valley Review. Follow him on Twitter and Instagram at @SportsWriter52 or on Facebook at @SportsAboveTheFold. Email bbergner@prescottaz.com or call 928-445-3333, ext. 1106.