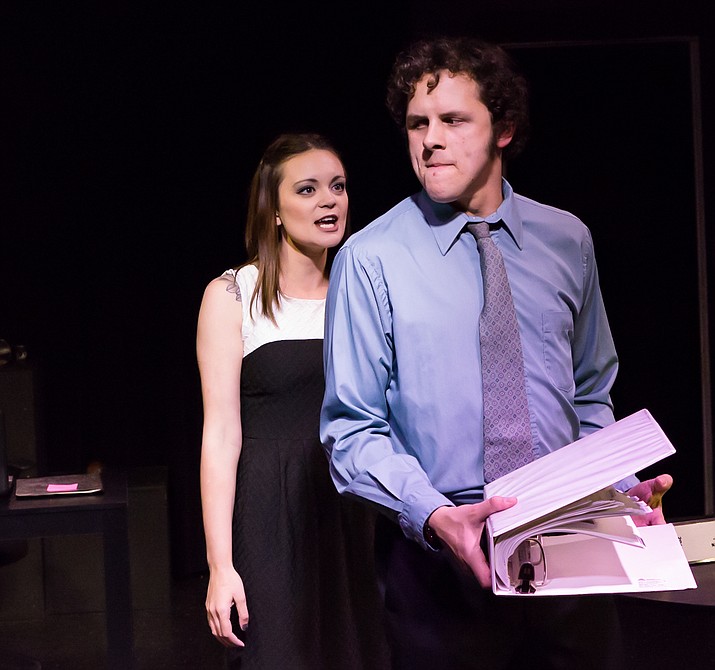 Originally Published: January 11, 2018 5:52 a.m.
Upon deciding to go ahead and review "Fat Pig" in spite of its off-putting title, I discovered director Kevin Nissen initially questioned his decision to direct the play for the same reason. I can only presume some theater-goers might likewise opt to forego this production on the assumption the play is as offensive as its title.
They shouldn't.
Set in present-day Philadelphia, this thoughtful and emotionally compelling drama by Neil LaBute begins with a young, good-looking Tom (Logan Wolfe) sharing a table at a crowded lunch establishment with plus-sized Helen (Ashley Lawler). Helen is friendly, smart, direct, and charming. She and Tom even discuss her weight, as preemptively brought up in conversation by an adept Helen. A surprised Tom finds himself strongly attracted to Helen despite her size, and the couple begins dating.
One common viewpoint holds that people in relationships owe it to their partners to be at their best and most attractive, but "Fat Pig" entirely sidesteps that line of thought. The play focuses instead on the peer pressure that comes to bear on a handsome young man such as Tom when dating an overweight woman.
Giving voice to our culture's judgments about portly people is Tom's pal Carter, played to exceptional effect by PCA regular Will Larson. Carter is at once shallow and insightful. He is the consummate jerk and owns the fact. Yet his insensitive putdowns of Helen cut straight to the heart of what promises eventually to be a dilemma for Tom.
In a rare moment of genuineness, Carter divulges his childhood embarrassment and disgust over his obese mother. The scene is one of many highlights of this remarkable production.
Still, a stronger, more confident and autonomous Tom would send Carter packing. Instead, he not only listens to Carter but seeks his advice. On the other hand, Carter's mostly unwelcome involvement perhaps brings clarity to Tom sooner than later.
Lawler is the perfect choice to play Helen. She is a wonderful actress, who makes Helen's blossoming relationship with Tom entirely believable. Helen's vulnerability is palpable, as is the pair's chemistry.
Completing director Nissen's well-chosen cast is Natalie Geraghty as the eye-catching Jeannie, with whom Tom has maintained an on-again-off-again relationship until meeting Helen. Clearly, Jeannie takes her fling with Tom far more seriously than he, as evidenced by Tom's relative indifference to the stinging workplace rebukes he receives from the scorned young woman.
Tom ultimately vacillates over his feelings for Helen, even aside from Carter's obnoxious meddling, or perhaps largely because of it.
By play's end, I was of course rooting for Tom to man up and defend the woman he loves. But did he? No spoiler alert here. I'm afraid you'll have to see the play. Suffice it to say, playwright LaBute took the most plausible and true-to-life route, which seems only right.
"Fat Pig" is a razor sharp treatment of strength of character, lack thereof, personal appearance, and how the attitudes of peers and society affect feelings and behavior. It will make you laugh, hope and cry. You'll be asking yourself, "If I were Tom, what would I do?" It is one of those plays that will stay on your mind for hours, if not days, after you leave the theater.
"Fat Pig" will run Jan. 11 through Jan. 28 in the Prescott Center for the Arts' Stage Too theater, in the alley off Cortez Street between Willis and Sheldon (behind the Peregrine Book Co.) in downtown Prescott. Evening performances are at 7:30 p.m. on Thursdays, Fridays and Saturdays, with matinee performances at 2 p.m. on Sundays. Tickets for all performances are $15. For more information visit the Prescott Center for the Arts website at pca-az.net or call 928-445-3286.
More like this story