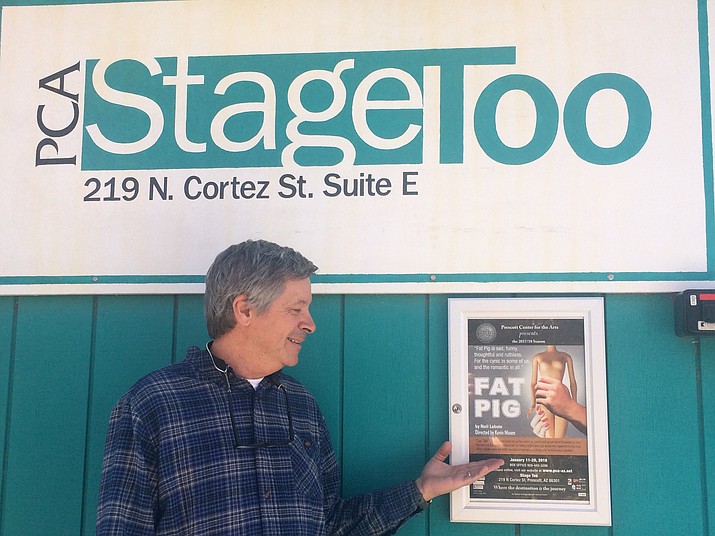 Originally Published: January 5, 2018 6:01 a.m.
Prescott Center for the Arts' newest show, "Fat Pig," is a play where the first thing people will have to do is get past the title, Director Kevin Nissen said.
It's an off-putting title, Nissen said, referencing the Johnny Cash song, "A Boy Named Sue." In the song, Sue was saddled with a name that forced him to be tough, Nissen said. Likewise, the production has been saddled with a play where the title may make sense to him now that he's done it, but it's a title the viewing public will have to force themselves to give a chance and see how palatable it is.

"I really do believe when people see it, that they will relate to it. Everybody can relate to it," he said. "It's about social pressure, forcing you to do things that may not be in your heart. In this case, you've got a character whose heart is telling him something but the people in his office and social world is telling him something else."
The play deals with some subject matter that Prescott is not normally used to dealing with such as body image, Nissen said. It also deals with the topic of how women are treated in the workplace.
"Fat Pig" opens on Stage Too, located in the alley behind the Prescott Center for the Arts, 208 N. Marina St. It runs from Thursday, Jan. 11, to Sunday, Jan. 28.
Getting past the title was something he had to do when first reading it, Nissen said, adding that his wife had to get past it too.
"She was a little bothered by the fact that I was sitting in the house reading a play called 'Fat Pig,'" Nissen said. "But the language was so honest and so real and the subject matter was so relevant that I was really drawn to it. It was something very fresh and very modern and I thought something very unique."
Showtimes are at 7:30 p.m. Thursdays through Saturdays, Jan. 11-13, Jan. 18-29 and Jan. 25-27 as well as at 2 p.m. Sundays, Jan. 14, 21 and 28. Tickets are $17 and available online at www.pca-az.net.
This is also the first play Nissen has directed, having performed in several shows at Prescott Center for the Arts before. As such, the newness to directing has been the most difficult aspect of putting the show on, but he has a seasoned stage manager who helps him a tremendous amount as well as four talented performers, he said.
Still, Nissen says he has enjoyed the experience and is open to directing more plays in the future. The biggest thing he's learned about directing is being able to translate what he sees in his mind, relating that vision to the actors and getting them to see the same vision he has without just acting it out himself, he said. It's all about patience.
"Learning to talk that way to actors, learning to explain things and learning to be patient," he said.
"To know that what I see and what I expect to happen may not happen as quickly as I think it should, but eventually everything seems to get there."
Nissen is also the director of Friendly Pines Camp. There was a time when he was a little bit more cautious about things because he works with children and then he's in a setting like the PCA where such material would never be allowed at camp, Nissen said. However, this is his other life that he keeps pretty separate and is a nice outlet.
By Jason Wheeler. Follow him on Twitter @prescottwheels. Reach him at 928-445-3333 ext. 2037.
More like this story