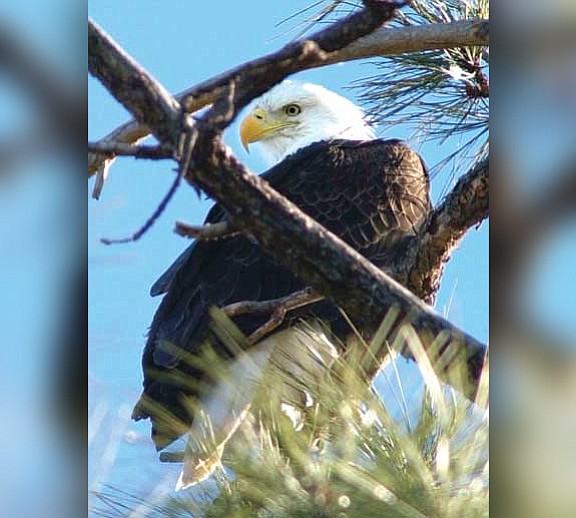 Originally Published: January 3, 2018 6:01 a.m.
In December, Arizona bald eagles begin rebuilding nests in preparation for laying eggs. The birds nest, forage and roost at the rivers and lakes that have become some of Arizona's most popular recreation spots, and this time of year can be challenging for the birds.
People hiking or boating around Lynx Lake may notice a nesting eagle pair. The Lynx Lake shoreline trail, however, will remain open unless the eagle pair moves nesting locations.
Some wildlife management agencies close areas around breeding locations during the birds' breeding season to protect the state's 67 breeding pairs of bald eagles.
These include eight places along the Verde River, two places along Tonto Creek, four along the Salt River, a portion near Crescent Lake in the Apache-Sitgreaves National Forest, a portion of Greer Lakes, the Lower Agua Fria Arm of Lake Pleasant, the north side of Luna Lake, and portions of Show Low and Whitehorse lakes.
"Bald eagles protecting an active nest will let you know if you are too close," the AGFD press release dated Dec. 27 states. "If a bald eagle is vocalizing and circling the area frantically, you are too close and need to leave the area quickly. Bald eagles incubating eggs or brooding small young should never be off the nest for more than 15 minutes."
Naturalists can enjoy watching the eagles from outside the closures by using a spotting scope, binoculars or telephoto camera lens. A few good places to see bald eagles without disturbing them (during December and January) are at Lake Mary and Mormon Lake near Flagstaff or on the Verde Canyon Train in Clarkdale.
DRONES
The Federal Aviation Administration recommends airplane pilots maintain a 2,000-foot above ground level over bald eagle habitat. They ask that drone operators avoid the areas completely. Just a few minutes of disturbance can lead to a nesting failure.
Matthew Mintzmyer, associate professor of aviation at Yavapai College, said the college program teaches its Unmanned Aircraft System students to be socially, environmentally and legally conscious when flying their drones.
"It doesn't matter if they're flying for hobby or recreational purposes, or for commercial use, our students are aware of the airspace they are flying in, and we pride ourselves in knowing that none of our students have ever been cited or received any complaints for flying drones," Mintzmyer said.
Students spend a week during the Rules and Regulations class concentrating specifically on the AGFD policies.
"Additionally, we review case studies involving the harassment of wildlife to bring further awareness to our students," he said. "Our policy involving flying in any sensitive area requires the operator to receive written authorization from the controlling agency that oversees that particular airspace prior to flying any missions."
ANGLERS
Fishing line and tackle have killed two nestlings and been found in two-thirds of all bald eagle nests in the state. Every year biologists remove these lethal hazards from nests and/or entangled nestlings.
AGFD asks anglers to discard of any fishing line properly in specially marked recycling containers or at fishing stores. They recommend anglers use fresh line that isn't old and brittle.
Duck hunters should scout out their hunting area to ensure that bald eagles are not nesting nearby.
For more local information on the bald eagle nesting program or for updates, call the Prescott National Forest, Bradshaw Ranger District, at 928-443-8000.