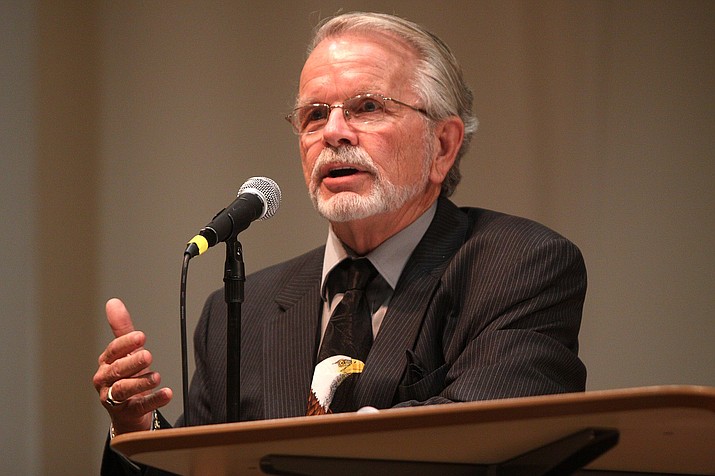 Originally Published: January 3, 2018 5:55 a.m.
First candidate certified in race to replace Trent Franks
PHOENIX (AP) — The Arizona secretary of state's office has certified the first candidate in the special election to replace Republican Rep. Trent Franks, and it is not one of the best-known names.
Republican Clair Van Steenwyk of Sun City West filed 1,200 signatures to make the ballot late last week. He said Tuesday he's continuing his efforts to take on establishment GOP candidates in making the run.
Van Steenwyk challenged Franks in the 2014 and 2016 primaries and won nearly 30 percent of the vote last year. In an odd twist, he also ran for U.S. Senate against John McCain last year despite a state law that bars candidates from running for more than one office in the same election if the person could not hold both seats if they won.
The secretary of state declined to kick him off the ballot, and no one challenged it in court, so Van Steenwyk got votes for both offices. He said Tuesday he believes the Constitution allowed it.
Franks resigned last month amid sexual harassment allegations. The special primary election is set for Feb. 27 with the general election on April 24.
Van Steenwyk, a 71-year-old retired businessman, said he's campaigning as a "Christian, constitutional activist Republican," who will buck the party when needed.
He has led the local and county tea party movements and been an activist for nearly a decade. He also ran for the U.S. Senate seat currently held by Sen. Jeff Flake in 2012.
Other announced GOP candidates for the heavily Republican 8th Congressional District seat include former Corporation Commissioner Bob Stump and current or former legislators Steve Montenegro, Phil Lovas and Debbie Lesko.
In all, 25 Republicans, six Democrats and two Green Party candidates have filed as potential candidates and have until Jan. 10 to file signatures qualifying them for the ballot.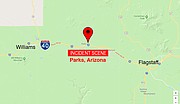 Deputies: Arizona family of 4 found dead in vacation cabin
PARKS (AP) — An Arizona family of four, including two young children, staying in a northern Arizona cabin has been found dead of possible carbon monoxide poisoning.
The Coconino County Sheriff's Office said the bodies of the four family members were discovered Monday in Parks, Arizona, following a request for a welfare check.
A friend of the family told deputies that members had not returned phone calls.
Authorities say a deputy reported a strong odor of gas coming from the home before the bodies were discovered.
The El Mirage family has been identified as 32-year-old Anthony Capitano, 32-year-old Meaghan Capitano, 4-year-old Lincoln Capitano and 3-year-old Kingsley Capitano.
The Coconino County Sheriff's Office believed the deaths are related to possible carbon monoxide poisoning.
See original post about this story
Dead body of a man found on railroad tracks near Mescal
MESCAL (AP) — The Cochise County Sheriff's Office is investigating the discovery of man's body on railroad tracks near the town of Mescal.
Sheriff's officials say the body was found Monday morning.
Deputies checked for any identification or personal items in the man's clothing and found only a voucher card from a California casino that had a name and account number on it.
They say the casino provided a name, date of birth and identification number from a Mexico ID card associated with that account and confirmed the last known usage was on Saturday.
The body has been taken to the Pima County Medical Examiners' Office for an autopsy to determine the manner of death and a possible identity confirmation.
The Mexican Consulate also will be assisting the identification of the man.
Arizona ranch suspends monster truck tours after rollover
PICACHO (AP) — Monster truck tours at an Arizona ostrich farm have been suspended following a rollover involving a dozen people.
KVOA-TV in Tucson reports that the Rooster Cogburn Ostrich Ranch announced this weekend that it would stop running the tours after a truck overturned Friday with 12 people inside.
Three people who were injured, including the driver, were airlifted to a hospital.
Pinal County sheriff's spokeswoman Navideh Forghani said Tuesday that all of the injured have been released from hospitals.
Authorities do not yet know the cause of the rollover or if anyone would face charges.
The ranch's "Monster Truck Tours" are described as 45-minute educational tours.
The ranch is just off Interstate 10, about 75 miles (121 kilometers) southeast of Phoenix.
Glendale man pleads guilty to defrauding trucking company
PHOENIX (AP) — A Glendale man accused of defrauding a major trucking company of $1.6 million through falsified invoices and other purchasing documents has pleaded guilty in the case.
Federal authorities announced Tuesday that David Dwight Reynolds pleaded guilty to mail fraud, wire fraud, tax evasion and transactional money laundering.
He's scheduled to be sentenced on April 4 in U.S. District Court in Phoenix and prosecutors say Reynolds will be required to pay full restitution.
Reynolds was indicted in June. At the time, he was an information technology network engineer for Swift Transportation Co.
Prosecutors say Reynolds used his authority to buy IT equipment and services for Swift to fraudulently purchase items such as cellphones, furniture and televisions for his personal use.
They say he entered into a plea agreement on Dec. 20.