Photo by Les Stukenberg.
Originally Published: January 2, 2018 6:01 a.m.
Photo Gallery
2017 Prescott Boot Drop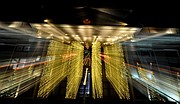 They counted down, the boot dropped, the fireworks flew — Whiskey Row welcomed in a brand new year.
One of the many celebrants on Sunday, Dec. 31 was Ashley Aymar, a Prescott local who was enjoying her first Whiskey Row Boot Drop with her sister.
"This is our first time, just our first night off work in like 10 years," Aymar said. "That's why we've never been here."
The two of them were enjoying it, especially watching all the people who came out to celebrate, she said. The two of them were sticking around for the midnight drop, Aymar said.
Also new this year was Emmanuel Vlad, who said he recently moved to Prescott. He and his son were waiting for the carnival shooting gallery, a new attraction at this year's Boot Drop brought in by the same company that brought the Ferris Wheel, according to M&M Entertainment & Productions Co-Founder Matt Brassard. The festivals in Prescott are always fun and it seemed like something to do, especially after being cooped up in the house for a while, Vlad said.
"We've been sick for the past week … been stuck in the house," he said. "Let's get out."
He could actually see the Whiskey Row Boot Drop from his house, Vlad said. They would be leaving after the 10 p.m. drop, he said.
David Strauss participated in the carnival shooting gallery as well, winning a small stuffed dog for wife Lola.
The two of them moved to Prescott two years ago and hadn't gone to the Boot Drop either, Lola said. They wanted to do it and the weather was good, she said. The two of them weren't staying for the midnight drop, Lola said.
This year was also the first year Prescott Pete's Shooting Gallery was at the drop and the last event for the attraction as it was sold back to the manufacturer, said owner Pete Fowler.
"There just isn't enough business for it. It's a bummer because two years ago, we were supposed to be here, but the gallery wasn't finished. Last year, my dad passed away," Fowler said. "This is the last event for the gallery, but we finally made it to this event."
While it just didn't work as a business, the Whiskey Row Boot Drop was a great event for the attraction's sendoff, Fowler said.
Drew Ryn, "The X-Factor" participant and Chino Valley resident, performed following the 10 p.m. drop.