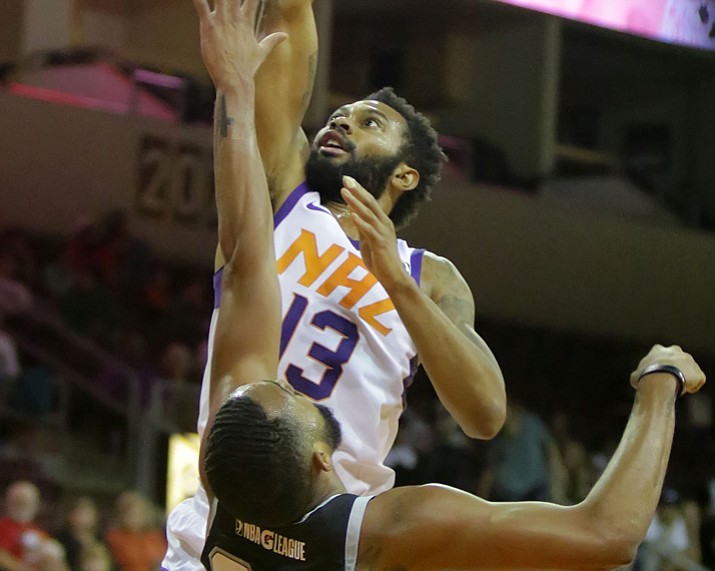 Originally Published: January 2, 2018 11:15 p.m.
Xavier Silas scored 25 points on 8 of 16 shooting from the field, including four 3-pointers, Josh Gray added 23 points and the Northern Arizona Suns snapped a five-game losing streak with a 113-108 victory over Rio Grande Valley on Tuesday night.
The Suns (8-14) won their last game Dec. 15 against Iowa.
Alec Peters tallied 22 points on 7 of 17 shooting and grabbed four rebounds. It was his fourth-consecutive 20-point game, a career high. Gray flirted with a triple double, grabbing seven rebounds and dishing seven assists to go along with his point total.
Phoenix Suns two-way guard Davon Reed made his first start for Northern Arizona this season, finishing with 11 points in 20 minutes played. He was drafted by Phoenix with the 32nd overall pick in the 2017 NBA Draft.
The Suns hit 13 of 20 shots from the field to take a 37-30 lead in the first quarter and never looked back.
Monte Morris led all scorers with 27 points for the Vipers (15-9) on 11 of 16 shooting from the field, while dishing out 10 assists and grabbing seven rebounds.
R.J. Hunter scored 25 points and Tyler Lydon added 21 for Rio Grande Valley.
UP NEXT
Northern Arizona heads to Reno for their first game against the Big Horns this season Friday, Jan. 5. Tipoff is set for 8 p.m.
Brian M. Bergner Jr. is sports editor for The Daily Courier, the Prescott Valley Tribune and the Chino Valley Review. Follow him on Twitter at @SportsWriter52 or on Facebook at @SportsAboveTheFold. Email bbergner@prescottaz.com or call (928) 445-3333, ext. 1106.