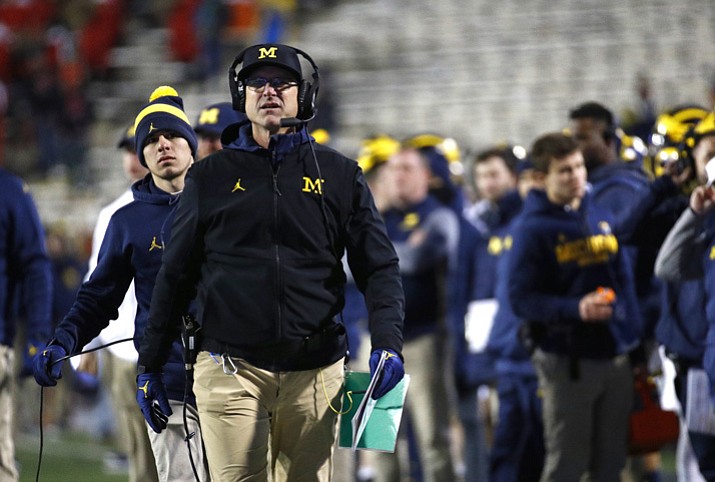 Originally Published: January 1, 2018 6:05 a.m.
TAMPA, Fla. — Don't try to sell Jim Harbaugh or Will Muschamp on the notion that New Year's Day games that are not part of the College Football Playoff are irrelevant.
The coaches for Michigan (8-4) and South Carolina (8-4) expect to contend for national championships moving forward, but they also feel it's important to finish this season strong in the Outback Bowl.
"I'm for the bowls. I'm for postseason play," Harbaugh said. "I don't think bowl games are meaningless, and I would like to see an expanded playoff to 16 teams."
Michigan was ranked as high as No. 7 following a 4-0 start but wound up going 5-4 with losses to Michigan State, Penn State, Wisconsin and Ohio State in Big Ten play.
The Wolverines lost two straight to end the regular season and head into Monday's matchup against South Carolina trying to avoid their first three-game skid under Harbaugh.
Muschamp agrees with Harbaugh that bowl games matter, regardless of where a team plays.
"First of all, anytime you hit the football field, it's meaningful," said Muschamp, finishing his second season at South Carolina.
"This is a huge game for our program, an opportunity to win nine games, an opportunity to play Michigan, a team that we've got great respect for," Muschamp added. "But I think the bowls are really important to college football."
It's just the fourth meeting between the Wolverines and Gamecocks, the first since the 2013 Outback Bowl.
South Carolina won that matchup 33-28 and leads the series 2-1, with Michigan's win coming in 1985.
Muschamp concedes that winning Monday would give his bid to rebuild the Gamecocks a boost because Michigan is, well, Michigan.
"Absolutely," the coach said. "I think you see the progress we've made in Year 2 and continue to move forward in the culture of our program."
Some things to know about the Outback Bowl:
UNDER CENTER
Michigan quarterback Brandon Peters has a chance to make it more difficult for Harbaugh to replace him next season — even if Shea Patterson is also one of his options . Peters is expected to face South Carolina after missing the last game, a loss to Ohio State, with a concussion. When the Wolverines open the 2018 season at Notre Dame, he may have to hold off Patterson to keep his job. Patterson plans to transfer to Michigan from Mississippi, a program hit with sanctions, and to petition the NCAA to allow him to be eligible immediately. He will enter a competition along with Dylan McCaffrey, son of former NFL player Ed McCaffrey and brother of Carolina Panthers running back Christian McCaffrey, after he redshirted as a freshman with the Wolverines.
NEW PLAYCALLER
South Carolina fired offensive coordinator Kurt Roper on Dec. 6 and co-offensive coordinator/receivers coach Bryan McClendon will call plays Monday in what essentially is an audition for next season. "I think the preparation has been really good, No. 1, by Bryan, but our entire offensive staff, as well. ... I think he's done a really good job," Muschamp said. "Obviously game day is important, from a calling standpoint, from an adjustment standpoint. Certainly if you make the right calls and the right adjustments, you're going to be productive, so that is important. But I've been very pleased with his progress."
ONE MO TIME
All-America defensive tackle Maurice Hurst is expected to play one more time for Michigan , accepting the risk of an injury that could affect his stock in the NFL draft. In early December, Hurst acknowledged he wasn't sure if he would play in the Outback Bowl in part because he saw former Wolverines tight end Jake Butt slip to the fifth round after injuring his knee a year ago in the Orange Bowl.
CHADTOUGH
Some Michigan players are wearing their hair orange for the game as part of a fundraiser in honor of Chad Carr, the late grandson of former Wolverines coach Lloyd Carr. DE Chase Winovich announced on Dec. 20 that he would dye his hair if donations, which are being directed to the Pediatric Brain Tumor Research Initiative at Michigan Medicine, totaled $15,000. The drive quickly reached that total and continues to grow. The ChadTough Foundation later announced that University of Michigan Regent Ron Weiser will match donations made through the fundraiser up to $1 million. "I know the guys were hoping to raise a couple thousand dollars, and they were really excited that it was going to be up to $10,000," Harbaugh said. "Seeing that it's up to $200,000, I think it's just phenomenal."
CITRUS BOWL
Notre Dame (9-3) meets LSU (9-3) in the Citrus Bowl at Orlando, Fla., Monday, 11 a.m. (ABC). Here's a preview:
The teams meet in a bowl game for the second time in four seasons. The Fighting Irish are looking for their third double-digit wins season in Brian Kelly's eight seasons. The Tigers have won eight games or more for 18 straight seasons, which is the longest active streak for a Power Five team. They have won their last three games by 20 or more points, which is the first time that has happened since 1949.
KEY MATCHUP
Notre Dame OL Mike McGlinchey and Quenton Nelson vs. LSU LB Devin White. Left tackle McGlinchey and left guard Nelson were first-team AP All-American selections while rating as Pro Football Focus' top two nationally in run blocking. White led the Southeastern Conference in tackles with 127, along with posting 12.5 tackles for loss.
PLAYERS TO WATCH
Notre Dame: RB Josh Adams is 13th nationally in rushing yards with 1,386 and is averaging 7.3 yards per carry. The junior has seven 100-yard games, including two where he went over 200 yards.
LSU: RB Derrius Guice is the fifth player in school history to have more than 1,000 rushing yard and 10 rushing touchdowns in consecutive seasons. The junior has 1,153 yards and 11 touchdowns.
FACTS & FIGURES
This is the fourth time the teams have met in a bowl game. LSU holds a 2-1 advantage but Notre Dame won the last meeting, in the 2014 Music City Bowl. ... Notre Dame had nine runs of at least 60 yards or more, which is tied with Arizona for the most in the FBS. ... Irish junior QB Brandon Wimbush has set the school's single-single record for rushing yards by a quarterback with 765. ... Notre Dame has a six-game losing streak in bowl games they have played in Florida. ... LSU is in the Citrus Bowl for the second straight season. The last team to make consecutive Citrus Bowl appearances was Nebraska, which lost in 2012 and '13. ... The Tigers have committed only eight turnovers, which is the lowest in the nation. ... LSU has held opponents to 11 points in the fourth quarter over the past seven games.