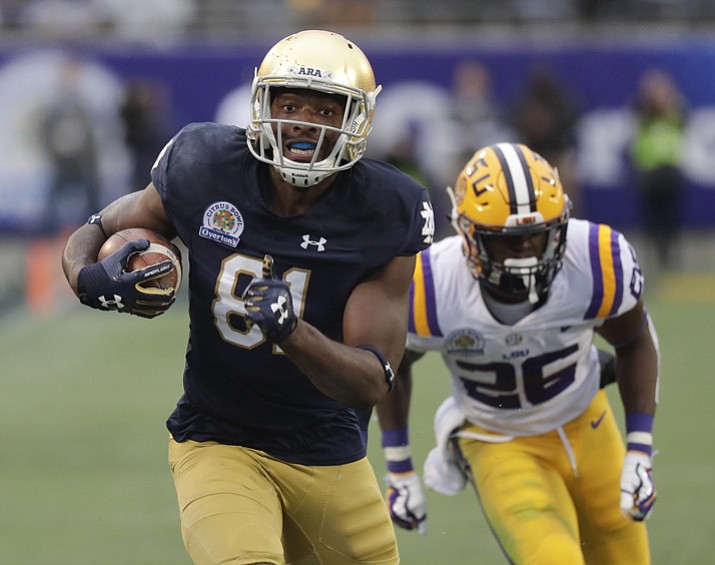 Originally Published: January 1, 2018 11 p.m.
ORLANDO, Fla. — Notre Dame receiver Miles Boykin lived up to Brian Kelly's expectations.
The Fighting Irish's head coach told the junior during a practice leading up to Monday's Citrus Bowl game against LSU that Boykin was going to win the MVP trophy.
Boykin made not only one of the top plays of this bowl season but one of the more memorable catches in Notre Dame bowl history. He made a dynamic one-handed grab and raced down the sideline for a 55-yard touchdown with 1:28 remaining to give the 14th-ranked Fighting Irish a 21-17 victory over No. 16 LSU.
The win by Notre Dame (10-3) is its first in a New Year's Day bowl since the 1994 Cotton Bowl against Texas A&M and snaps a nine-game skid in January postseason games.
"He looked at me like I had two heads. But I felt like he had a chance," said Kelly about his prediction. "He's got the ability, if we could get him the football. And Ian got him the football and Miles made a great individual play and, lo and behold, I've got the MVP sitting next to me."
Boykin had only nine catches for 151 yards and a TD coming into the game, but he got his first start after starters Chase Claypool (shoulder injury) and Kevin Stephenson (suspension) were ruled out.
Boykin showed off his wide-catch radius on what proved to be the game-winning play. On first-and-10 from the Irish 45, Ian Book lofted a pass up the right sideline that Boykin was able to snag with his right hand at the LSU 33, eluding corner Donte Jackson. Boykin then broke a tackle attempt by Donte Jackson at the LSU 26 before finding a clear path to the end zone.
"Ian put it in place where only I could reach it," said Boykin, who finished with three receptions for 102 yards and a touchdown. "It was a great pass and I was just lucky enough to pull it down on one hand. I've got pretty big hands."
LSU coach Ed Orgeron said that Boykin made a great grab but lamented his defense's other struggles on the play.
"We had our best cover guy on him (Jackson) but he's a big receiver," he said after the Tigers finished the season 9-4. "We had two guys on him and missed the tackle. That's what I'm mostly disappointed with."
Book entered the game in the second quarter after Brandon Wimbush struggled moving the offense. The sophomore was 14 of 19 for 164 yards with two touchdowns and an interception.
Book's first touchdown came early in the fourth quarter. With Notre Dame trailing 14-6, he found Michael Young in the back of the end zone for a 6-yard score. Josh Adams then scored on a two-point conversion to tie it.
"It was an awesome opportunity, such a surreal moment that last play with Miles," Book said. "We knew it was going to be a close game. We just had to stay composed and do what we have been doing since January."
The game lacked drama the first three quarters. It was scoreless until four seconds remained in the first half when a Justin Yoon 46-yard field goal gave Notre Dame a 3-0 halftime lead.
LSU's Danny Etling was 19 of 33 for 229 yards and a pair of second-half touchdowns to Derrius Guice. Guice, who was the MVP of last year's game, had 98 yards on 21 carries.
Milton powers No. 10 UCF to 34-27 Peach Bowl win over Auburn
ATLANTA — McKenzie Milton wanted to throw a blanket of 13 wins and no losses over the College Football Playoff.
After Milton and Central Florida capped a perfect season, he suggested it was time to respect the Knights, even if they weren't invited to the playoff.
Milton threw two touchdown passes and ran for 116 yards with another touchdown, leading No. 10 UCF to a 34-27 Peach Bowl win over No. 7 Auburn on Monday.
Then it was time to boast.
"I said on the podium you can go ahead and cancel the playoffs," Milton said. "I'm not changing my mind."
UCF (13-0) led 34-20 before having to stop a late Auburn comeback. Antwan Collier's interception in the end zone with 24 seconds remaining clinched the win.
The UCF players launched a joyous postgame celebration, rolling around in confetti on the field while wearing T-shirts that read "Champions."
The Knights won in their final game with coach Scott Frost, who stayed with the team through the bowl game after accepting an offer to become the new coach at Nebraska , his alma mater. Frost will bring most of his UCF assistants to Nebraska.
"It was the right thing to do to come coach these guys," Frost said, holding the game ball. "I'm not happy for me. I'm so happy for these guys."
The Knights thought they deserved a higher ranking after winning the American Athletic Conference and leading the nation in scoring. They made a strong statement by beating Auburn (10-4).
Bentley leads South Carolina past Michigan 26-19 in Outback
TAMPA, Fla. — Will Muschamp envisions championships in South Carolina's future.
Lots of them.
"We don't have all the trophies and the tradition and history but we have some grit," the coach said after the Gamecocks rallied from a 16-point second-half deficit. to beat Michigan 26-19 in Monday's Outback Bowl.
"We've got some toughness and resolve. You saw us down 19-3 and not a lot of good things happening for us," Muschamp added. "All the arrows are pointing up for us. We're going to have those trophies."
Jake Bentley threw for 239 yards and two touchdowns Monday to pace the win, which gave the Gamecocks (9-4) at least nine wins in a season for just the seventh time.
Bentley shrugged off a slow start to toss scoring passes of 21 yards to Bryan Edwards and 53 yards to Shi Smith, the latter giving his team a 23-19 lead early in the fourth quarter.
The sophomore said once the Gamecocks began to have some success, the offense's confidence grew.
"It's just we started to execute well. The excitement, I think, is contagious to the whole team," Bentley, voted the game's most valuable player, said. "You see where we went from there."
Michigan (8-5) finished with its first three-game losing streak under coach Jim Harbaugh. The Wolverines turned the ball over five times after halftime, including an end zone interception that denied them an opportunity to regain the lead with just under eight minutes to go.
The loss also cost the Big Ten a clean sweep of bowl games involving conference members. The league entered 7-0, looking to go unbeaten in postseason play for the first time since 1998 when it went 5-0.