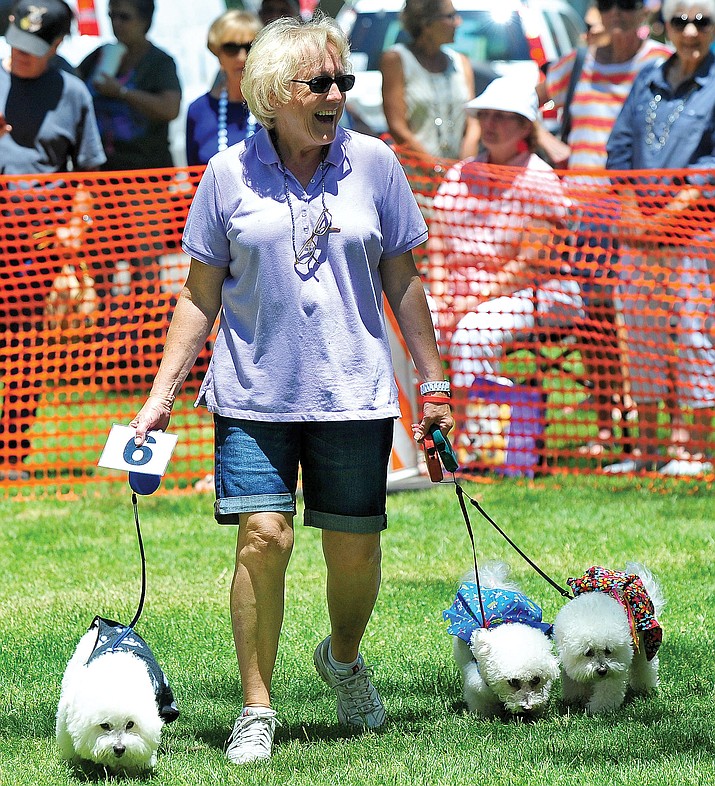 Originally Published: February 27, 2018 6:05 a.m.
Updated as of Tuesday, February 27, 2018 12:01 PM
First in line gets first pick. That's why people stood outside Prescott Downtown Partnership (PDP) on the first business day in January before 6 a.m. and waited three hours for the doors to open.
They represent several nonprofit organizations that conduct fundraising events on the Yavapai County Courthouse, and they were there to pick their 2018 dates.
The courthouse plaza is a popular place to hold events in downtown Prescott. Eight multi-day events take place on the same weekend every year, having been grandfathered in years ago. But the single-day events are up for grabs, which causes no end to the annual frustrations of local nonprofits.
Hanne Stone, Empty Bowls coordinator, showed up at 8:45 a.m. She was expecting a Sunday date, north side of the plaza by the timeline. Instead, she was faced with a choice of Saturdays on the north side, or one Sunday, south side by the garbage dumpsters.
"We always do ours on a Sunday on the north side. We have 15 different chefs serving soup and 150 volunteers; we need seating for 200 people at a time. It's kind of a big deal," Stone said. The event raised $16,000 this past year for local food banks.
In later discussions with PDP Director Kendall Jasper and Yavapai County Facilities Director Kenny Van Keuren, the Sunday, Sept. 16, date remained in place, but the event moved to the north side of the plaza. Stone praised both men with how they resolved the issue. Next January, she said, she will know to come a lot earlier.
"It used to be we had all kinds of dates and no restrictions about using half the plaza or the full plaza or what side we had to be on. I know it's to protect the grass, but they don't ask if we will be on the grass," Stone said.
In December 2016, the county supervisors reduced the availability of dates for courthouse plaza events in order to allow the grass to recover between heavy foot traffic. Additionally, Assistant County Administrator Jack Fields said, in some years, the dog events, specifically, have had "a real dog poop problem."
"It's not a dog park, it's a people park," Fields said. Nevertheless, he added, the county tries to accommodate animal fundraiser events.
PDP staff enforces rules, such as no use of stakes and no placing storage tubs on the grass. They can issue fines up to $200 for each violation.
WOOF DOWN
Jennifer Casey, organizer for United Animal Friends' Woof Down event, said it traditionally occurs in June with its perfect weather, "past the winds of May, but not into the heat of the summer."

"We had applied for a date in June, but someone else got in before us. We were there at 6:30 a.m. and somebody else was there at 6:15," Casey said. "We settled for Aug. 4, a little warm for people and dogs. The county keeps tightening it up. That makes it hard for small non-profits."
She also said the county now requires the organizers to provide their own security and either clean the restrooms under the courthouse steps or hire someone to clean them. This year, the county won't allow her vendor booths on the grass, she added.
"Every dollar we have to pay for something extra like that, it takes away from what we can provide for the community," Casey said.
She said it would be helpful to have the available event dates earlier. "We were almost faced with the decision not to have the event at the courthouse. There's no space as great as the square with its trees and grass. People love to come down with their dogs. Other venues don't provide that," she said.
The Prescott Dog owner Cherie Dreves chose to leave the courthouse this past year for her dog adoption event, Dogtoberfest, for several reasons: she couldn't get a good date, vendors were not allowed to stake their shade structures, and she needed more space.
The 2017 Dogtoberfest took place at Watson Lake attracting about 2,500 people. Moving the location changed the nature of her event, Dreves said.
MARCH OF DIMES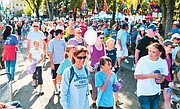 The March for Babies event has taken place on the plaza on the Saturday after Labor Day for nearly 20 years. Organizer Judy York relies on volunteers, especially the JROTC students from Prescott High School, she said, so the August date she drew last year was barely two weeks into the new school year.
"We had the worst year ever," York said. "I went at 6 a.m. this year and I was fourth in line."
She, too, met with county and PDP staff and they switched her original August date, where she had the south side of the plaza on a day shared with the Walk to End Alzheimer's, to Sept. 22.
"Non-profits just don't do that to each other," York said about the shared date. "I try not to be too critical. I get that we need to save the grass. We don't do grass. PDP does a wonderful job. We all think they do. They are good at juggling all of that. The supervisors say, 'Well, your people still get on the grass.' I'm on cement. I guess it's about saving grass or saving babies."
Grateful to find a solution, despite sharing the event day with the Corvette Club event, she found out too late that the ROTC students have another event scheduled for the same date.
"PDP is fabulous at what they do. Give them the reins and give them more dates," York said. "They are really good at what they do."
WHAT ELSE TO DO?
PDP Director Jasper said he has no alternatives available to the first-come, first-served process. "I would like to find a way. I would like everybody to be happy. It's a limited supply of dates," he said.
Years ago, maybe 20, Jasper said, there were many more multi-day events than today's eight that have permanent dates. The supervisors picked the eight organizations, and said if any drop out, they would not replace them.
Any nonprofit organization unhappy with the dates of its events can appeal to the county facilities department. Jasper said the nonprofits receive the available dates in December. Maybe if more than one wants the same date, they should flip a coin, he said. But for now, it's the first person in line who gets first choice.
"It's not a great system; it's hard on the people. I'm up for suggestions on how to make that better," Jasper said. "Having events downtown is important, it's a magnet. They make people feel good."
2018 Events
April 27-29: Whiskey Off Road Bike Races
May 5: Whiskey Row Marathon
May 12-13: Mountain Artists Guild Fine Art and Wine Festival
May 26-28: Phippen Museum Western Art Show and Sale
June 2: Mile High Square Dance
June 9-10: Territorial Days Arts and Crafts Festival
June 23-24: Prescott Bluegrass Festival (Goodwin Street)
June 29: Kiwanis Kiddie Parade
June 30: Prescott Frontier Days Parade
June 30-July 2: Prescott Rodeo Days Fine Art and Crafts Show
July 28-29: Friends of Williamson Valley Fire District Arts and Crafts Show
Aug. 4: Woof Down Lunch/United Animal Friends
Aug. 4: Mile High Square Dance
Aug. 11-12: MAG Fine Art and Crafts Festival
Sept. 1-3: Faire on the Square
Sept. 15: Prescott Walk to End Alzheimer's
Sept. 16: Empty Bowls
Sept 22: March for Babies/March of Dimes
Sept. 29: Hope Fest Arizona
Oct. 6-7: Fall Fest in the Park
Oct. 28: Costumes for Kids 5K and Fun Run
Nov. 11: Veteran's Day Parade
Nov. 24: Prescott's Holiday Light Parade and After-Parade Party
Dec. 1: Christmas Parade and Courthouse Lighting
Follow Sue Tone on Twitter @ToneNotes. Reach her at stone@prescottaz.com or 928-445-3333, ext. 2043.
Editor's Note - This story has been updated to correct the dates for the Bluegrass Festival.
More like this story