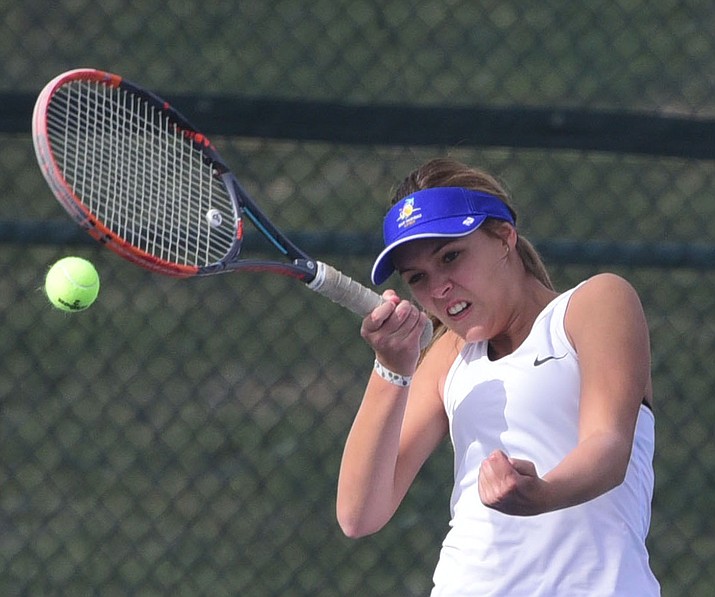 Originally Published: February 25, 2018 6:05 a.m.
Badgers open season Monday against Cactus Shadows
After a stellar 2017 campaign that saw members of both the Prescott boys and girls tennis teams qualify for the state tournament, 2018 might be described when it's all said and done as more of a rebuilding year.
For the boys, Jack Darr played well enough to qualify for the Division II State Championships last April, but suffered a 6-3, 6-1, loss to Shadow Mountain's James Mineo, who ended up making it all the way to the Elite Eight.
On the girl's side, Sarah Jane Schott won four straight matches at state, advancing to the Elite Eight before finally losing to Notre Dame Preparatory's Lexi Lehman, 6-2, 6-1. It is one of the best performances in Badger tennis history.
Both Darr and Schott have graduated and moved on to bigger and better things.
The girls wrapped up 2017 with an 11-3 overall record, finishing third in Section II and were ranked No. 10 in the state, qualifying for the Division II team state playoffs before losing 5-1 first round to No. 7-ranked Salpointe Catholic.
PLAYERS TO WATCH
Prescott head coach Sterling Fetty said the boys are focused on "rebuilding."
Senior Robert Denoffer, junior Cutter Todd and sophomores Julio Ortega and Sam Stoecker return this season. Stoecker is expected to be the No. 1 player on the court for the Badgers this spring, while Ortega (No. 2), Todd (No. 3) and Denoffer at No. 4 follow suit.
"We have a tough schedule, so it will be an interesting year for us," Fetty said Thursday after practice.
For the girls, sophomore Abby Stoecker will likely fill in for Schott at the No. 1 slot in 2018, while sophomores Sierra MacDonald (No. 2) and Heidi Madsen (No. 3) have a stronghold at the top, despite being all underclassman.
Senior Lexi Hammes (No. 4), McKenzie Schultz (No. 5) and Tessa Rothfuss (No. 6) have battled in the preseason to be in the top six. Both Mackenzie Roberts (hamstring) and Scarlett Manrique (foot) are out with injury, but are expected to return.
"I foresee the lineup changing once girls get healthy," Fetty said.
Roberts, who won a state championship in mountain biking this past fall, is athletic and could push the three sophomores at the top of the lineup for a position.
CHALLENGE
With more than 30 girls trying out for tennis this spring, Fetty has plenty of talent to pick from, adding he likes the competition.
"It's been challenging for the girls," Fetty said.
SCHEDULE OUTLOOK
The Badgers will get plenty of opportunity to find out how good they can become this season early on. The girls open with four matches in five days, including three straight. The boys play three in a row to begin the season, facing Cactus Shadows, Cortez and Arcadia.
UP NEXT
Prescott (0-0, 0-0 Section II) opens the season against Cactus Shadows on Monday, Feb. 26. The boys will travel to Cave Creek for the match, while the girls will host the Falcons in Prescott. Official start time is set for 3:30 p.m.
Brian M. Bergner Jr. is sports editor for The Daily Courier. Follow him on Twitter and Instagram at @SportsWriter52, or on Facebook at @SportsAboveTheFold. Email bbergner@prescottaz.com or call 928-445-3333, ext. 1106.
More like this story