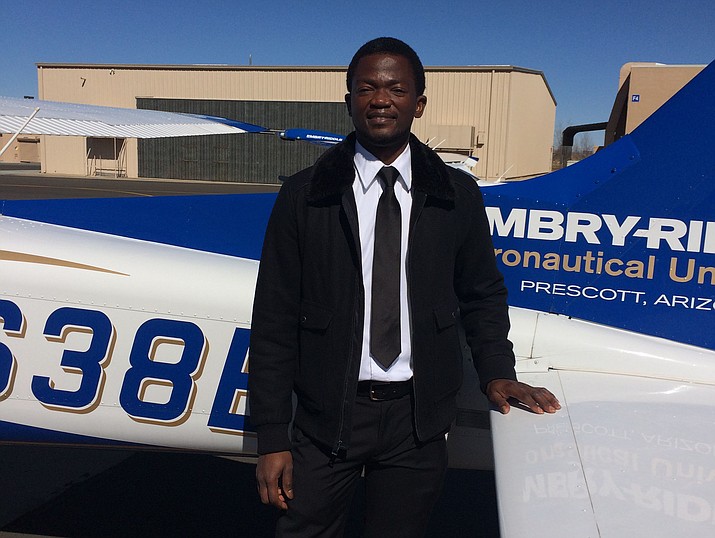 Originally Published: February 25, 2018 6:05 a.m.
Up in the skies over his home in Abeokuta, Nigeria, Oluwadamilola "Dami" Coker never tired of watching the streak of airplanes thousands of feet above, pondering who was inside the cockpit guiding the flight.
"It was amazing to see such a big vehicle in the air, and to know one person was operating it," said Coker, 31, who in January was honored by the Federal Aviation Administration as Arizona's Flight Instructor of the Year.
Such fascination turned boyhood fancy into what is still an unfolding life adventure.
Just shy of finishing a mechanical engineering degree at Olabisi Onabanjo University in Nigeria, Coker switched gears. At 22, he decided to leave his family and country for a chance to one day be the pilot another young boy envies as he watches an airplane glide across the skies above.
Far from whimsy, Coker's decision was rooted in careful consideration and conversation with an advisor at Embry-Riddle Aeronautical University in Prescott, the institution headquartered in Daytona, Fla. and internationally known as the "Ivy League of the Skies."
Coker was offered a spot as a freshman in the aeronautical science program, one that also allowed him the opportunity to become a commercial pilot.
His arrival in Prescott nine years ago was his first visit to America. His "pinch me" delight about fulfilling his childhood dream quelled the occasional bouts of homesickness. He was clear this was where he was meant to be.
"We all have to live our life," Coker said. "This was the sacrifice I had to make to be where I want to be."
When he earned his bachelor's degree in 2012, Coker's family was there to applaud the young man who during his senior year started as a part-time flight instructor. Upon graduation, the university hired him as a full-time instructor, a position he has held for the last five years during which he also earned his master's degree in safety science.
Beyond his boyhood excitement with general flight, Coker said he also was always watching documentaries about aviation safety and crash investigations. In some of his master's classes, Coker recognized some of the investigations as those he watched long before he finished high school.
Embry's Flight Department assistant safety program manager, Coker specializes in single and multi-engine airplanes, as well as in training pilots on the Super Decathlon aerobatic airplane as a means to teach them about wind shifts and recovery from adverse conditions. He has accumulated 3,600 flight hours; at least 1,500 hours are required to become a commercial airline pilot.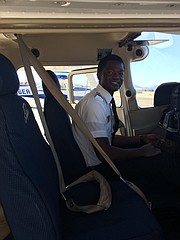 From all his roles, Coker has earned a reputation as a skilled, safety-conscious pilot who knows how to impart the fun of aviation to novice students while imparting the life-and-death responsibilities they take every time they are in control of the cockpit.
"There is a uniqueness to Dami in his light-hearted approach to working with students and peers that does not compromise the standard of training," said Embry-Riddle Assistant Chief Instructor Josh Donaldson in a news release about his award that makes him eligible for subsequent regional and national recognition.
"His students and peers appreciate this. They enjoy working with him as a flight instructor, while also respecting his example and guidance," Donaldson said.
"Dami is able to provide a very high quality of instruction while at the same time creating a light-hearted atmosphere," said Coker student and fellow instructor pilot Bill Poppler. "This is something that is very important, and that I've found somewhat rare with the instructors I've worked with as a student, and very difficult to do as an instructor myself.
"Without the light-hearted and fun atmosphere, it is difficult to learn … As an instructor, we always want to get the best out of our students, but sometimes it's easy to push too hard. Dami seems to have the right balance between expectation and understanding that sometimes the student just needs a little more practice."
A tall, lithe man who speaks with an accent and wears a big smile, Coker exudes confidence and cordiality. But he is clear he never comprises on safe operation of any airplane.
When he first opted to become an instructor, Coker admits he wasn't sure if he would have the "flair" to teach others. He simply saw it as a means to earn the hours he needed to become a professional pilot. He now will say he is a better pilot because of the students he has taught.
"You get better at something when you teach it to other people," he said, adding he can also relate to students pilots because flight to him isn't a pastime but his true "love."
"I don't think there is any job that could beat flying," he declared with a twinkle of his chocolate candy-colored eyes. "You do have to be ready for anything."
As for his award, Coker said he was "speechless."
"I'm still trying to digest it, because it's just unbelievable," he said.
More like this story