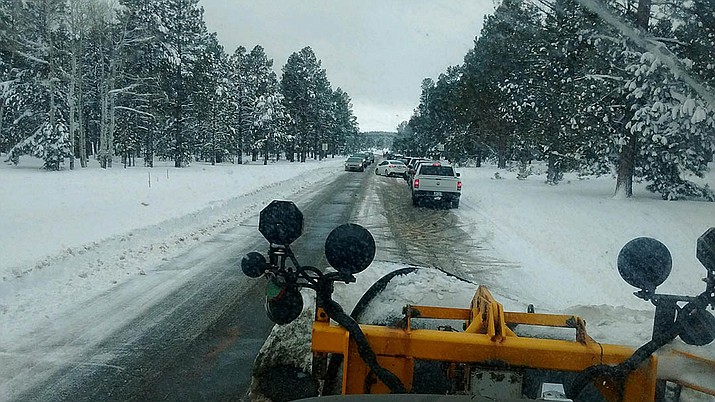 Originally Published: February 24, 2018 6 a.m.
With Northern Arizona having received some of the best snow it has had the entire winter season on Friday, Feb. 23, the Arizona Department of Transportation is advising people to take extra precautions when traveling, and not to park along highways.
Highway shoulders are for emergencies only, the news release states. Along with the threat of another driver hitting your vehicle on a shoulder and the possibility that an emergency vehicle or snowplow will need to use the shoulder, consider the following if tempted to park along a highway to play in the snow.
• ADOT plows can throw snow and ice up to 30 feet off roadways.
• Other drivers may pull over as well to play in the snow, compounding the problem.
• It's much safer to re-enter highways from on-ramps and other designated entrances.
ADOT has placed signs between mileposts 220 and 229 of Highway 180 northwest of Flagstaff warning drivers not to park on shoulders unless it's an emergency.
Heavy traffic around popular snow-play areas can lead to delays. For those seeking snow along Highway 180, it can take 90 minutes or longer to get back to Flagstaff at day's end. Once in Flagstaff, those heading south on Interstate 17 can save time by following signs to the Interstate 40/Butler Avenue interchange, then driving west to I-17.
Information on snow-play areas around Flagstaff is available at flagstaffarizona.org or 1-844-256-SNOW.
Wherever you may be traveling this weekend in Arizona's high country, prepare for the possibility of delays caused by crashes or heavy traffic. Pack an emergency kit with items like extra blankets, warm clothes, food and water, healthy snacks, cat litter or sand for traction and a first-aid kit. Make sure your gas tank is at least three-quarters full and take along a fully charged cellphone.
Prepare your vehicle as well by ensuring that your wipers, window defroster, headlights, taillights, brake lights and turn signals work.
Visit azdot.gov/KnowSnow for more tips on driving in winter weather.
To stay up-to-date with the latest highway conditions, visit the ADOT Traveler Information Center at az511.gov or call 511.
Information provided by the Arizona Department of Transportation.
More like this story