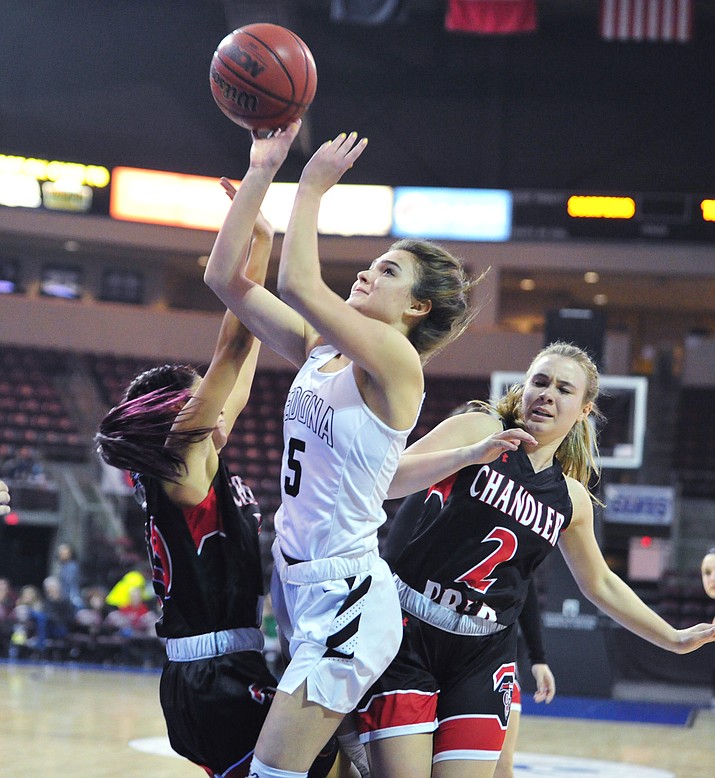 Photo by Les Stukenberg.

Originally Published: February 23, 2018 11:28 p.m.
Photo Gallery
Red Rock Sedona Vs Chandler Prep Girls Hoops 022318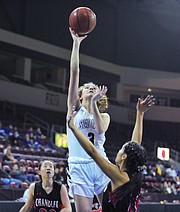 Sedona's girls' basketball team needed three tries, but the Scorpions are finally in the 2A state championship game after defeating Chandler Prep, 50-39, in the semifinals Friday night at Prescott Valley Event Center.
In 2016, as a No. 6 seed, Sedona succumbed to Thatcher, the eventual state champion, in the semis, 58-46. In 2017, again as a No. 6 seed, the Scorpions fell to Leading Edge Academy of Gilbert, the eventual state runner-up, in the semis, 63-47.
As the No. 1 seed in 2018, Sedona has turned those past misfortunes into redemption. With Friday's victory over the fourth-seeded Titans, the Scorpions remained undefeated in power-point games at 22-0. They've found ways to win this winter, even occasionally coming from behind to do so, something with which those previous Sedona squads struggled.
"We talked about it, and the girls were just like, 'We belong in that championship, and no more Final Fours,' " Sedona coach Dave Moncibaez said. "That senior group just has that will to win, and they were going to do whatever it takes to get to the championship game, so I'm really proud of them."
The Scorpions will face a familiar foe in the state-title game at 3 p.m. today at PV Event Center, as they'll play a rematch against a run-and-gun, fast-paced team in Leading Edge, the No. 2 seed in this year's tournament. Leading Edge knocked out perennial power Thatcher, 67-45, in Friday's other semifinal.
"It's definitely a good feeling, but we are playing Leading Edge and that's going to be a tough, tough battle for us, especially because we are the smaller team in size," Sedona senior point guard Liza Westervelt said. "I like the win, but I'm thinking about that game right now."
Chandler Prep, which also entered Friday's semifinal unbeaten in power-point contests, finished its season with a 19-1 mark.
Versus the Titans, three Sedona players scored in double figures, led by Liza Westervelt's 19 points, eight rebounds, five assists, four steals and three blocks. Mary Westervelt, Liza's younger sister, registered 14 points, five rebounds, two assists and three steals. Senior shooting guard Jo Toscano added 10 points, three assists and two steals.
"We've been preparing for this all week," Liza said. "We've been working really hard."
Chandler Prep guard Justine Cooper tallied a double-double with 16 points, 11 rebounds, three assists and five steals. Olivia Mulloy (nine points, four boards, two assists, two steals) and Jordan Morrison (eight points, three rebounds, steal) also contributed.
"We watched their game film," Liza said. "We were expecting if we shut down [Mulloy], we had them."
Neither Sedona nor Leading Edge has won a state title in girls' basketball. That will end today.
Moncibaez didn't show much emotion after Friday's game, although he must be relieved that his girls have a shot at the title.
"We moved the ball and we ran really well," Moncibaez said. "We did miss a few easy ones, which kind of kept them [Titans] lingering. We definitely didn't allow the penetration, and we closed out."
Chandler Prep coach Shawn Lytle, who in 2010 guided Scottsdale Salt River to a 1A state championship, watched his team struggle early and trail 21-9 at halftime. The Titans didn't really recover from that deficit and couldn't contend with Sedona's pressure zone defense, its height advantage and its ability to dribble-drive to the hoop.
The Scorpions converted six 3-pointers, however, countering Chandler Prep's six treys, which is the latter's forte.
"We were the more disciplined team," Liza said. "Our defense, a lot of people don't play zones on good shooting teams, obviously. But we rotated, and it didn't always work. They hit some shots. We've been working on our rotations this past week to prepare for this."
Doug Cook is a sports reporter for The Daily Courier. Follow him on Twitter at @dougout_dc. Email him at dcook@prescottaz.com or call 928-445-3333, ext. 2039.
More like this story