Originally Published: February 23, 2018 6:04 a.m.
Someone dies at the Goon Show in a murder most fun in Prescott Valley Performing Arts' latest production of "Murder at the Goon Show."
Director Randy Smith said he was looking for a play that could put a lot of kids on stage, and after looking through about 50 scripts, he chose this one.
"We had so many youngsters come out to try out for 'Scrooge,' and technically there's only two kids in 'Scrooge," Smith said "I needed something to do with all of these kids that tried out. I (have) 32 kids on stage for this."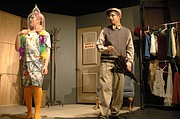 Full of goofy characters, the show is a nod to Chuck Barris and "The Gong Show," an amateur talent show which ran on NBC from 1976 to 1978, in syndication from 1976 to 1980 and 1988 to 1989, on Comedy Central in 2008 and has currently been experiencing a revival on ABC since 2017.
Showing at 7 p.m. Friday, Feb. 23-Saturday, Feb. 24 and Friday, March 2-Saturday, March 3 and at 2:30 p.m. Feb 24-Sunday, Feb. 25 and March 3-Sunday, March 4, tickets are $12 and can be purchased at www.prescottvalleyperformingarts.org or at the box office 30 minutes prior to each show time.
The kids have been working really hard in preparation for this show, especially when it comes to character development, Smith said. Without embracing the nuances of their goofy characters, it would result in really flat show, he said. Further, with it being a comedy, they've had to work on timing, coming up with the right way of saying funny things and learning to wait for the audience so they don't laugh or clap over the next line of dialogue, Smith said.
There's multiple stories running at the same time as well, which was also a challenge for the kids to understand, he said.
"We're backstage at the 'Goon Show' and somebody gets killed, there's an illegal operation going on and we go ahead and do the goon show," Smith said. "We run the 'Goon Show' during the play so it's a play about putting on a show and the murder and the illegal operation."
Seeing the kids develop their characters and understand the nuances of the show and ultimately have fun with it is why he does what he does, he said. Last year, he directed a show and afterwards, one of the kids thanked him for making it the best year of her life, Smith said.
"Murder at the Goon Show" is the last play to be shown in Prescott Valley Performing Arts' current location, he said.
"It's bittersweet," Smith said. "But bigger and better things are ahead of us."
Currently, Prescott Valley Performing Arts is located at 2982 Park Ave, Suite G1 in the Entertainment District across rom Harkins Theater. Their new building next to the Prescott Valley Event Center is under construction.
For more information, visit www.prescottvalleyperformingarts.org.
More like this story