Originally Published: February 22, 2018 11:30 p.m.
Three boys and two girls lead Bradshaw Mountain's track and field team into the 2018 season, which begins at 8 a.m. Saturday at South Mountain in Phoenix.
On the boys' side, keep an eye on middle-distance runner Charles Nnantah in the 110-meter hurdles, 300 hurdles and 400 run, and distance runner Kaleeb Foster in the 800 and the mile. Nnantah and Foster are both juniors. In the throws, sophomore Noah Shaver tosses the shot put and discus.
Third-year Bradshaw Mountain coach Jason Shaver said Nnantah should qualify for this spring's Division II state meet in the 110 hurdles and 300 hurdles. Nnantah also guides the Bears' promising 4x400 relay team with Zion Padilla, Coy Randal and Kyle Spencer.
At state this year, Nnantah said he's aiming for a Top 3 finish in the 300 hurdles (personal best 42.61 seconds with a goal to reach sub-40 seconds), and Top 6 finishes in the 110 hurdles (personal best 16.44 seconds with a goal to reach 15.5 seconds) and 400 run (personal best 52.80 seconds with a goal to reach 49 seconds).
"This offseason, our workouts were mainly 400-meter oriented," Nnantah said. "I hope to break one of the school records this year, preferably in the 300 hurdles [school record of 38.72 seconds] and the 400-meter dash [school record of 50.50 seconds]. I can't wait to get the season started."
Coach Shaver hopes Foster's fast enough to post a time of 4 minutes and 40 seconds in the mile and eventually break 2 minutes in the 800 and qualify for state. Noah Shaver, who's finishing up rehab from knee surgery after an injury he suffered during football season, should still be the boys' top thrower. He's also strong in the javelin.
Noah intends to throw in the season opener, although he won't be at 100 percent until the end of the season in early May, coach Shaver said. Normally, for example, Noah throws 45 feet in the shot put, but he may toss around 40 feet due to the injury. In the discus, Noah was typically throwing 110 feet, and now he's tossing around 100 feet from a standing position since he can't yet go into his full spin.
Coach Shaver also likes junior Victor Arenas, a tailback for the Bears' football team who can run a 4.5-second time in the 40-yard dash.
"He looks very explosive out of the blocks in his first year of track," the coach said. "If I can just stretch out his speed to the 100 [meters], he should hopefully be coming close to [posting a time in] the low 11s [seconds in the 100]."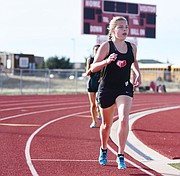 GIRLS
Senior Bailey Rozendaal should qualify again for the D-II meet in three events, including the 100 hurdles, 300 hurdles and possibly the long jump. She's also solid in the javelin. Her personal-best javelin throw of 91 feet is the current school record, and she wants to eclipse that mark this season.
"I'll probably focus more on the 100-meter hurdles this year," said Rozendaal, whose 16.4-second personal best time is close to the school record of 15.8, "and hopefully break the record."
Rozendaal also competes in the heptathlon, an event in which each athlete runs the 100 hurdles, 200 dash and 800 run, throws the shot put and javelin, and does the high jump. She placed third in the heptathlon at the 2017 state meet.
"She's looking to repeat or get better in the heptathlon," coach Shaver said of Rozendaal.
After graduation, Rozendaal plans to enroll at Paradise Valley Community College in Phoenix and play for the school's women's soccer team.

Junior distance runner Anna Maria Zea, who runs with Foster on the Bears' varsity cross-country team, will run the mile and 2-mile as well as the 800 this season.
"She's leading the distance girls this year, and looking to qualify at state in the mile, if not all three [events], this year," coach Shaver said. "She's been getting some good training with [Bears cross-country coach Mike] Simon, getting the miles under her feet."
Coach Shaver added that all of his girls' relay teams "will look strong with the instruction from our new coach Elky Sonderman." The Bears' 4x100, 4x400 and 4x800 relays qualified for the Division II meet in 2017.
Doug Cook is a reporter for The Daily Courier. Follow him on Twitter at @dougout_dc. Email him at dcook@prescottaz.com or call 928-445-3333, ext. 2039.
More like this story