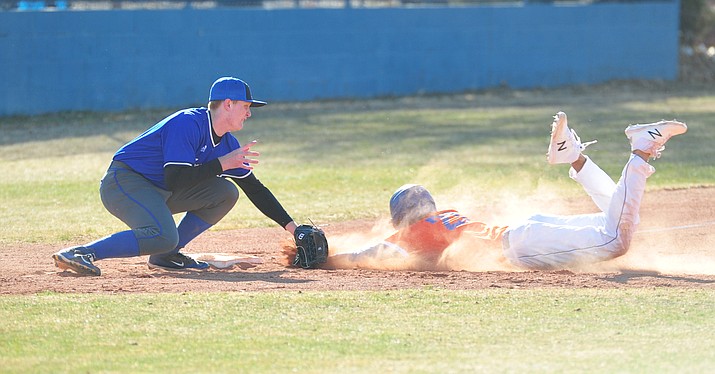 Photo by Les Stukenberg.

Originally Published: February 22, 2018 11:36 p.m.
Photo Gallery
CVHS vs Snowflake Baseball 02 22 18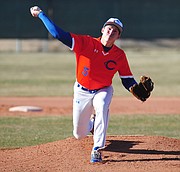 Two troubling innings was all it took to spoil an otherwise decent outing for Chino Valley's baseball team, which led Snowflake through four frames before the Lobos scored three runs in the fifth and two in the sixth to stun the Cougars, 5-4, in their season opener.
At a bitter cold Nesbitt-Pratt Field Thursday afternoon, Chino Valley led 2-0 through four. But Snowflake capitalized on three Cougars fielding errors in the fifth to grab a 3-2 lead, one it wouldn't relinquish against Chino Valley starter Tyler Hixon, who suffered the hard-luck loss.
"It just didn't pan out for us too well," Cougars coach Mark Middleton said. "It's always the small stuff that's going to come back and bite you every single time. We beat ourselves [Thursday], plain and simple."
Hixon lasted 4-1/3 innings, allowing three runs (one earned) on two hits, striking out 10 and walking four. "I was just waiting the whole time for us to come back — it felt like at any moment we were coming back," Hixon said. "Unfortunately, it didn't happen, but you can't really dwell on it too much. You have to bounce back, and I feel bad for the next team we play."
The Lobos upped their advantage in the sixth, although it appeared Chino Valley had escaped the inning unscathed. With two outs and a runner on first, Snowflake leadoff hitter Fernando Quintana lined out to right.
However, Quintana told his coach, Bryan Lang, to appeal the out because Cougars catcher J.R. Willingham's glove interfered with his swing. The plate umpire awarded Quintana first base to extend the inning, putting runners on first and second.
"When I swung the bat, I felt like everything was square — I thought that ball was going to be crushed," Quintana said. "That [catcher's interference] helped us out, and the baseball gods were on our side."
Cougars reliever Mike Paulus subsequently loaded the bases on a walk and Snowflake's Joey Beecroft (2 for 2, 3 RBIs) ripped a two-run single to push the Lobos' lead to 5-2. Lang said it was a big win for his team, which has only two seniors on its roster.
"You have to take advantage of what they're going to give you," Lang said of Chino Valley's mistakes. "The umpire missed the catcher's interference, he went and got help [from the field umpire]. I told our guys, 'We are lucky to catch Chino on Day 1.' Because, down the road, they're a darn good ball club."
Chino Valley pieced together a rally in the home half of the sixth, blistering four straight hits, three of which came off Quintana, who relieved sophomore starter Ricky Munger. Thomas Bartels' infield RBI single and Willingham's RBI sacrifice pulled the hosts within one, 5-4. But with one out, Quintana recorded a groundout and a strikeout to end the Cougars' threat.
In the seventh, Quintana, who allowed one run on three hits and fanned three, finished off Chino Valley for the save, forcing a popout and striking out two to end it. Munger picked up the victory, surrendering three runs on seven hits with three strikeouts and no walks, although he hit three batters.
"We've been working hard all offseason as a team, and everyone swung the bat and put the ball in play and we got the job done together," Quintana said. "Luckily, I was the one that could get the ball in the end and close it out."
At the plate for the Cougars, Paulus went 1 for 4 with a triple and a run scored, Hixon was 1 for 3 with an RBI double and a run scored, and Brian Ellis went 2 for 4 with an RBI single, a double and a run scored. Ben Grandy (2 for 3) and Abdiel Sanchez (single, run scored) also contributed.
"We played really well together as a team, but when you drop a ball or you make a bad throw, you get yourself down and it can bring the rest of the team down, too," Ellis said. "We were picking up each other in the dugout, though, even when we failed."

In 2017, Chino Valley and Snowflake both qualified for the 3A state tournament, with the Cougars losing in the first round to eventual state champion Northwest Christian, and the Lobos falling in the quarterfinals to semifinalist Payson.
Chino Valley (0-1 overall) looks to return to form next week, while Snowflake (1-0) believes it has gained momentum from an important early-season victory.
"This loss hurt, because I felt like we dominated the game the first three innings," Middleton said. "We didn't play Chino Valley baseball. I'm confident that we can bounce back from this quite easily."
UP NEXT
Chino Valley visits 1A Williams at 1 p.m. Friday, March 2.
Snowflake travels to 3A Tuba City for a conference contest at 3 p.m. Monday, Feb. 26.
Doug Cook is a reporter for The Daily Courier. Follow him on Twitter at @dougout_dc. Email him at dcook@prescottaz.com or call 928-445-3333, ext. 2039.
More like this story