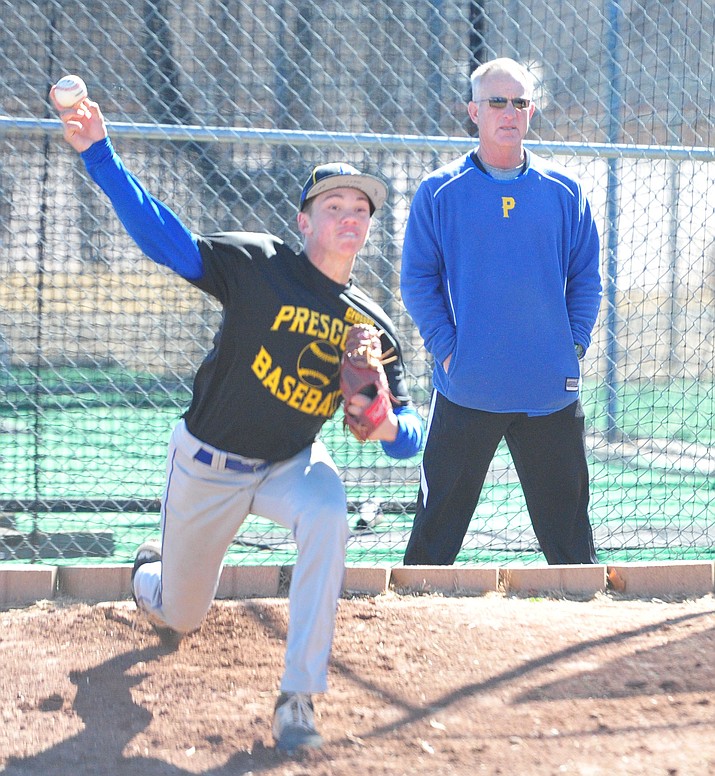 Photo by Les Stukenberg.

Originally Published: February 21, 2018 11:33 p.m.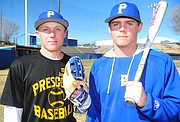 Schulz, Franco, Schwartz and Jones to lead Prescott staff
After winning five straight and eight of their last 10 games to end the 2017 season, it was all for naught as the Prescott baseball team was left on the outside looking in for postseason consideration.
A 7-0 loss in the season finale to Sunrise Mountain didn't help the Badgers' cause, and it's taken an entire offseason to get over the disappointment of missing the state playoffs for the first time in two years.
THE DEPARTED
Prescott, 13-13 overall and 7-5 in Grand Canyon region play a year ago, lost Luke Morano, Griffin Hays, Logan Carmick, Dawson Winlsow and Cole Kelley to graduation, among others.
TOP RETURNERS
Entering his fifth year in the dugout, head coach Kent Winslow said earlier this week after practice that his club this spring is pretty even, talent wise.
"We don't have anyone that's head and shoulders above everyone else," Winslow said.
But, he added, Prescott is "pretty deep pitching wise."
Junior Jake Schulz is expected to be the No. 1 starter on the mound for the Badgers in 2018, while left-handed hurler Erubiel Franco should slide in at No. 2. Then, Winslow may give the nod at No. 3 in the rotation to senior righty Kody Jones, who returns after a one-year hiatus.
Other top returners include catcher Chase Kasun, who is heralded by Winslow as the "best defensive catcher I've seen since I've been here," shortstop Joey Christopherson and senior Ryan Greene.
Greene hit .308 last season with 20 RBIs and led the team in doubles with six. The senior is still recovering from a broken collarbone he suffered during football season. He is expected to shift from right field to center field this season, a change Winslow says will be "seamless."
"He'll be fine. He can play anyplace, really. Great speed, great instincts. He's as a good as an outfielder as we've had in our program for a while," Winslow said, adding Greene was in right field mainly for his arm strength and having the ability to throw runners out at the plate at will.
With the departure of Dawson Winslow, Greene will make the transition.
TOP NEWCOMERS
Senior outfielder Ryan Holloway, senior relief pitcher Evan Frank-Sterling and sophomores Jacob Police and 6-foot-6 right-hander Korey Schwartz may see more action on the diamond this season after bouncing between junior varsity and tournament games at the varsity level a year ago.
Schwartz is likely Prescott's No. 4 starter on the mound, but depending on the lineup Winslow is faced with navigating, could be the third option.
OUTLOOK
With three Grand Canyon region clubs making the state playoffs a season ago in Coconino, Flagstaff and Mingus, the Badgers have a tall ladder to climb. Prescott gets its first look at the rival Eagles on March 9 at home.
UP NEXT
The Badgers (0-0, 0-0 Grand Canyon) open the 2018 campaign with the Adam Donnenfield Tournament in Phoenix as first pitch against Chandler is set for 4 p.m. today.
Prescott will face Mesa and Cibola on Friday, and play Brophy on Saturday morning before their home opener Tuesday, Feb. 27, against none other than Sunrise Mountain. First pitch against the Mustangs is set for 3:30 p.m.
Brian M. Bergner Jr. is sports editor for The Daily Courier. Follow him on Twitter and Instagram at @SportsWriter52, or on Facebook at @SportsAboveTheFold. Email bbergner@prescottaz.com or call 928-445-3333, ext. 1106.
More like this story