Originally Published: February 17, 2018 3:17 p.m.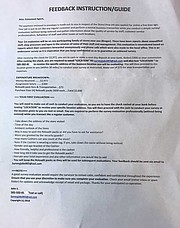 Yavapai County Sheriff's Office was recently notified of the return of the secret shopper survey scam, according to YCSO Spokesperson Dwight D'Evelyn.
A Prescott resident told the Sheriff's Office they received a priority mail envelope with instructions on enrolling in a secret shopper program providing "undercover" surveys of local businesses. Included was a check for $2,972 made out to the homeowner with instructions to cash the check and use a portion of the money for "expenses" when conducting the survey. A major portion of the money was designated for the purchase of four pre-paid credit cards of $650 each, or $2,600.
"The goal of this rip-off is to convince the participant to cash the check and contact 'John' as directed for the business location. It is at this time 'John' will ask for the pre-paid card numbers so he can immediately withdraw the funds," the news release states. "Suspects utilizing this scam technique rely on a timeline where the victim follows the directions immediately after depositing the check and before the bank notifies them the check is fraudulent. By then, the suspect has stolen up to $2,600 and the victim is now fully responsible for the original deposit."
There are some tips people can follow to avoid a mystery shopping scam. One is doing research as most legitimate secret shopper jobs are posted online by reputable marketing research or merchandising companies. Also, never wire money, send pre-paid cards or deposit a check from to someone unknown, and never give personal or financial information out online.
For more details, visit www.consumer.tfc.gov/articles/0053-mystery-shopper-scams. Citizens can contact the Yavapai County Sheriff's Office with information or questions at 928-771-3260 or at www.ycsoaz.gov.
More like this story