Originally Published: February 14, 2018 6 a.m.
For the $30,000 in cash and $28,000 in support services that the City of Prescott puts into the Whiskey Off-Road mountain bike race each year, officials say the community gains an economic impact of about $6 million.
That return on investment was enough to convince a majority of the Prescott City Council this week to continue its partnership with the race promoter, Epic Rides, for another three years.
In a 6-1 vote on Tuesday, Feb. 13, the council agreed to amend its contract with Epic Rides to extend the current $30,000 annual contribution and in-kind support services for three more years, and to increase the flexibility of how the money is spent.
City Recreation Services Director Joe Baynes said the three-day race that takes place in downtown Prescott in late April has become one of the city's top "signature events."
Photo Gallery
2017 Whiskey Off Road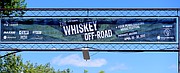 "As far as money-makers, I would say it's No. 2" — second only the July 4 World's Oldest Rodeo and parade, Bayes said after the meeting.
In 2013, the city and Epic Rides shared the cost of an economic impact analysis, which was conducted by the Arizona State University's School of Business.
The economic impact of the Whiskey Off-Road was estimated at $4.4 million at that time. Among the study's findings: 77 percent of the riders from outside the area stayed two to three nights — mostly in hotels and motels, and brought on average four people with them; those visitors spent between $876 and $1,318 during their trip; and nearly 60 percent of all visitors surveyed that weekend were in Prescott because of the Whiskey Off-Road.
Although a more recent study has not been done, Baynes said calculations using metrics similar to those in the ASU study put the current annual impact at about $6 million.
Still, Councilman Phil Goode opposed the continued contribution, maintaining that it amounted to a city subsidy.
"To get this off the ground, it was a legitimate expenditure," Goode said of the early years of the race. "But I don't think it was intended to be a permanent subsidy." He suggested the race should be "weaned off" the city contribution.
Other council members strongly disagreed, however.
Mayor Pro Tem Billie Orr called the city's arrangement with Epic Rides a "wonderful partnership," noting that the event regularly generates significant news coverage, which increases Prescott's tourism profile. "We are known nationally and internationally because of this race," she said.
Orr and other council members also pointed out that the money for the contribution comes from city bed-tax revenue, which is generated through a tax on customers at local hotels, motels, and short-term rentals.
"The purpose of the bed tax is to bring in tourism," Orr said.
And Councilman Steve Blair disputed Goode's description of the money as local taxpayer money. "In essence, it's not city taxpayer dollars; it's bed tax dollars," he said.
Baynes provided a timeline of the race, starting with the inaugural race in 2003, which attracted about 200 riders.
Since then, the number of riders has grown – from 350 in 2005, to 800 in 2009, to an estimated 2,000 riders this year
In the first year, the city absorbed the cost of support services such as street closures, traffic control, and trash collection. The next year, the City Council agreed to pay $1,750 for advertising, as well as $5,000 for support (in-kind) services.
Baynes said the in-kind support services in recent years have cost the city about $28,000, and he expects a similar cost for this year's event.
Over the years, Epic Rides has expanded its Off-Road series to include events in Carson City, Nevada; Grand Junction, Colorado; and Bentonville, Arkansas.
In response to a question from the council, Baynes said the other communities also contribute to their respective races. Prescott's total $58,000 contribution "is on the low end" of those contributions, he said.
Along with extending the city's $30,000 contribution and in-kind services, the amended contract also removes the requirement that Epic Rides use $10,000 of the money for its "purse" for prize money. Baynes said that change will give Epic Rides more flexibility to keep its purse consistent for all races.
This year's Whiskey Off-Road is scheduled for April 27 to 29.