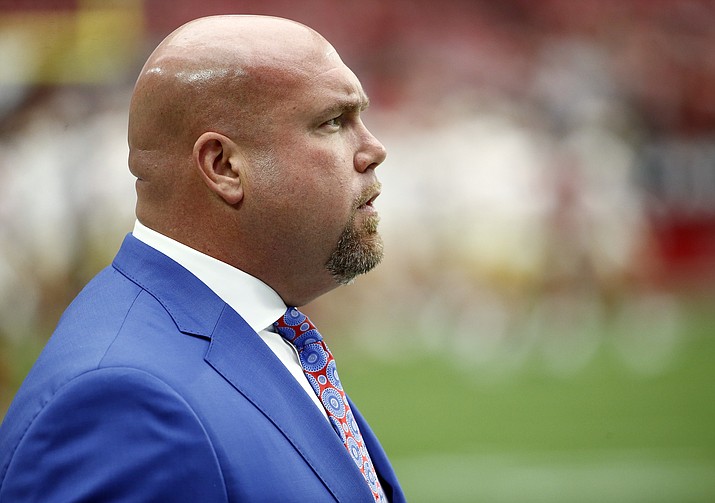 Originally Published: February 12, 2018 11:30 p.m.
TEMPE — The Arizona Cardinals have extended the contract of general manager Steve Keim through 2022.
Keim is a 19-year employee of the Cardinals, starting as a college scout in 1999. He worked his way up through the ranks to be hired as general manager on Jan. 8, 2013, just in time to help team president Michael Bidwill interview and hire Bruce Arians as head coach.
In the five-year Keim-Arians era, the Cardinals went 49-30-1 in the regular season.
Bidwill said in a statement released by the club that the achievements speak for themselves and the extension ensures that Keim "will continue to shape our success going forward."
Arians retired after last season, and Keim and Bidwill led the search that led to the hiring of Steve Wilks, the Carolina Panthers defensive coordinator, as the new head coach.
Now Keim's focus is on quarterbacks. There aren't any on the Arizona roster.
Colts hire Frank Reich as new head coach
INDIANAPOLIS — The Indianapolis Colts' second choice for head coach could turn out to be even better than the first.
And Frank Reich has the Super Bowl championship gear to prove it.
Five days after New England Patriots offensive coordinator Josh McDaniels reneged on a deal to take the Colts' job, Ballard hired Reich, the man who outwitted McDaniels last week and helped lead the Philadelphia Eagles to their first NFL title since 1960.
"Frank is a leader of men who will demand excellence from our players on and off the field," Ballard said in a statement released Sunday. "I look forward to working with Frank to deliver a championship-caliber team to the city of Indianapolis."
Terms of the deal were not immediately available, but Reich is expected to be introduced at a news conference Tuesday.
Colts officials posted a photo of Reich signing the deal on the team's website.
The move ends a search that spanned 41 days, included two coaching announcements and the embarrassment of McDaniels changing his mind Tuesday night just eight hours after telling the Colts he'd take the job.
North Carolina drops Notre Dame 83-66
CHAPEL HILL, N.C. — North Carolina beat its two biggest rivals, then pulled away late to beat Notre Dame to cap a demanding stretch.
The 14th-ranked Tar Heels are tired. They also might have found a groove.
Theo Pinson scored 14 of his 16 points after halftime to go with 10 rebounds, helping UNC pull away late to beat Notre Dame 83-66 on Monday night for its third win in five days.
Things certainly look different from 10 days ago for the Tar Heels (20-7, 9-5 Atlantic Coast Conference), who were coming off their first three-game losing streak in four years and a win against a winless-in-the-ACC Pittsburgh team before the stretch. But they beat Duke at home on Thursday then won Saturday at North Carolina State in a pair of emotional rivalry games.
Martinas Geben and John Mooney each scored 18 points for the Fighting Irish (15-11, 5-8), with Mooney going 6 of 6 from 3-point range. But UNC — which shot 57 percent — later used its clinching run to turn a 67-63 margin into a 17-point bulge near the 2-minute mark.
Bolden scores 14, No. 20 West Virginia tops TCU 82-66
MORGANTOWN, W.Va. — Teddy Allen scored 16 points, giving No. 20 West Virginia a needed spark off the bench in a 82-66 win over TCU on Monday night.
James "Beetle" Bolden added 14 points, Daxter Miles Jr. scored 13 and Wes Harris had 11 points for West Virginia (19-7, 8-5 Big 12). The Mountaineers' 38 bench points were its most in a Big 12 game this season.
Desmond Bane had 16 points, Vlad Brodziansky added 15 and Kouat Noi scored 12 for TCU (17-9, 5-8).
West Virginia has had trouble holding onto leads throughout the Big 12 season but didn't let the Horned Frogs come back from a 38-27 halftime deficit.
Green flag, 'Atomic Blonde': Charlize Theron to start 500
DAYTONA BEACH, Fla. — Academy Award winner Charlize Theron was named honorary starter for the 60th running of the Daytona 500.
The actress will wave the green flag for the season-opening race Sunday in NASCAR's Monster Energy Cup Series.
Theron, who won an Oscar and a Golden Globe for best actress in 2003 for her portrayal of serial killer Aileen Wournos in "Monster," stars in and produces the upcoming film "Gringo." The movie will be released nationwide next month.
She also starred in "The Cider House Rules" (1999), "The Italian Job" (2003), "North Country" (2005), and more recently in "Atomic Blonde", "The Fate of the Furious" and "Mad Max: Fury Road."
Recent honorary starters for "The Great American Race" include former Super Bowl MVP Ray Lewis (2013), actor Gary Sinise (2014), soccer star Abby Wambach (2015), baseball Hall of Famer Ken Griffey Jr. (2016) and Pro Football Hall of Fame running back LaDainian Tomlinson (2017).
Other pre-race celebrities scheduled for the 2018 Daytona 500: Retired NASCAR star Dale Earnhardt Jr. will serve as grand marshal; country group Rascal Flatts will perform the pre-race concert; and Navy Band Southeast will sing the national anthem. The celebrity pace-car driver is expected to be announced Tuesday.
More like this story