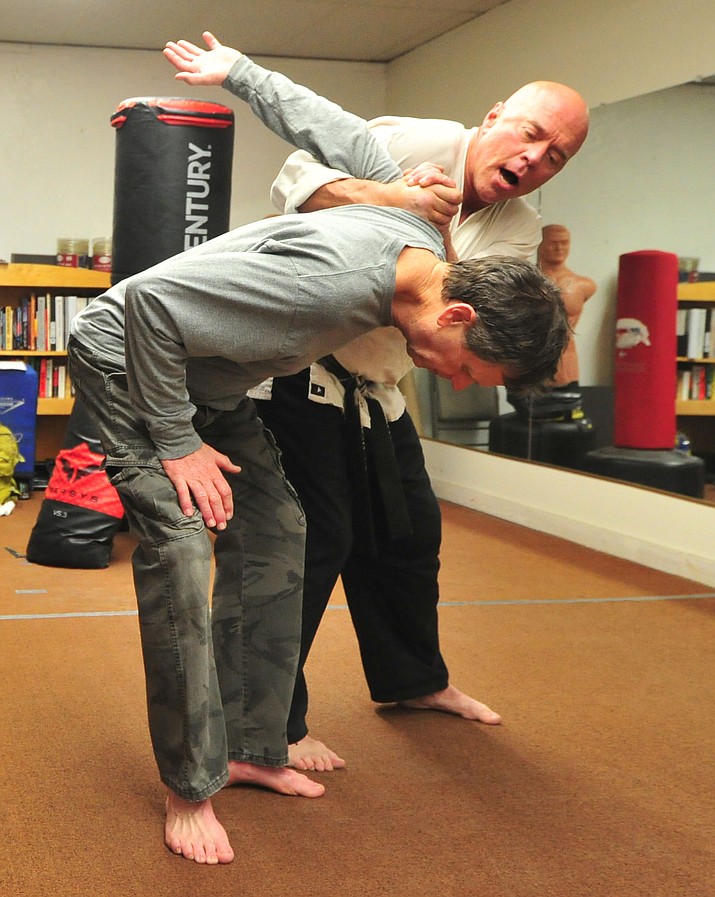 Originally Published: February 11, 2018 6:02 a.m.
If you're worried about defending yourself in case of an attack, but don't want to carry a firearm, the natural next choice is martial arts training, and more people are looking into it.
"The numbers (of people looking to learn self-defense techniques) are up," said Lori Morris, who teaches at Shinpu-Ren Family Karate in Prescott Valley. "They're becoming more aware of random acts of violence in the world, and it scares them and they want to try to, at least, have some idea of what to do with themselves in that kind of situation."
But not all martial arts are created equal, said Mark Bryans at Real World Self Defense in Prescott.
"(People) think that good self-defense training is what you see on TV, sport fighting like UFC (Ultimate Fighting Championships, or mixed martial arts)," he said, "and self-defense training is totally different."
All martial arts will claim to be designed for defending yourself, he continued, but "they really don't give the students what they need for self-protection."
One of those things they need is situational awareness, he said.
Classical martial arts, like tae kwon do, have "good things to offer," Bryans said, but they don't teach students what to do if they're attacked.
"You have to be prepared to deal with armed assailants, multiple assailants, and you have to be willing to do anything necessary to stop that assailant."
Bryans pointed out that real-life attacks are not like they are shown in the movies, "where (Bruce Lee) would take on multiple attackers, and he would fight one at a time, and the remaining attackers would wait until he was done."
Women
Morris said her school is adding a "more intense self-defense program for women," and likes to keep these kinds of classes simple, because, unlike competitive martial arts, the skills needed to protect yourself must be remembered while under extreme stress and fear.
"You don't want someone to have to try to think of a lot of fancy techniques, they just need to know the basics and be able to execute them," she said. "Some (women) are real comfortable becoming assertive and protecting themselves, and other struggle — it's hard for them to see themselves doing that."
"It's the mental aspects that are most difficult to teach. The physical stuff does take practice, does take training, but it doesn't take years of training" like learning martial arts for competition, Bryans said.
Children
J.T. Walker at Green Dragon Martial Arts said he's seen an uptick in the numbers of customers who want to learn to defend themselves, but it's a different demographic: children.
"The smaller kids, a lot of it has to do with bullying," he said, "and it's a sad fact that is a motivator for that, but unfortunately, it is becoming a lot more (common)."
Walker said that, while he teaches the kids to defend themselves, self-confidence, which he also teaches at the same time, is more important than self-defense.
"A lot of people get into martial arts, when it comes to the bullying, to get back at them," but, he said, "it's less about the actual defense, because it's all about how you react to the situation. You can only control your reactions."
The root of martial arts is not in the physical movements and actions — it's self-motivation and discipline, Walker said.
"You can go through life knowing you have the power to get it done, despite what anyone else says," he explained.
More like this story