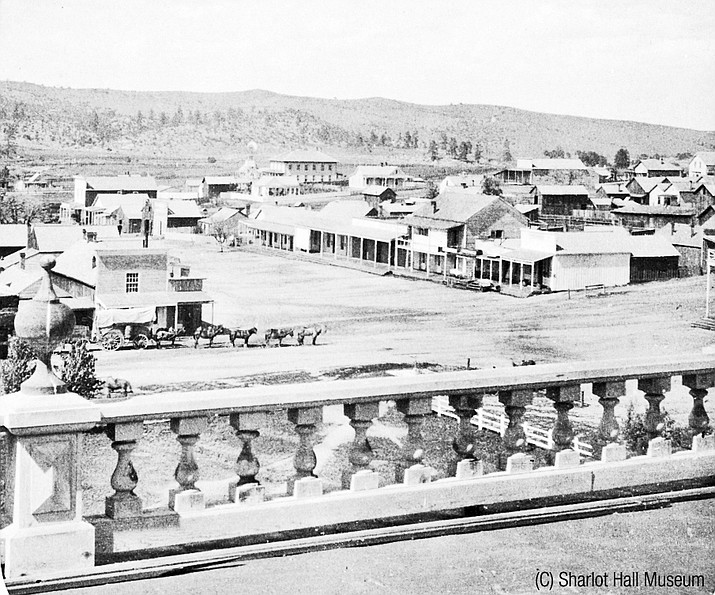 Originally Published: February 11, 2018 6:05 a.m.
Arizona was a violent place in 1870. The Nov. 19, 1870, Weekly Arizona Miner detailed 17 killings around the territory. One headline, "Out On Bail," referred to a shooting reported in the previous week's paper.
That article stated, "Jas. A. Simpson, the man who, in an altercation on the night of the 8th inst., shot and killed A.G. Dunn, has undergone examination before Justice Barnard, and is now out on $5,000 bail." This was a matter of considerable interest as Dunn was a prominent resident of Prescott.
Amasa G. Dunn came to Arizona in 1864 and quickly became involved in civic affairs and business. He was a supporter of Richard McCormick's candidacy to be the Territory's Delegate to Congress; ran for justice of the peace himself, but lost; and is listed as a member of the Arizona Pioneer Society.
He built a small wood frame building set back on the northwest corner of Cortez and Gurley streets facing the courthouse plaza which became the location for his various and sundry business enterprises.
The Sept. 21, 1864, edition of the newspaper noted, "Mr. A.G. Dunn has a large stock of … flour, and provisions and goods generally, which he offers at fair prices. See his advertisement and give him a call." Within a year he was also advertising his services as a cabinet maker, carpenter, and house painter. Soon after that, the newspaper noted that he had acquired a herd of horses and cattle. And a year or two later, the paper reported that he had opened a restaurant adjacent to his other businesses on Gurley Street.
Dunn's milk cow and beef cattle businesses appear most in the newspaper. The herd was continually preyed upon by rustlers and thieves, sometimes with success, sometimes not. An Aug. 1, 1868, article mentioned that Dunn's herd had been run off, but that most of it had been recovered. His herd — when he could hang onto it — was used mostly to supply a butcher shop he had opened.
Somehow, in the midst of all this activity, he found time to become a deputy U.S. marshal. This position did little to insulate him from bad luck, trouble and violence. The August 1868 raid on his herd was just the beginning, and 1869 was a particularly bad year.
In January 1869, Dunn employees John Couch and David Ring were headed out east of Prescott toward the head of Lynx Creek with a team and wagon belonging to Dunn. The newspaper reported that they were ambushed "at a point on the road near the big quartz ledge, about three miles from town." Ring was some distance behind the wagon Couch was driving. He saw Couch fall amid a volley of gunfire, and assumed Couch must have been killed and ran back to town. Couch wasn't dead and with four bullet wounds, he took the horses and wagon to Lynx Creek. Dunn went to Lynx Creek and brought Couch home to recover.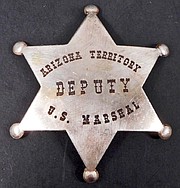 Misfortune of a different nature struck Dunn in April 1869. The newspaper reported that Dunn was robbed of gold and silver coin, and other items worth $1,135 while away from home. A soldier was arrested for the crime and most of Dunn's property was recovered.
Now a trouble magnet, Dunn was stabbed in September 1869. Yavapai County Sheriff John Langford Taylor, interceding in a fistfight, tried to arrest one of the men, but the fighter resisted. "Dunn went to the aid of the Sheriff … and was stabbed in the left side. The stabbist is now in jail."
As his string of troubles continued, the newspaper reported, 10 head of his cattle were stolen in November 1969, and 18 more a few months later.
On a more positive note, the July 9, 1870, issue of the newspaper reported that Dunn, now "Assistant U.S. Marshall," was at work taking the Census: "Dunn … will ask no questions, or pry into any secrets, other than those set forth in the rules and regulations. This being the case, we make special call upon all the people of Yavapai to aid him in his labors, which they can do by giving him names of people, etc., and seeing that he misses none."
Four months later he would be dead.
"Days Past" is a collaborative project of the Sharlot Hall Museum and the Prescott Corral of Westerners International (www.prescottcorral.org). This and other Days Past articles are also available at www.sharlot.org/library-archives/days-past. The public is encouraged to submit proposed articles to dayspastshmcourier@gmail.com. Please contact SHM Library & Archives reference desk at 928-277-2003, or via email at dayspastshmcourier@gmail.com for information.