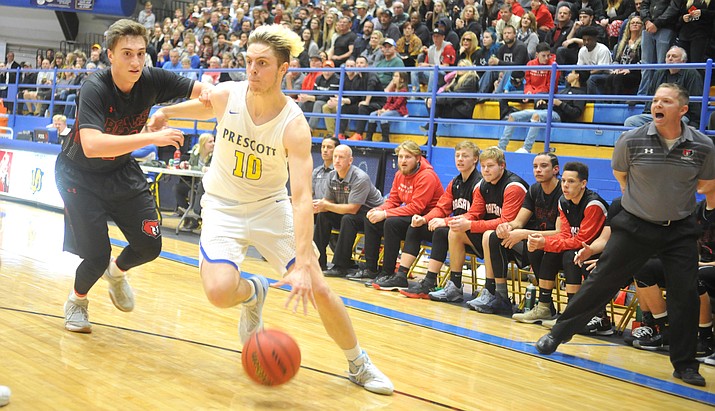 Originally Published: February 9, 2018 noon
4A CONFERENCE PLAY-IN GAME
Who: #18 Prescott at #15 Tempe
When: Friday, Feb. 9, 6:30 p.m.
Where: Tempe
Record: Prescott – 12-12, 8-4 Grand Canyon; Tempe – 15-10, 5-3 Desert Sky; Prescott 5-6 on road, Tempe 8-3 at home
Coaches: Prescott – Adam Neely, 9th Year; Tempe – Tom Saltzstein, N/A
Players to Watch: Prescott – Sr. G Kody Jones, Sr. G Cameron Parsons, So. F Korey Schwartz; Tempe – Jr. C Jalen Grant, averages 12.9 points and 8.6 rebounds per game, Sr. G Naseem Vigil, averages 19.8 points per game
Similar Opponents: Tempe beat Apache Junction 81-78 on Dec. 14 (Prescott won 53-51); Tempe beat Bradshaw Mountain 75-47 on Jan. 9 (Prescott won 78-59/57-46); Tempe Beat Marcos de Niza 77-62 on Jan. 11 (Prescott lost 61-50); Tempe lost to Moon Valley 77-74 on Jan. 22 (Prescott lost 60-49)
Interesting Stat: Tempe averages 71 points per game this season, scoring 65 or more 18 times. Prescott averages 55.5 points per game and has scored 65 or more in just five games.
Prescott aims to slow down fast-paced Buffaloes club
With a 4A state playoff berth on the line, Prescott boys' basketball head coach Adam Neely and the Badgers have one more hurdle to overcome: No. 15-ranked Tempe.
To do so, Prescott will likely have to contain a high-octane offensive attack the Buffaloes (15-10, 5-3 Desert Sky) like to display on a nightly basis.
They'll get their chance tonight as the Badgers travel to Tempe for the conference play-in game set to tipoff at 6:30 p.m.
Averaging 71 points per game, Tempe has scored 65 or more points 18 times this season. The Badgers (12-12, 8-4 Grand Canyon), averaging 55.4 points per contest, have done so only five times.
"The big detail is making sure we limit them to one attempt per touch," Neely said in a phone interview Thursday night after practice. "We don't want to give them second chances. Watching film, they take early threes and they get bailed out from those two big guys rebounding the basketball."
Those "two big guys" inside for Tempe are 6-foot-7, 230-pound center Jalen Gant and 6-foot-4, 230-pound senior forward Abdul Vaugh.
Gant, a junior, averages 12.9 points and 8.6 rebounds per game for a club that's gone 8-3 at home this season and won three of their last four games overall.
The Badgers plan to offer more help from the wing in their 2-3 zone to front Gant, Neely said.
"We have a few kids that will be able to go against him. But the way we play, we don't have a specific matchup," Neely said. "I don't think they'll like the zone."
Prescott will likely also focus their defensive energy in trying to contain Naseem Vigil, a 6-foot-1 shooting guard who leads the Buffaloes in scoring at 19.8 points per game.
"He seems to score from the outside, we'll be more aware of closing out strong on him, knowing where he is. He can definitely score," Neely said.
Neely added the Badgers will need to control the tempo offensively.
"We want to make them play defense for a while," Neely said.
WHAT'S AT STAKE
The winner of tonight's contest will advance to the 4A state playoffs. Prescott last qualified for state during the 2015-16 campaign, losing 63-52 to North Canyon.
Brian M. Bergner Jr. is sports editor for The Daily Courier. Follow him on Twitter and Instagram at @SportsWriter52, or on Facebook at @SportsAboveTheFold. Email bbergner@prescottaz.com or call 928-445-3333, ext. 1106.
More like this story