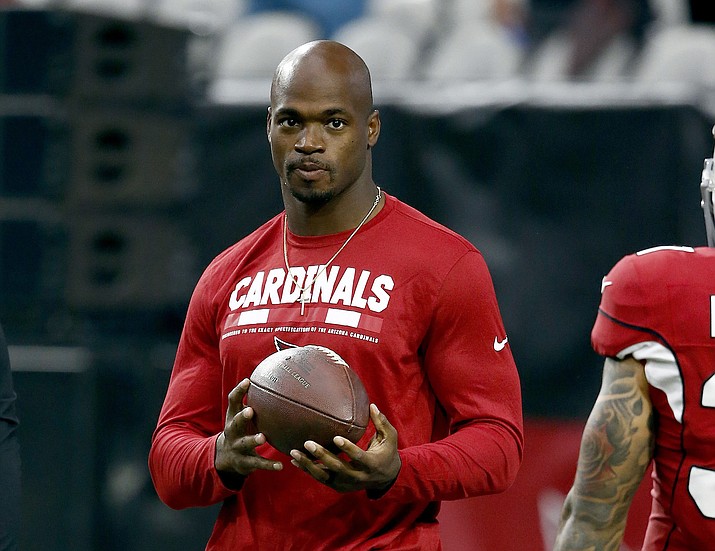 Originally Published: February 8, 2018 7:30 p.m.
MINNEAPOLIS — A judge has ordered former Minnesota Vikings star Adrian Peterson to pay about $600,000 after he defaulted on a loan from a suburban Minneapolis bank.
Crown Bank in Edina sued Peterson in November after he failed to pay the balance of a $2.4 million loan he took out in May 2016. The Star Tribune reports that Peterson initially defaulted on the loan in October 2016, shortly after injuring his knee. He then paid about $1.9 million on the loan.
Peterson had pledged his Vikings contract as collateral for the loan. The Vikings released him before the 2017 season.
Court records show Peterson didn't file an answer to the lawsuit or contest the bank's claims.
Peterson played in six games for the Arizona Cardinals until a neck injury ended his season last year.
49ers re-sign QB Jimmy Garoppolo to 5-year deal
SANTA CLARA, Calif. — Jimmy Garoppolo signed a record-breaking, five-year contract with the San Francisco 49ers on Thursday that will pay him a reported $137.5 million to keep him off the free-agent market next month without forcing the team to use the one-year franchise tag.
NFL Network first reported the terms of the contract, which is worth $27.5 million per season to top the previous record set by Detroit's Matthew Stafford last year by $500,000 per year.
San Francisco acquired Garoppolo from New England before the trade deadline for a 2018 second-round pick. As soon as he took the field a few weeks later, he immediately turned around a franchise that started the year with a 1-10 record.
Garoppolo took over as starter and led San Francisco to five straight wins to end the season. That solidified the organization's belief in him and the willingness to offer him the largest average per year contract in NFL history.
While Garoppolo lacks the track record of the top quarterbacks in the NFL after spending most of his career as Tom Brady's backup with New England, what he has shown when he has gotten on the field has been impressive.
He completed 67.4 percent of his passes this season, averaging 8.8 yards per attempt with seven TDs, five interceptions and a 96.2 rating. Among quarterbacks with at least 100 attempts last season, Garoppolo ranked first in yards per attempt, fourth in completion percentage. His 308.4 yards passing per game in his five starts also would have led the league had he played a full season.
Garoppolo has won all seven starts in his career, including two in New England to start the 2016 season when Brady was suspended for his role in "Deflategate." Only four other quarterbacks since the 1970 merger won their first seven starts with Ben Roethlisberger the most recent to do it with 15 wins in a row in the regular season for Pittsburgh in 2004-05. Garoppolo's 2,038 yards passing in his first seven starts are the fourth-most among all quarterbacks since 1970.
Chiefs cut cornerback Revis to save salary cap space
KANSAS CITY, Mo. — The Chiefs have cut veteran cornerback Darrelle Revis, a move that was long expected with his pricy tag next season and the franchise's tight salary cap situation this offseason.
The team announced the move in a statement Thursday.
Revis signed an incentive-laden, two-year contract in November, providing the Chiefs with some help down the stretch and in the playoffs. He started twice and made 10 tackles in five regular-season games.
The Chiefs needed to free up salary cap space, and the release of Revis combined with the pending trade of quarterback Alex Smith to Washington will free up about $21.5 million.
The 32-year-old Revis spent the previous 10 seasons with the Jets, Patriots and Buccaneers.
No. 21 North Carolina rallies to beat No. 9 Duke 82-78
CHAPEL HILL, N.C. — Joel Berry II scored 21 points and No. 21 North Carolina rallied from 12 down in the first half to beat No. 9 Duke 82-78 on Thursday night.
Kenny Williams made six 3-pointers and matched his career high with 20 points for the Tar Heels (18-7, 7-5 Atlantic Coast Conference), who roared out of halftime with a 16-2 run that erased what was left of Duke's early lead.
Cameron Johnson added 18 points and 13 rebounds, helping the Tar Heels overcome the Blue Devils' significant size advantage to own the glass (28-17) after halftime.
Gary Trent Jr. scored 16 points to lead the Blue Devils (19-5, 7-4). They have lost two straight.
DeVoe scores 25, leads No. 16 Clemson past Pitt
CLEMSON, S.C. — Gabe DeVoe matched his career high with 25 points, helping Clemson beat Pittsburgh.
DeVoe was 7 for 11 from 3-point range. Shelton Mitchell made three 3s on his way to 12 points, and Elijah Thomas had 10 points and 11 rebounds for the Tigers (20-4, 9-3 Atlantic Coast Conference).
Terrell Brown led Pitt (8-17, 0-12) with 19 points on 9-of-15 shooting.
More like this story