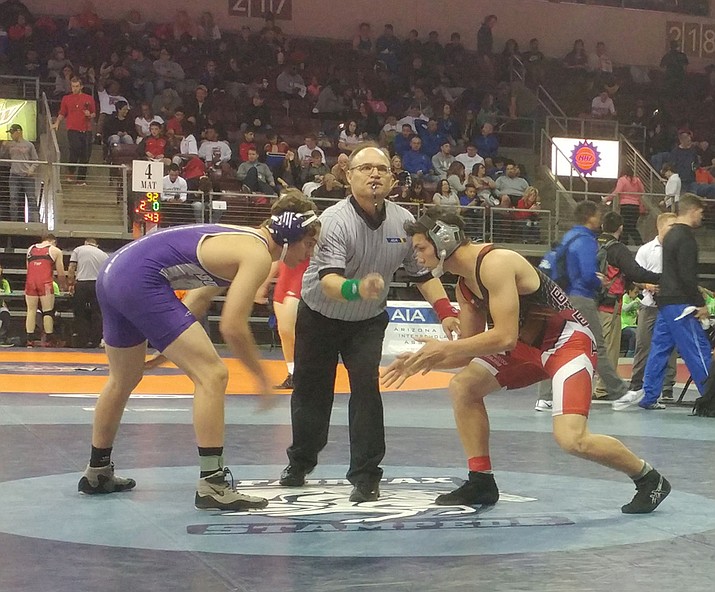 Originally Published: February 8, 2018 11:48 p.m.
Difficult state draw dooms the Bears
Bradshaw Mountain wrestlers Parker Hines and Daniel Medevielle struggled against fierce competition in the first round of the Arizona Interscholastic Association's (AIA) Division II state tournament on Thursday. And, so, the question inevitably became: Could they find a way to stay alive in the consolations and forge medal runs?
As it turned out, neither Hines nor Medevielle survived the consolations, eliminating them from medal contention at Prescott Valley Event Center. Hines finished with a 0-2 record at 170 pounds and Medevielle went 0-2 at 182 pounds, bringing their 2017-18 seasons to an abrupt end.
In the first round, 170-pound No. 1 seed Shaun'dell Hawkins of Williams Field pinned Hines 36 seconds into the first period, shortly after Hawkins had grabbed a 2-0 lead. Hines (23-29 overall record), a junior, was later pinned by Verrado's Aiden Barner (36-14) in 3 minutes, 56 seconds.
"For us, Parker's a young kid still; just his second year," Bradshaw Mountain coach Brad Grauberger said. "We knew we just wanted to stay close and in it [against Hawkins], but the kid's just too good. He's got great body position, good balance. That's what wrestling's all about."
Hawkins (58-4) moved on to pin Sahuaro's Omar Muniz-Vega in 1:32 of the quarterfinals to reach the semifinal round against No. 4 seed Adriane Kedekein (39-10) of Liberty.
At 182 pounds, Medevielle (42-12), a senior, was pinned in 4:22 by defending state champion Anthony Saba of Queen Creek in his opener. He then lost a 4-1 decision to the weight class' top seed, Verrado's Cooper Stigsell, in the consolations.
"Daniel had a tall mountain to climb with all of those returning state placers at his weight, but we are going to miss him," Grauberger said. "He has been the hardest worker in the room the last two years. He's an awesome kid."
Versus Saba, Medevielle said he tried to cradle his opponent toward the end of the bout, but that he got into a bad position and landed on his back.
"Daniel wrestled well – you just can't get caught against a good kid," Grauberger said. "He got caught with his hips low and underneath him. He avoids that, who knows what happens? Then we're going down to the wire."
Added Medevielle, "It was just a bad mistake that I made. I wanted to attack him so he wouldn't have anything to attack me with."
Queen Creek assistant coach Kyle Hare, former head coach at Red Mountain, said the officials should've called Medevielle for stalling.
"We controlled the entire match – we rode him the whole period," Hare added. "Anthony might have got a little frustrated because it's hard to wrestle somebody that's not opening up. Anthony took him down and had a double-arm bar pinning combination, and ran it."

Saba, who missed the regular season due to personal reasons and didn't return to competitive wrestling until last Saturday's D-II, Section IV meet, upset Stigsell in the quarterfinals. It was Stigsell's first loss of the campaign, a 5-3 decision that dropped him into the consolations against Medevielle.
Hare, speaking on behalf of Saba, said Saba "didn't know if his heart was in wrestling at the beginning of the season," although he had participated in preseason training. Hare added that the team voted to allow Saba to return to the squad.
"He kind of had a change of heart, and he realized how much he loved the sport and how much he missed it and he came back," Hare said. "If Anthony does what he's capable of doing, he should be in the [state] finals."
Saba (4-1) will battle fourth-seeded Sam Tietjen (40-5) of Marana in the semifinals. In 2017, Saba upset top-seeded Bradshaw Mountain senior wrestler Olijah Sally, who later placed fifth, in the semis.
"He's a tough kid – he's not going to do anything stupid," Grauberger said of Saba. "We got a little overaggressive and got caught. We're the underdog. We've got to push it. But we also should be smart."
UP NEXT
AIA's Division I and II wrestling tournaments conclude today at Prescott Valley Event Center with the third session at 10 a.m., followed by the medal rounds at 7 p.m.
The Division III and IV tourneys begin at 11:30 a.m. today. Prescott and Chino Valley compete in D-III. These tourneys will wrap up on Saturday and include session two at 10 a.m., followed by the medal rounds at 4 p.m.
Individual wrestlers in each division need four straight wins to capture a state championship. Those who lose in the first, second or third rounds in the championship bracket drop into the single-elimination consolation bracket with a chance to earn third-, fourth-, fifth- and sixth-place medals.
For fans, the AIA grants admission only to those who buy all-day passes. Passes cost $15 per adult, $13 per senior/military member and $5 per student. Children ages 5 and younger get in free.
Doug Cook is a sports reporter for The Daily Courier. Follow him on Twitter at @dougout_dc. Email him at dcook@prescottaz.com or call 928-445-3333, ext. 2039.