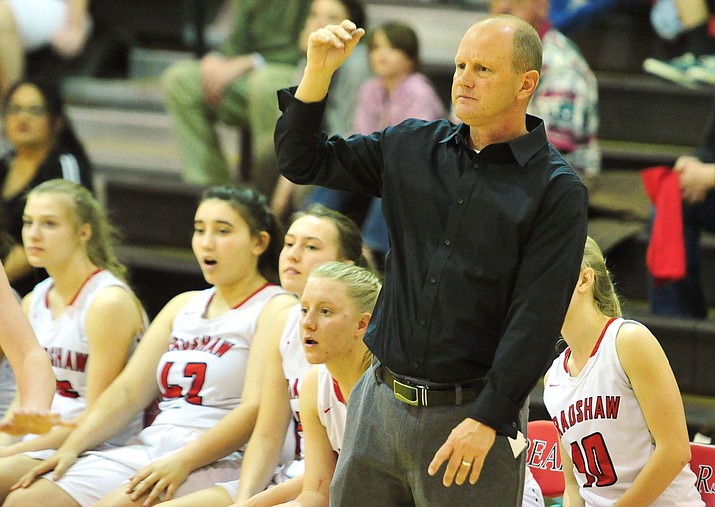 Originally Published: February 8, 2018 11:53 p.m.
Photo Gallery
BMHS vs Saguaro Girls Hoops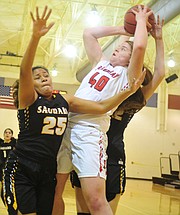 The Bradshaw Mountain girls' basketball team trailed Saguaro by 11 points through three quarters of their 4A conference play-in round game before mounting a furious comeback that ultimately fell short at the free-throw line in a 48-43 loss Thursday night.
Playing at Bradshaw Mountain east gym instead of their regular confines at Gary Kunow Gym in Prescott Valley, the 15th-seeded Bears outscored No. 18 Saguaro of Scottsdale, 13-7, in the fourth quarter, but didn't quite have enough to avoid elimination from the postseason.
The Bears converted only 7 of 21 free throws, including 3 of 9 in the fourth, for 33 percent. If they had netted all nine of their charity-stripe tosses in the final period, Bradshaw Mountain would have punched a ticket to the 16-team state tournament.
"We struggled at the free-throw line, which is crazy because normally we're a decent free-throw shooting team," said Bears coach Rick Haltom, whose girls were down 11-1 to open the contest. "Tonight, it wasn't our night."
Saguaro star senior center Elle Baker, who will attend Brown University in Providence, Rhode Island, this fall, led the Sabercats with a double-double of 15 points and 10 rebounds in addition to three blocks and two assists. Baker's right knee bothered her late in the game, but she pulled through.
Junior guard Alexis Lee added 12 points on four 3-pointers, three boards and an assist, and guard Julianne Carlisle tallied nine points, five rebounds, five assists and two steals for the visitors. Starting senior guard Deja Acosta played through an illness and ended with seven points.
"I'm just ecstatic that we pushed past this team," Baker said. "Everyone's really onboard now [for a push at state]."
Bradshaw Mountain senior point guard Mica Nellis played valiantly in defeat, scoring a game-high 19 points to go along with four rebounds, four steals and three assists. Rylee Bundrick notched a double-double of 10 points and 10 rebounds. Jesycca Cambalon (eight points, four steals, three assists) and Delanie Clark (four points, eight rebounds) also contributed.
"We had more heart than this team [Saguaro], and they just got the better of us," Nellis said.
The Bears pulled within three points of a tie late, but they were forced to foul in the final minute. Saguaro converted 5 of 9 free throws in the final period.
"We just didn't have enough time [to complete the comeback]," said Bundrick, a junior. "We kind of just slowed the game down and played the way we know how to play, did our fundamentals. We're a very competitive basketball team, and we're going to come back even stronger and learn from this. We're going to grow."
Added Haltom, "Man, we played hard. That second half was probably the hardest we've played all year. And we knew that we'd probably have to go man [defense and away from the zone] in the fourth quarter and kind of press them, and we did."
Both Bradshaw Mountain and Saguaro lost in the first round of the state tournament bracket in 2017. Only Saguaro will have a chance to see what it can do this year, however. The Sabercats will be reseeded into the 16-team bracket today and play a first-round game at 6:30 p.m. Tuesday, Feb. 13, at the home gym of the higher-seeded squad.
"We obviously have the toughest region in 4A [Skyline], but it prepared us for this moment," said Saguaro coach Aria Ham of the Skyline region.
Despite the Bears' loss, Haltom was proud of his club, which graduated six seniors in the last off-season.
"We kind of exceeded expectations," Haltom said. "We've got a ton of experience coming back, and so the bar will be high for us next year as well."