Originally Published: February 7, 2018 6:05 a.m.
Like most media outlets, The Daily Courier does not publish stories about school bomb threats unless there's a specific, compelling reason to do so.
The rationale is that the newspaper does not want to give publicity to the person who made the threat and does not want to encourage others who might be thinking about taking similar actions to garner publicity.
Now, a movement has emerged to apply the same logic to the news media identifying suspects in mass-shooting incidents.
"There is a fair amount of research out there that shows there is a copycat effect with mass-shootings," said Tom Foley, an assistant professor of Global Security and Intelligence at Embry-Riddle Aeronautical University.
A "Don't Name Them" website, based at Texas State University, lays out its case. The Texas-based group that argues for keeping killers' names out of stories believes that once the suspects "are captured, (the names are) really no longer a part of the story, other than to create a call to action for a like-minded killer to take his plans and thoughts and make them into deeds."
Foley points out that, at many academic and career development seminars, the presenters don't use the names of the shooters, in support of the principle. Using the example of the Columbine High School attack, in 1999, he said, "There were two teenage males — one 18, one 17. They amassed weapons. They shot 'X' amount of people. This is how they did the attack. And you would still have a complete understanding of what happened without ever knowing what their faces looked like or their names.
"So you're not making them famous, and, more importantly, you're not inspiring the next mass shooter, who's seeking infamy," Foley said.
"I personally buy into this," said Dr. Sherry Towers, a research professor at Arizona State University. "From our research, we see that news coverage seems to inspire copycat mass killings.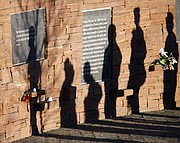 "The reason the press covers this sort of thing is because it's something the public thirsts for. When this is painted as a problem with the press … the only reason the media does that is that the public wants to read those kinds of details," Towers said. "People like lurid stories."
However, Yavapai County Sheriff Scott Mascher has no objection to the news media's use of the names of these shooters.
"The Sheriff understands there is always a risk of giving the suspect unnecessary notoriety, but the public right to know and effectively make their own judgment outweighs non-disclosure in most cases," YCSO spokesman Dwight D'Evelyn said. "To balance this concern, it would be our hope that victims of such a tragedy become the main emphasis of news reporting.
"Additionally, publishing the name could generate calls from the public with background regarding the suspect, which could be critical to an investigation," D'Evelyn said. "Intentionally withholding a name could lead to rumors, (and) conspiracy theories."
Morgan Loew, president of the Arizona First Amendment Coalition, and an investigative reporter, said he understands the reasoning that leads to the conclusion that withholding names would be a good practice, but he's not in favor of it.
"This kind of self-censorship has the potential to do more harm than good," Loew said. "In the short term, focusing some attention on the suspect may seem salacious, even offensive to some. But in the long-term, if we want to figure out why the phenomenon of mass-shootings is taking place, we are going to need to know everything there is to know about the people who are carrying them out. Journalists fulfill an important role in achieving that goal."
Editor's note — The Daily Courier avoids publishing details of bomb threats, suicides and some other incidents, to first be sensitive to the community as well as families involved. It also does so to avoid copycats. For more information, feel free to call Tim Wiederaenders, the Courier's senior editor, at 928-445-3333, ext. 2032.