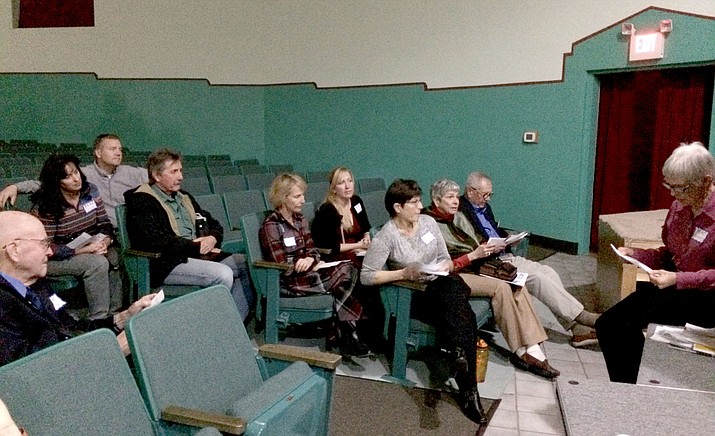 Originally Published: February 7, 2018 6 a.m.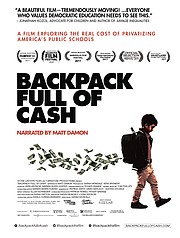 The schools featured in the documentary, "Backpack Full of Cash" — shown Monday, Feb. 5, at Prescott Mile High Middle School — were mainly in Philadelphia and New Jersey. But the film seemed to warn the hundreds who attended the showing locally of the effects that can result to public district schools from state funding of charter and private schools.
About 350 people viewed the film locally, shown by the Prescott Education Advocacy Council (PEAC).
The film addressed the impact of privatization on K-12 public schools across the country, but centered mostly on the 2013-2014 school year in Philadelphia, where state funding for charter and private schools had starved public schools of resources, to the point of closing 23 public schools there.
The film showed the principal of South Philadelphia High School, seated in a darkened room, lamenting that his school has no librarian due to staffing cuts.
"A school without a library is downright criminal," he says.
The drastic cutbacks shown in the film also affected the school's nursing staff. The film highlighted the deaths of two grade-school students that year. One collapsed in the classroom on a day that the nurse was not on duty; she worked only on Thursdays and every other Friday. The other child died from an asthma attack after being sent home sick on a day that the nurse was not assigned to the school.
While circumstances are not that severe in Prescott-area schools, Humboldt Unified School District cut its certified librarians during the recession. Now two non-certified library coordinators oversee "library media specialists" at HUSD schools. All school sites, however, are fully staffed with nurses.
Joe Howard, superintendent of Prescott Unified School District, was in the audience that viewed the film locally, along with parents and teachers. He said the documentary reiterated many of his frustrations, which are not, he said, aimed at charter schools or school choice as much as at the routine in Arizona of taking public funding from public district schools without consideration of how enrollment at those schools is affected.
He said that some other states have a more level playing field, and charters and school districts work together to create charters where there is an enrollment need.
But he questioned Arizona's willingness to allow charter schools in areas where the education available at public district schools is, by all measures, sound and successful.
"We are using public dollars to build a new charter school on one side of a town while we are knocking down a district school on the other side of town," Howard said, referring to the 100-year-old Miller Valley School, recently reduced to a pile of rubble.
Howard said that many people don't realize that charter schools are supported with their tax dollars.
"The documentary certainly shed some light for many people last night, who told me they had no idea this was happening," he said.
In the midst of this controversy, the PEAC focuses on three issues: inadequate and inequitable funding of education in Arizona; the move toward privatization; and the lack of accountability and transparency for charter, private and online schools.
Arizona does not require charter and private schools to provide any accounting of their finances. As a result, although taxpayers fund charter schools, taxpayers cannot access information on how the schools spend tax dollars. Additionally, the boards of those schools are not governed by Arizona's open meeting law.
"As a district, we spend many hours and dollars on required auditing, closely monitored by the auditor general," Howard said. "This is not the case for charters, and we have seen many concerning misuses of public dollars by charters in the last year."
He said misuse of public dollars is also a concern with school vouchers.

Questions left by the audience who attended the film showing will be answered Saturday, when the PEAC hosts a follow-up meeting at 10 a.m. at the Law Fuentes Resort activity room, 1035 Scott Drive, Prescott. The group will also discuss data from Arizona and chart education funding as compared to the governor's budget.
Audience questions included the following:
Why can I get a $2,100 tax credit for donating to a private school but only a $400 credit for donating to a public school?
How do we evaluate how much students have grown, besides test scores? What have other states done?
At press time, School Choice Arizona, an organization that helps private schools benefit from the tuition tax credit, had not responded to a call from The Courier.
More like this story