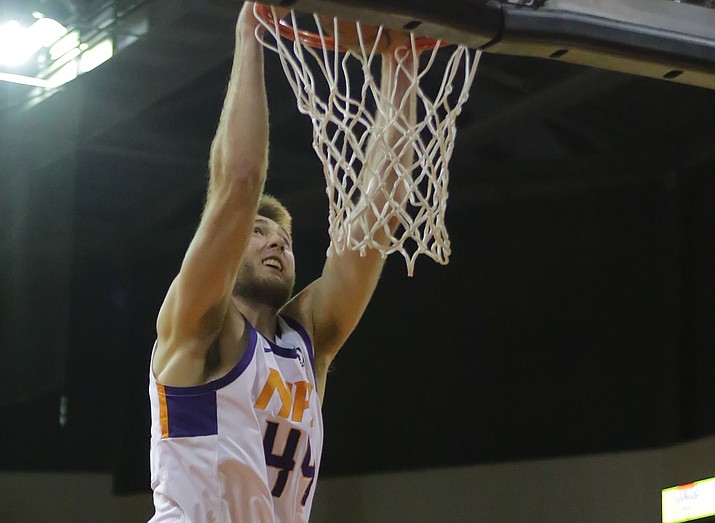 Originally Published: February 6, 2018 11:49 p.m.
The Northern Arizona Suns' struggles at home during the 2017-18 NBA Gatorade League season have been well-documented. And yet the Suns may have shown on Tuesday night that they have finally turned the corner.
Northern Arizona notched its first sweep of a three-game home stand in its third try this season at Prescott Valley Event Center, topping the Rio Grande Valley Vipers of Texas, 123-117, to move their record within two games of .500 at 16-18. It was the Suns' fifth straight victory at home after a 4-7 start.
"Just for the record, in the playoff push, it means a lot," Suns guard Xavier Silas said of the sweep. "Being in a good position for the playoffs is a byproduct of staying in the moment."
Last season, Northern Arizona won the first eight home games of its inaugural campaign, a club record. On their other three-game home stands this season, the Suns went 2-1 from Nov. 4-11, and 2-1 from Jan. 20-26. Northern Arizona has its final three-game home stand to close the season on March 21, 23 and 24.
"Just to see the spirit and the energy that these guys are playing with on both sides of the ball, to see them take ownership of the team, is great," said first-year Suns coach Cody Toppert, a former Vipers assistant whose Suns went 2-1 against Rio Grande Valley this season.
Rio Grande Valley (20-17) outrebounded the Suns, 48-33, but the Vipers were whistled for 30 fouls, including three technical fouls in an emotional, back-and-forth affair. The Suns trailed 63-59 at halftime, but rallied with a strong second half, outscoring the visitors 64-54 on 54 percent shooting for the contest. Northern Arizona converted 32 of 45 free throws.
"They made big plays when it mattered most," Vipers coach Matt Brase said. "We're clinging on to that last [playoff] spot right now, and we haven't been playing good basketball. We haven't been able to finish games. We've lost a lot of close ones, but we haven't been able to get over the hump. There's a lot of games left to go, so we need to get better and execute down the stretch."
Suns guard Xavier Silas, who currently leads the G League in 3-pointers made with 123, scored 23 points, converting 5 of 12 from beyond the arc and 6 of 8 from the free-throw line.
After the game, Toppert announced that Silas had been selected to Team USA, which he will join from Feb. 15-27 in Los Angeles and Santa Cruz, California.
"It's definitely an honor," Silas said. "Not a lot of people get to put that USA jersey on – that Red, White and Blue. And to represent your country, that's awesome."
Explosive forward Danuel House, a former Viper who recently on assignment in Phoenix, returned to Northern Arizona this week and started Tuesday. He scored a game-high 30 points and grabbed seven rebounds, draining four 3-pointers and going 8 of 8 from the charity stripe.
"We trusted each other, made the right plays," said House, who joins the Phoenix Suns tomorrow when they play host to the San Antonio Spurs. "It was about the will to win, and we've developed team chemistry."
Forward Rahlir Hollis-Jefferson scored 27 points off the bench.
INJURY REPORT
Northern Arizona team brass announced Tuesday that forward Tidjan Keita will miss the remainder of the season because of a right leg injury.
UP NEXT
Although Northern Arizona will play nine of its final 16 regular-season games at PVEC, the Suns head out on a four-game road trip, which begins at 8 p.m. Friday at the Pacific Division-leading South Bay Lakers (21-12) in Los Angeles.
Doug Cook is a sports reporter for The Daily Courier. Follow him on Twitter at @dougout_dc. Email him at dcook@prescottaz.com or call 928-445-3333, ext. 2039.
More like this story