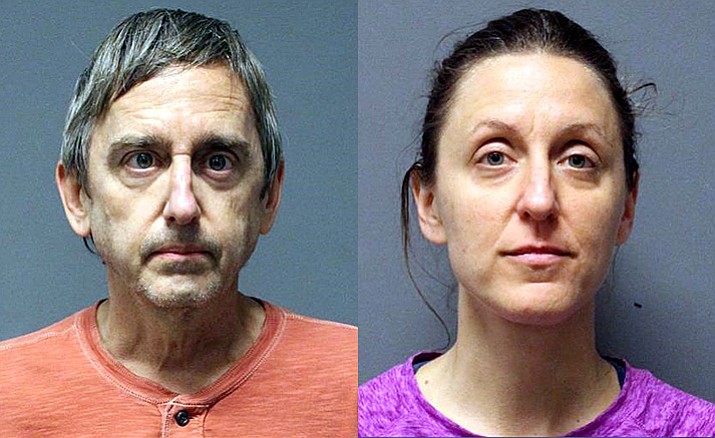 Originally Published: February 6, 2018 6 a.m.
This story was corrected on Feb. 7. An explanation is at the end.
In December of 2016, detectives with the Yavapai County Sheriff's Office were notified of possible sexual conduct with a minor involving Douglas Gilbert, 60, and his wife, Kimberly Korba, 41.
The couple is from Sedona and operates a chiropractic office in the Village of Oak Creek. Additionally, the couple claims to treat patients for 'emotional clearing' using muscle testing as part of the physiology of emotion.
During the investigation, detectives learned that the couple had sought out and befriended a 17-year-old girl with apparent emotional issues based on a parental referral. The couple began socializing with the teen, which included visits to the doctor's home. 'Dr. Doug,' as he is known, would offer the teen psilocybin mushrooms (which contain psychedelic compounds) mixed into tea as part of the therapy or a healing tool. Gilbert eventually suggested the teen needed treatment to heal her 'sexual energy.'
In November of 2016, Gilbert and his wife took the teen camping in a remote Yavapai County location and suggested the three could be intimate together as the couple wanted to give her a 'loving sexual experience.' The victim initially refused and became scared. She began to consume alcohol, marijuana and mushrooms provided by the couple, who eventually engaged the teen in various sex acts. The victim indicated Korba also encouraged and participated in the sexual activity.
The victim was never a patient at Gilbert's practice, but the ongoing relationship was based on the teen's role as a patient seeking treatment from 'Dr. Doug.'
During 2017, detectives continued the investigation into the activities of Gilbert and his wife, including interviews regarding the circumstances as alleged by the victim.
Additional evidence was developed and documented resulting in the arrest of Gilbert and his wife on Jan. 31, 2018, in the Village of Oak Creek. Both were booked into the Yavapai County jail in Camp Verde, each on a charge of sexual conduct with a minor. Gilbert and Korba have both been released on a $125,000 bond.
Detectives indicate there is a possibility of additional victims and are encouraging anyone who has experienced similar interaction with the suspects to speak with Detective Rick Lopez at 928-554-8714. If you wish to remain anonymous, please call Yavapai Silent Witness at 800-932-3232.
— Information provided by the Yavapai County Sheriff's Office
The Yavapai County Sheriff's Office provided an incorrect age of one of the people arrested. This story was updated to correct the age.
More like this story