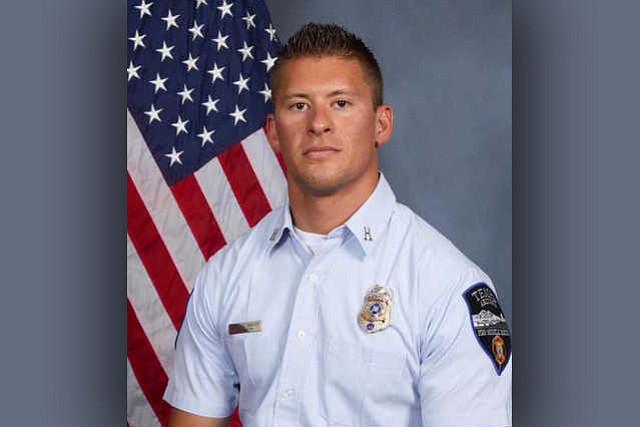 Originally Published: February 6, 2018 6 a.m.
SCOTTSDALE — Authorities say a man has been arrested in the slaying of an off-duty Tempe Fire Department captain.
Scottsdale police say 21-year-old Hezron Parks is being held on the charge of second-degree murder.
Authorities say 34-year-old Kyle Brayer was shot in the head following an altercation early Sunday.
Police say Brayer was riding on the back of a golf cart with several other people in Scottsdale when a man driving a car bumped the back of the cart around 2:30 a.m.
They say Brayer got out of the cart and approached the driver and was shot in the head. The suspect then sped away from the scene, striking numerous other cars in the process. Brayer was pronounced dead at a hospital.
Mesa police investigate apparent murder-suicide
MESA — Police in Mesa say they're investigating what appears to be a murder-suicide at an apartment complex.
They say officers were called to the El Rancho del Arte Apartments about 1 a.m. Monday after getting reports of gunshots.
Police say a man and woman dead at the scene and another woman was found with a gunshot wound.
She was taken to a hospital in unknown condition.
Police didn't immediately release the names of the dead and wounded.
They say investigators haven't determined yet who fired the shots.
Pedestrian dead after being struck by motorcycle in Phoenix
PHOENIX — Authorities say a pedestrian is dead after being struck by a motorcycle in north Phoenix.
Phoenix police say the name of the 57-year-old man is being withheld until his family can be notified.
They say the man was running across Bell Road when he was hit.
Paramedics tried to revive him and he was transported to a hospital, but was pronounced dead.
Police say they've determined the motorcyclist wasn't at fault and no citations were issued.
They say speed and impairment weren't factors in the incident.
Police say the motorcyclist was taken to the hospital with injuries that were not considered life threatening.
The motorcyclist's name wasn't immediately released.
Consultant: Repairs needed for Flagstaff school buildings
FLAGSTAFF — A consulting group is recommending the Flagstaff Unified School District to spend nearly $95 million to refurbish most of its 17 district buildings.
The H2 Group also wants the district to replace two elementary schools and the portable wing at another school.
The Arizona Daily Sun reports that the average age of a district building is about 47 years.
An architect says at least three schools should probably be replaced with new buildings.
The three are the Kinsey and Killip elementary schools and the portable buildings at Mount Elden Middle School.
The group estimates that the cost to replace the three buildings at about $36 million.
The district's governing board is researching the idea of going to local voters with a bond and/or override issue.