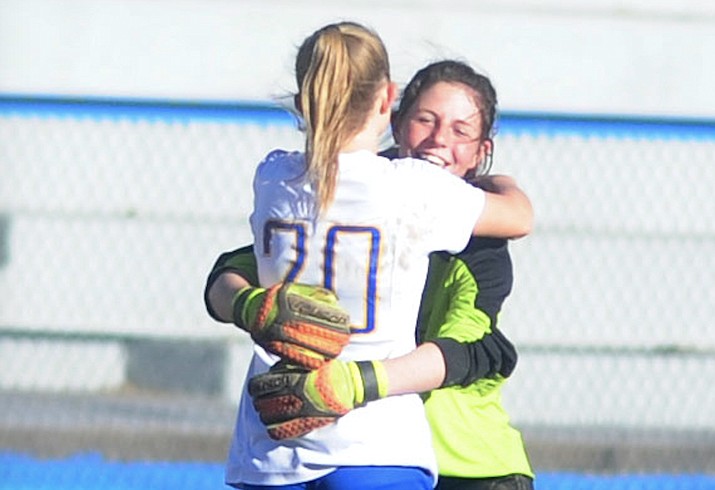 Originally Published: February 3, 2018 6:34 p.m.
Updated as of Saturday, February 3, 2018 8:14 PM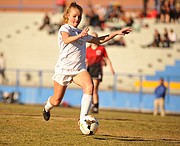 Sell's goal in 43rd minute the difference, Prescott into state semifinals for 2nd straight year
Three of the four clubs to make the 4A state final four a year ago are back for more.
Joining defending state champ Salpointe Catholic and top-ranked Flagstaff, the Prescott girls' soccer team won a 1-0 thriller Saturday afternoon over previously undefeated Estrella Foothills to advance.
It is the sixth straight win for the Badgers, which qualify for their first back-to-back state semifinals appearance in program history.
Tied 0-0 at halftime in Goodyear, Mikayla Sell stole a pass that was heading back towards Wolves' goalkeeper Madison Kimbrell, who slightly "fumbled" the ball, giving the senior forward an open net for the match's only score.
"I was so excited. I was on cloud nine," Sell said about her goal in the 43rd minute. "I might have even cried a little bit. It was a great confidence boost for the rest of the team."
First-year Prescott head coach Paul Campuzano said at halftime, he mentioned to his players that someone would need to "step up and make a play" to move on.
"She did as she has all year. She has been amazing all year," Campuzano said of Sell.
Sell leads Prescott (13-2-2, 5-1 Grand Canyon) this postseason with four goals scored. The senior recorded a hat trick in a 6-0 win over Mohave in the first round of the state playoffs earlier this week.
Campuzano credited his club for not backing down to an Estrella Foothills (17-1, 4-0 Southwest) team that plays physical.
"Estrella came out real physical and my girls kept their composure, and didn't back down or retaliate to their play," Campuzano said, adding the large Badgers contingent in the stands surely helped.
"We had a large, loud crowd come out and support us. It really gave the girls the energy to see the match through," Campuzano said. 
Prescott tallied 14 shots on goal, 12 of which came in the second half.
"Our offense was a bit off today, but the defense more than stepped up and carried us after Mikayla scored," Campuzano said.
Goalkeeper Olivia Fletcher recorded 11 saves for Prescott, which has 10 shutouts this season, including four straight. The Badgers have outscored their last six opponents 28-1 during the winning streak.
UP NEXT
Prescott are scheduled to face the defending state champion Lancers from Salpointe Catholic in the state semifinals Tuesday, Feb. 6, at Williams Field in Gilbert. Kickoff is at 7 p.m.
The No. 2-ranked Lancers (17-1-1, 3-0-1 Kino) beat Higley 6-0 on Saturday to advance. The Tucson-based club has won 13 straight matches and outscored their opponents 86-8 this season.
In the other state semifinals match, No. 1-ranked Flagstaff is scheduled to face No. 4 Catalina Foothills at 5 p.m. in Gilbert on Tuesday.
The state finals are set for Saturday, Feb. 10, at 11:30 a.m. in Gilbert.
Brian M. Bergner Jr. is sports editor for The Daily Courier. Follow him on Twitter and Instagram at @SportsWriter52 or on Facebook at @SportsAboveTheFold. Email bbergner@prescottaz.com or call (928) 445-3333, ext. 1106.