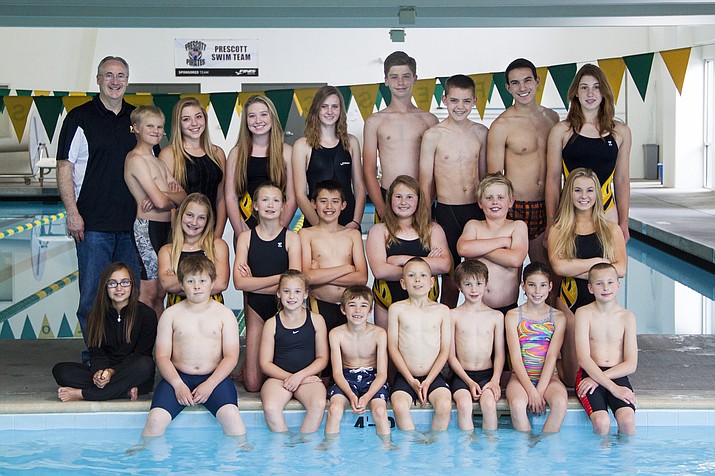 Originally Published: February 3, 2018 12:24 a.m.
The Prescott Swim Team hosted the annual Prescott Plunge over the Martin Luther King Jr. Day weekend, with five swimmers taking home medals for their performances. Heath Tinsley, 10, took first overall in the 50-meter freestyle, while 17-year-old Renee Baillie finished second overall in the 200 backstroke. Josh Baillie, 15, finished second overall in the 100 breaststroke, Jayden Long, 12, was third in the 500 freestyle and 10-year-old Elin Mischler was third in the 50 backstroke. "Girls and boys practicing and competing together on the same team as they grow up teaches them a respect for each other, which can't be found in other sports," Prescott Swim Team president Greg Temple said. More than 260 youth swimmers from teams throughout Arizona attended the two-day event.
Annual Leprechaun Charity Open set for March 17
The ninth annual Leprechaun Charity Open golf tournament is scheduled to take place Saturday, March 17, at Antelope Hills Golf Course in Prescott. The tournament is sponsored by the men's golf club and benefits Prescott Area Shelter Services. Last year, 156 total golfers participated and raised $3,100. The club hopes to exceed that mark this spring. The event is a four-person scramble format at $55 per golfer, which includes green fees, cart, range balls and a buffet lunch. Scheduled tee time March 17 is 9 a.m. Deadline to enter is Friday, March 11. For more information go to leprechauncharityopen.ahmgc.com or contact Joe Gouveia at 928-830-0625.
D-backs to host race against cancer on March 31
The Arizona Diamondbacks are scheduled to host their sixth annual D-backs Race Against Cancer on Saturday, March 31, in Phoenix. Proceeds will benefit the Arizona Diamondbacks Foundation. The 5K/1-mile walk will head through downtown Phoenix streets and participants will be able to end with a victory lap around the outfield wall at Chase Field. The 5K is set to begin at 7:15 a.m. and the 1-mile Family Fund Walk will start at 8:30 a.m. Partipants will receive a D-backs racing shirt, unique finisher medal, a drawstring bag and a ticket to a game. Cost is $40 for the 5K and $20 for the 1-mile race. To register, log online to dbacks.com/race.
More like this story