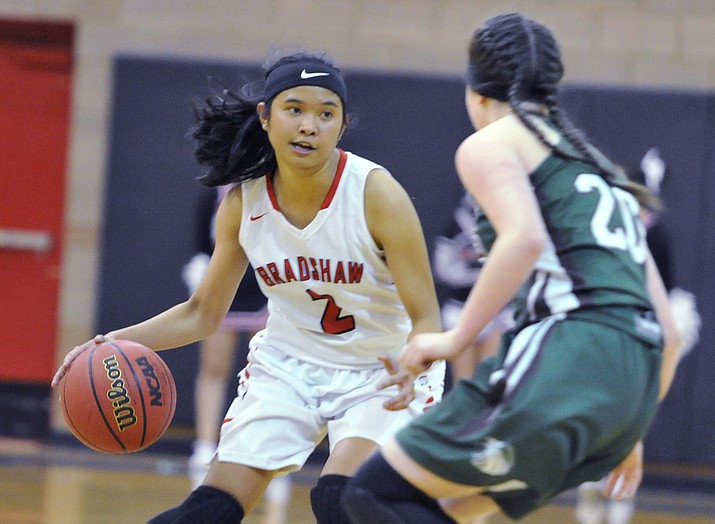 Originally Published: February 2, 2018 11:30 p.m.
Two-time defending state champion Seton Catholic continued to prove why it deserves 4A's No. 1 ranking in girls' basketball Friday night in Chandler, routing No. 15 Bradshaw Mountain, 80-20, as the Bears begin winding down their regular season.
Bradshaw Mountain's record dropped to 14-10 overall, while the Sentinels improved to 23-3, including 9-0 at home, in this non-region affair. Seton Catholic has won 11 consecutive games, allowing no more than 40 points in each of its victories.
"They are a very good team," Bears coach Rick Haltom said. "So deep. But both Rylee Bundrick and Delaney Clark played well [for us], with tons of energy."
Clark finished with a team-high eight points, while Bundrick added five points.
Despite the setback, Bradshaw Mountain still has a chance to host a state tournament play-in game on Thursday, Feb. 8, provided it beats rival Prescott on the road Tuesday, Feb. 6.
"We will now focus on Prescott moving forward," Haltom added.
The Top 8-ranked teams in 4A at the end of the season earn automatic berths into the 16-team state tournament, which starts Tuesday, Feb. 13. Seton Catholic will be one of them. The Sentinels have won four state titles in the past six years, including in 4A in 2017 and the former Division II in 2012, 2014 and 2016.
Those 4A squads ranked ninth through 24th at the end of the campaign will be paired in the play-in round for one-game playoffs, with only the winners advancing to state. Each of the ninth- through 16th-ranked teams hosts a play-in round contest.
UP NEXT
Bradshaw Mountain (7-4 region) visits area rival Prescott (10-17 overall, 3-8 region) for its regular season/Grand Canyon region finale at 7 p.m. Feb. 6 in the dome gym.
Seton Catholic hosts 4A non-region foe and 16th-ranked Moon Valley (15-8) at 7 p.m. Monday, Feb. 5.
Doug Cook is a sports reporter for The Daily Courier. Follow him on Twitter at @dougout_dc. Email him at dcook@prescottaz.com or call 928-445-3333, ext. 2039.
More like this story