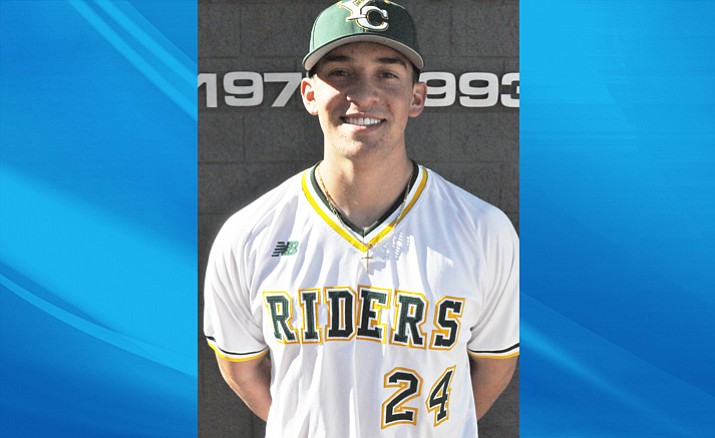 Originally Published: February 2, 2018 7:49 p.m.
Over Torres collects 4 RBIs in rout
Alex Isola hit three-run homer in the top of the third to spark a six-run rally, Over Torres collected four RBIs and the Yavapai College baseball team opened its second road trip of the young season with a 12-3 win over Arizona Western College on Friday afternoon.
It is the first win since opening day for the Roughriders (3-2, 0-0 ACCAC), which are scheduled to play three games in two days against the Matadors at Brophy Prep. in Phoenix.
In the top of the third, Jesus Pulido led off with a single before Roberto Cabrera moved him over to second base off a sacrifice bunt. Trevor Edior reached on an error and Carlos Viera was hit by a pitch before Torres worked a walk for an RBI, scoring Pulido.
Tommy Sacco followed with a two-RBI single to right field and Isola picked out the first pitch he saw for a three-run bomb to make it 6-0 and the Roughriders never looked back.
Sacco was 2 for 5 with an RBI and a run scored, while Pulido collected two hits and scored twice.
Tommy Costello toed the mound for Yavapai, throwing five innings of two-run baseball while allowing eight hits and striking out five.
The sophomore southpaw threw 77 pitches before giving way to Kevin Stevens in the sixth. Stevens allowed one run on five hits in four innings pitched out of the bullpen.
For Arizona Western (1-4, 0-0 ACCAC), Chris Koeiman surrendered 10 runs on seven hits, while walking two.
Sean Roby was 3 for 5 with an RBI, while Spencer Packard, Daniel Miranda and Zach Huffins each collected two hits.
UP NEXT
Yavapai is scheduled to play a doubleheader against Arizona Western today, with game one set for noon. Sophomore transfer Darius Vines is expected to be on the hill for the Roughriders.
First pitch for game two is set for 2:30 p.m. A start has not been announced for Yavapai.
Brian M. Bergner Jr. is sports editor for The Daily Courier. Follow him on Twitter and Instagram at @SportsWriter52, or on Facebook at @SportsAboveTheFold. Email bbergner@prescottaz.com or call 928-445-3333, ext. 1106.