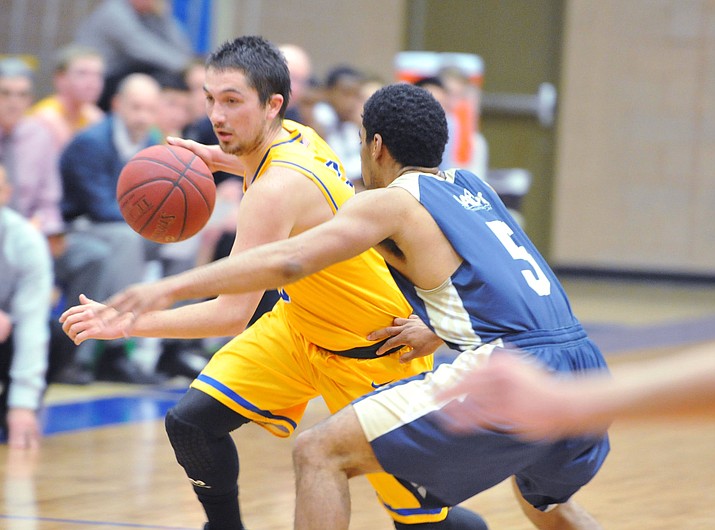 Originally Published: February 1, 2018 11:15 p.m.
Photo Gallery
ERAU Vs California Maritime Mens Hoops
Heading into this week, the Embry-Riddle men's basketball squad's season-long five-game losing streak in the Cal-Pac Conference left the Eagles alone in last place in the eight-team league. On Thursday night, reeling ERAU failed to nip its misery in the bud at the Activity Center in Prescott.
Four UC-Maritime players scored in double figures, led by Phil Randles' 17 points, guiding the NAIA Division II Keelhaulers to an 83-68 league win over the Eagles.
With the loss, Embry-Riddle dropped to 8-12 overall and 2-8 in the Cal-Pac. The Eagles haven't won a game since Jan. 11, and they are now 3 1/2 games behind UC-Maritime, who's presently tied with Pacific Union for the third seed into the Cal-Pac Conference Tournament later this month.
"The big thing we did tonight that we hadn't done in our last two games is we finished," Keelhaulers coach Brendan Rooney said. "Our last two games we played really good teams [including second-place UC-Merced], we had 10-point leads in the second half and we just haven't finished. That was a big emphasis for us for the week, and these guys really took it on and did a great job with it."
ERAU led 34-33 at halftime before being outscored 50-34 in a lopsided second half. The Eagles were outrebounded 38-26.
"In the first half, we were doing fine — everything was OK," Eagles coach Eric Fundalewicz said. "In the second half, instead of running 3-point shooters off the line, we were giving them gap, giving them space. And then they put up a nice, wide-open look, they miss it, and we give up a ton of offensive rebounds."
UC-Maritime converted 15 of 30 3-pointers for a whopping 50 percent.
"Cal Maritime's a solid program; they've always been like that," said ERAU guard Nick Johnson, who guided the hosts offensively with 15 points, nine rebounds, three assists, five steals and two blocks. "We've just got to keep playing together, stay level-headed and keep playing as a team."
The Eagles had suffered eight setbacks in their last 10 games heading into Thursday. During their five-game slide, three of their losses came by a combined 11 points, including one in overtime and two by three points each. That would not be the case versus UC-Maritime.
"You win some, you lose some," ERAU forward/center Joseph Jewell said. "That's all there is to it. At the end of the day, we just have to make sure we battle through the bad calls, the turnovers [16 vs. UC-Maritime] and the missed plays that don't go our way. We have to just push through them. It's a mental game."
The Keelhaulers improved to 14-9 and 5-4, snapping a two-game losing streak in conference. They defeated Embry-Riddle, 78-68, in their first meeting of the season Jan. 6 in Vallejo, California.
The Top 4 teams in the Cal-Pac at the end of the regular campaign qualify for the conference tournament Feb. 24 and 26 at UC-Maritime, and the Eagles will almost certainly need to win their last four league games to have a chance.
UP NEXT
Embry-Riddle continues on in Cal-Pac action when it plays host to UC-Merced (10-10 overall, 6-2 Cal-Pac going into Thursday) at 7:30 p.m. Saturday at the Activity Center. The Eagles have five games remaining on their regular-season schedule, and just two of those are at home.
UC-Maritime visits league opponent Benedictine-Mesa (12-11, 4-5 going into Thursday) at 7:30 p.m. Saturday.
Doug Cook is a sports reporter for The Daily Courier. Follow him on Twitter at @dougout_dc. Email him at dcook@prescottaz.com or call 928-445-3333, ext. 2039.