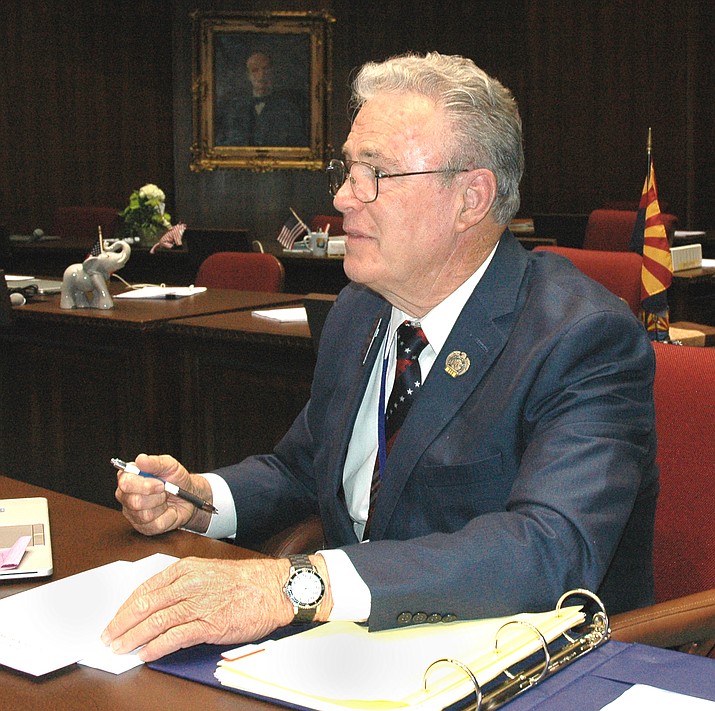 Originally Published: April 25, 2018 2:06 p.m.
PHOENIX – With a teacher pay plan eluding a deal and what he contends are unrealistic revenue estimates from Gov. Doug Ducey, a Prescott Republican lawmaker wants colleagues to consider a financial "bridge'' to provide immediate dollars.
Rep. Noel Campbell says a three-year, one-cent sales tax, on top of the existing 0.6-cent levy dedicated to education, would provide about $1 billion a year, more than enough money not only for pay for teachers and support staff but also help restore some of the cuts that have been made over the years in state aid to education. It also would give schools enough to finance full-day kindergarten if they want to offer those programs, funding that was cut during the Great Recession.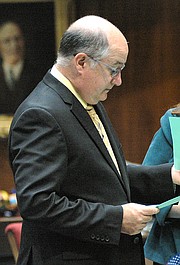 If nothing else, it also would provide some breathing room while education advocates come up with a more permanent solution that could go to voters on the 2020 ballot. Campbell said he's not buying the governor's prediction a growing economy will produce $670 million by the 2020-21 school year to pay for a 19 percent pay hike and restore $371 million over five years in money taken from schools.
"I do not support the governor's pie-in-the-sky economic forecast,'' he said.
But Campbell's plan is getting no love from either side of the political aisle.
Minority Leader Rebecca Rios, D-Phoenix, dismissed it out of hand, saying sales taxes are the most regressive – low-income people generally spend more of their income paying it – and many residents are paying rates approaching 9 percent what with state and local levies. Then there's the fact there is no assurance of long-term funding when the temporary levy expires.
"It could be a bridge to nowhere,'' Rios said.
She and other Democrats prefer things like increasing taxes on the wealthiest Arizonans and revisiting the various corporate tax cuts that have been enacted.
That, however, drew derision from House Majority Leader John Allen, R-Scottsdale, who said that amounts to class warfare, creating "strife between the haves and the have-nots.'' Anyway, he said, taxing the rich is precisely the way to undermine economic recovery.
"I've never gotten a job from a poor person,'' Allen said.
And even Joe Thomas, president of the Arizona Education Association, dismisses the idea as unacceptable.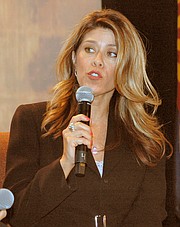 Campbell is undeterred, saying efforts to come up with a financially sustainable plan ahead of Thursday's teacher strike have proven elusive.
"What I'm trying to do is start a discussion,'' Campbell said Tuesday. And he lashed out at foes – particularly Democrats – for dismissing it outright.
"If you've got a better idea, put it in writing,'' he said. "If you don't have a better idea, shut up and get on board.''
Campbell said pretty much everyone at the Capitol believes schools need more money.
"So it's a revenue problem,'' he said. And the only way to solve that, Campbell said, is "go to the well and get some money coming in.''
Then, with some breathing room, Campbell said education supporters can come up with something to put on the 2020 ballot. He pointed out there already are business interests talking about putting a permanent one-cent sales tax hike before voters that year.
One thing specifically missing from Campbell's plan, though, is an actual guarantee of a pay hike for teachers – or anyone else.
"It's not our mandate to set teacher salaries,'' he said, saying he would give the additional dollars to school districts to decide how to divide up.
"There are school districts in Arizona that pay their teachers very well,'' Campbell said.
"And there are school districts that don't pay them well at all,'' he continued. "And so we want to give them the money into the school district and let the superintendent along with the school board determine where the money's going to go.''
OTHER CRITICS
Campbell isn't the only one who questions Ducey's financial predictions. House Speaker J.D. Mesnard, R-Chandler, and Senate President Steve Yarbrough, R-Chandler, continue to meet with the governor in hopes of crafting something that can get the requisite votes and the governor's signature.
What's complicating matters is that all those votes are likely to have to come from Republicans, as Democrats want an identified source of dollars.
It's not just questions about whether the governor's predictions of higher revenues to pay for his plan are financially realistic. They want something sustainable – and paid for by the people and corporations most able to afford it.
"We're looking at helping teachers that are being underpaid and yet you want to tax them more on all the essentials of daily living,'' Rios said of the idea of higher sales taxes.
She wants to curb the ability of corporations to divert some of what they owe in income taxes to instead help pay for students to attend private and parochial schools. And Rios also thinks the state should review the tax rates paid by its highest income earners.
"I think it's a fairness game and everybody paying their fair share,'' she said.
Rios also said Campbell's "bridge'' would not be needed if educators and their supporters craft a plan and gather the signatures by the July 5 deadline to put it on the November ballot.
Thomas said educators are still weighing such an option, echoing Rios' contention that a sales tax is unlikely to be their favorite choice.
"Remember, we didn't diminish sales tax over the last 10 years,'' he said, instead reducing corporate taxes, carving new exemptions and even cutting individual income taxes. "Those are the revenue streams we need to grow back up.''
Allen, for his part, questioned the motives of the education groups whose members voted for the walkout, saying that the Ducey plan -- however it ends up being funded -- gives teachers the pay raise they sought.
"It wasn't a financial question,'' he said. "It was a political one.''
But Thomas said the pay hike for teachers is only part of the demand, with Ducey's proposal not providing specific dollars for support staff and nothing in the proposal to finally restore the nearly $1 billion a year less in inflation-adjusted state aid to education that has been cut in the past decade.