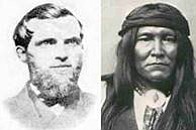 Originally Published: April 21, 2018 5:58 a.m.
In 1861, Lt. George Bascom confronted Chiricahua Apache leader Cochise, demanding the return of abducted boy, Felix Ward (a.k.a. Mickey Free). The epic, 14-day affair involved 70 soldiers who were surrounded by 500 Apaches. While they were eventually rescued by the timely intervention of the cavalry, the conflict ended in blood with hostages slain on both sides.
And at 1 p.m. Saturday, April 21, writer and historian, Doug Hocking, will be on hand at the Phippen Museum to discuss the circumstances surrounding this violent incident and how blame for this confrontation came to rest on Lt. Bascom.

Doug Hocking grew up among the Jicarilla Apache and paisanos of the Rio Arriba. He is an independent scholar, who has completed advanced studies in American history, ethnology, and historical archaeology. In addition, his work has appeared in True West, Wild West, Buckskin Bulletin, Roundup Magazine, and the Journal of Arizona History; and in 2015 he won The Westerners International Philip A. Danielson Award for Best Presentation.
Presented in cooperation with Arizona Humanities' Speaker's Bureau, AZ Speaks, this program is free for museum members and guests with paid admission. It accompanies the museum's current exhibitions, Cool, Cool Water, on display through July 22 and Portraits of the West, which runs through April 22.
The Phippen Museum is located only a few minutes north of downtown Prescott at 4701 Highway 89 North. Their annual Western Art Show and Sale has been an extremely popular annual Memorial weekend tradition since 1974. For additional information on this or any other event at the museum, please call 928-778-1385, or visit their website at www.phippenartmuseum.org.
Information provided by the Phippen Museum